Breaking news on authors, publishers, and book-related topics
BookBrowse Book News
Page 13 of 234
Harry Potter fever builds
Jul 27 2016: Barnes & Noble reports that Harry Potter and the Cursed Child Parts I & II is the company's most pre-ordered book since Harry Potter and the Deathly Hallows in 2007. Stores across the country are currently preparing to host Countdown to Midnight Magic parties beginning ...
Co-author of Left Behind series, Tim LaHaye, dies aged 90
Jul 26 2016: The Rev. Tim LaHaye, a leader of the Christian fundamentalist movement and co-author of the best-selling "Left Behind" series of apocalyptic novels prophesying mass slaughters and the end of the world, died on Monday in a San Diego area hospital. He was 90.

The ...
Muggle Mob stops traffic on Broadway
Jul 25 2016: In anticipation of this Sunday's release of Harry Potter and the Cursed Child Parts One and Two (a two-part stage play written by Jack Thorne, J.K. Rowling and John Tiffany), more than 300 Potter fans gathered last Thursday for a massive flash mob, or "Muggle Mob," on ...
Jeff Bezos to have a bit part in new Star Trek movie
Jul 18 2016: Amazon founder Jeff Bezos has a bit part in the new "Star Trek Beyond" movie. Apparently security was tight on set for Bezos who arrived with a full contingent of security, and then waited patiently all day for crews to shoot the single tracking shot that includes his ...
USA bookstore sales up for the ninth month in a row
Jul 18 2016: May bookstore sales rose 3.1%, to $826 million, compared to May 2015, according to preliminary estimates from the Census Bureau. This marks the ninth month in a row that bookstore sales have risen - with an average growth for the year to date of 6.1%
British author Sally Beauman, author of "Destiny" and other novels, dies
Jul 16 2016: British author Sally Beauman died on July 7 aged 71. Writing in The Guardian, Lisa Appignanesi described Beauman as "a proud, loyal, fiercely private, beautiful and generous woman--at all ages. Her intelligence was incisive and broad. She could tell you everything, not ...
Dr Carla D. Hayden confirmed as 14th Librarian of Congress
Jul 14 2016: Dr Carla D. Hayden has been confirmed, 74-18, by the U.S. Senate as the 14th Librarian of Congress, for a renewable 10-year term. Hayden was the longtime CEO of the Enoch Pratt Free Library system in Baltimore and a former president of the American Library Association. ...
Book sales at brick and mortar bookstores rise 2% year on year
Jul 12 2016: Publishers' trade book sales (i.e. books for general readers) at physical retail stores in the USA rose for the second year in a row in 2015, climbing 1.8%, to $4.15 billion, according to the Association of American Publishers' StatShot Annual. Physical store sales ...
Support BookBrowse
Become a Member and discover books that entertain, engage & enlighten!
Editor's Choice
Do Not Become Alarmed
by Maile Meloy Full disclosure: I've never had any desire to go on a cruise. I start getting antsy and ...

Priestdaddy
by Patricia Lockwood Patricia Lockwood is a poet and the daughter of Greg Lockwood, a Catholic priest. While Catholic ...

Before We Sleep
by Jeffrey Lent Katey Snow, aged seventeen, leaves home one night. "There was a void within her and one that could ...
Win this book!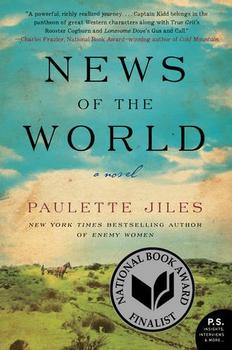 News of the World
A brilliant work of historical fiction that explores the boundaries of family, responsibility, honor, and trust.
First Impressions
The Weight of Ink
by Rachel Kadish

An intellectual, suspenseful, and entertaining page-turner.
Reader Reviews
Word Play
Solve this clue:
and be entered to win..
Book Discussion
Books that


entertain,
engage
& enlighten


Visitors can view some of BookBrowse for free. Full access is for members only.