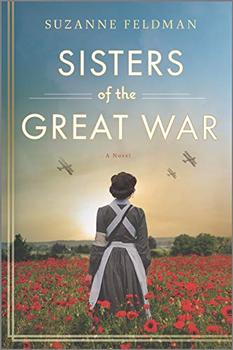 Sisters of the Great War
by Suzanne Feldman
Inspired by real women, this powerful novel tells the story of two unconventional American sisters who volunteer at the front during World War I.
August 1914. While Europe enters a brutal conflict unlike any waged before, the Duncan household in Baltimore, Maryland, is the setting for a different struggle. Ruth and Elise Duncan long to escape the roles that society, and their controlling father, demand they play. Together, the sisters volunteer for the war effort—Ruth as a nurse, Elise as a driver.
Stationed at a makeshift hospital in Ypres, Belgium, Ruth soon confronts war's harshest lesson: not everyone can be saved. Rising above the appalling conditions, she seizes an opportunity to realize her dream to practice medicine as a doctor. Elise, an accomplished mechanic, finds purpose and an unexpected kinship within the all-female Ambulance Corps. Through bombings, heartache and loss, Ruth and Elise cherish an independence rarely granted to women, unaware that their greatest challenges are still to come.
Illuminating the critical role women played in the Great War, this is a remarkable story of resilience, sacrifice and the bonds that can never be vanquished.
Reviews
"Feldman's rendering of the Western front is unsentimental and unsparing, making this an effective war story despite the slow plot movement." - Publishers Weekly
"This novel is about the resilience and strength of women in war, but also about love." - Booklist
"Perfect for fans of
Lilac Girls
,
The Alice Network
and
Girls on the Line
." - Suzanne Rindell, author of
The Two Mrs. Carlyles
"A ferociously gripping portrayal of love and war. A soaring, impressive achievement." - Elise Levine, author of
This Wicked Tongue
and
Blue Field
"This touching, intricate, high-stakes novel of two sisters is a welcome addition to the WWI canon, which continues to depict the Great War as the exclusive province of men. Intimate, unexpected and very real." - Padma Viswanathan, author of
The Ever After of Ashwin Rao
and
The Toss of a Lemon
"A riveting narrative that redefines who the true heroes of war are." - Dennis Danvers, author of
The Perfect Stranger
"This novel is immersive, profoundly affecting, and transformative in my appreciation and understanding of women of the past." - Olga Zilberbourg, author of
Like Water and Other Stories
About The Sweepstakes
We have five paperback copies of
Sisters of the Great War
by Suzanne Feldman to give away, which will publish as a paperback original on Oct 26.
This offer is open to residents of the USA, except for BookBrowse members who are welcome to enter wherever they live. If a member not resident in the US wins, they receive an extension to their membership.
Giveaway ends October 25, 2021