The 7 ½ Deaths of Evelyn Hardcastle by Stuart Turton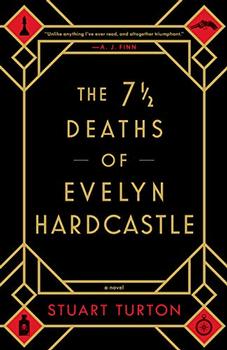 The most inventive debut of the year twists together a mystery of such unexpected creativity it will leave readers guessing until the very last page.
Shortlisted for the Specsavers National Book Award (New Writers)
One of Stylist Magazine's 20 Must-Read Books of 2018
One of Harper's Bazaar's 10 Must-Read Books of 2018
The Rules of Blackheath

Evelyn Hardcastle will be murdered at 11:00 p.m.
There are eight days, and eight witnesses for you to inhabit.
We will only let you escape once you tell us the name of the killer.
Understood? Then let's begin...
Evelyn Hardcastle will die. Every day until Aiden Bishop can identify her killer and break the cycle. But every time the day begins again, Aiden wakes up in the body of a different guest. And some of his hosts are more helpful than others...
Reviews
"Dazzling. A revolving door of suspects (and narrators); a sumptuous country-house setting; a pure-silk Möbius strip of a story. This bracingly original, fiendishly clever murder mystery - Agatha Christie meets Groundhog Day - is quite unlike anything I've ever read, and altogether triumphant. I wish I'd written it." - A. J. Finn, #1 New York Times-bestselling author of
The Woman in the Window
"Turton's debut is a brainy, action-filled sendup of the classic mystery." - Kirkus
"This novel is so ingenious and original that it's difficult to believe it's Turton's debut. The writing is completely immersive...there are certainly echoes of Agatha Christie here, but it's Christie ramped up several notches, thanks to the malevolent twist on the Groundhog Day theme. Readers may be scratching their heads in delicious befuddlement as they work their way through this novel, but one thing will be absolutely clear: Stuart Turton is an author to remember." - Booklist
"This book blew my mind! Utterly original and unique." - International bestseller Sophie Hannah
"If Agatha Christie and Terry Pratchett had ever had LSD-fuelled sex, then
The 7½ Deaths of Evelyn Hardcastle
would be their acid trip book baby. Darkly comic, mind-blowingly twisty, and with a cast of fantastically odd characters, this is a locked room mystery like no other." - Sarah Pinborough, New York Times bestselling author
"I hereby declare Stuart Turton the Mad Hatter of Crime.
The 7½ Deaths of Evelyn Hardcastle
is unique, energizing, and clever. So original, a brilliant read." - Ali Land, Sunday Times bestselling author
Good Me Bad Me
"Agatha Christie meets Downton Abbey with a splash of red wine and Twin Peaks. Dark and twisty, lush and riddled with gorgeous prose, part of me will always be trapped in Blackheath." - Delilah S. Dawson, New York Times bestselling author
"A kaleidoscopic mystery that brilliantly bends the limits of the genre and the mind of the reader.
The 7½ Deaths of Evelyn Hardcastle
 is urgent, inventive, creepy and, above all, a blast to read!" - Matthew Sullivan, author of
Midnight at the Bright Ideas Bookstore
"Brilliant, brilliant, brilliant! It's a work of sheer genius. An amazing, unique book that blew my mind." - Sarah J. Harris, author of
The Color of Bee Larkham's Murder
"Gloriously inventive, playful and clever, this is a must for mystery fans. I wish I'd written it myself..." - Robin Stevens, author of the Wells and Wong mystery series
About This Sweepstake
We have 5 hardcover copies of
THE 7 ½ DEATHS OF EVELYN HARDCASTLE
to give away.
This offer is open to residents of the USA only, except for BookBrowse members who are welcome to enter wherever they live.
Giveaway ends January 1, 2019