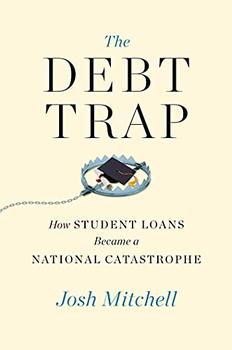 The Debt Trap
by Josh Mitchell
From acclaimed Wall Street Journal reporter Josh Mitchell, the dramatic, untold story of student debt in America.
In 1982, a new executive at Sallie Mae took home the company's financial documents to review. "You've got to be shitting me," he later told the company's CEO. "This place is a gold mine."
Over the next four decades, the student loan industry that Sallie Mae and Congress created blew up into a crisis that would submerge a generation of Americans into $1.5 trillion in student debt. In
The Debt Trap
,
Wall Street Journal
reporter Josh Mitchell tells the untold story of the scandals, scams, predatory actors, and government malpractice that have created the behemoth that one of its original architects called a "monster."
The tale begins in 1957 with the launch of Sputnik. Afraid that America was falling behind the Soviets in science education, Congress created the first major federal student loan program to enroll more students in college. What followed were a series of well-intentioned government actions that created a cycle of reckless lending and runaway tuition. Easy access to loans allowed colleges to raise tuition to unheard of levels, which in turn led Congress to increase loan limits and interest rates and expand who could borrow. This spiral continued as the private banks that fronted the money made huge profits on interest. "Nobody was pure in this business," one former college president said.
As he charts the gripping seventy-year history of student debt in America, Mitchell never loses sight of the countless student victims ensnared by an exploitive system that depends on their debt. Mitchell also draws alarming parallels to the housing crisis in the late 2000s, showing the catastrophic consequences student debt has had on families and the nation's future. Mitchell's character-driven narrative is required reading for anyone wanting to understand the central economic issue of our day.
Reviews
"The book is sure to garner attention, as well as make readers take a close look at the cost of higher education. Parents, students, and educators will find it enthralling and possibly be moved to push for industry reforms." - Booklist (starred review)
"The $1.6 trillion Americans owe in student loans is greater than the size of the Canadian economy, notes Wall Street Journal reporter Mitchell in this meticulous, eye-opening history of the student debt crisis...Mitchell masterfully explains how America got itself into this debacle...this is an immersive and illuminating introduction to a hot-button issue." - Publishers Weekly
"This urgent report makes a convincing case for reforming the loan program to allow students 'a fair shot at college, at a reasonable price.' An alarming study of an economic crisis long in the making—and entirely avoidable." - Kirkus Reviews
"A shocking history, dominated by an attitude of exploitation toward American students and their families." - Literary Hub
"A deeply reported, jaw-dropping book. A must-read for every student, parent, and educator. Through engaging storytelling, this timely book helps us understand, in the same way as
The Big Short
did with housing, how we allowed a student-loan system started with good intentions during the Great Society to grow into an uncontrolled behemoth that has left tens of millions of Americans saddled with trillions in debt." - Jeffrey Selingo, New York Times bestselling author of
Who Gets In and Why
and
There Is Life After College
"A masterfully written, surprising, and deeply reported book that is studded with breathtaking insights on every page.
The Debt Trap
is about more than student debt — it's the true story of how America's ladder of opportunity was turned into a debtor's prison. It's all here: Well-intentioned government programs gone awry, corporate corruption, exploitation, and the unbreakable hope of American people working tirelessly for a better life. An indispensable book to understand one of the most urgent problems in our country today." - Christopher Leonard, New York Times bestselling author of
Kochland
"A powerful investigation into one of the most important economic crises of our time. The storytelling is lively and emotive, which is crucial for understanding the human impact of towers of student debt on everyday Americans. The book should be read by politicians, parents and students alike as a cautionary tale of how government policies can bring enormous gains while also wreaking havoc on lives." - Brad Hope, New York Times bestselling co-author of
The Billion Dollar Whale
About The Sweepstakes
We have five hardcover copies of
The Debt Trap
by Josh Mitchell to give away.
This offer is open to residents of the USA. The exception are BookBrowse members who are welcome to enter wherever they live.
Giveaway ends August 16, 2021