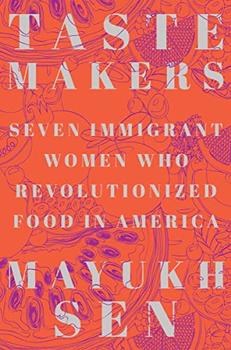 Taste Makers
by Mayukh Sen
America's modern culinary history told through the lives of seven pathbreaking chefs and food writers.
Who's really behind America's appetite for foods from around the globe? This group biography from an electric new voice in food writing honors seven extraordinary women, all immigrants, who left an indelible mark on the way Americans eat today. Taste Makers stretches from World War II to the present, with absorbing and deeply researched portraits of figures including Mexican-born Elena Zelayeta, a blind chef; Marcella Hazan, the deity of Italian cuisine; and Norma Shirley, a champion of Jamaican dishes.
In imaginative, lively prose, Mayukh Sen―a queer, brown child of immigrants―reconstructs the lives of these women in vivid and empathetic detail, daring to ask why some were famous in their own time, but not in ours, and why others shine brightly even today. Weaving together histories of food, immigration, and gender,
Taste Makers
will challenge the way readers look at what's on their plate―and the women whose labor, overlooked for so long, makes those meals possible.
Reviews
"In this dazzling debut, James Beard Award–winning food writer Sen looks at the lives of seven remarkable immigrant women whose passion for their homeland's food transformed how Americans cook and eat...Thoughtfully written, Sen's portrayals of his subjects reveal how rich and nuanced being 'American' can truly be. Food lovers with a big appetite for knowledge will gobble this up." - Publishers Weekly (starred review)
"The extensive notes are a treasure trove for readers interested in historical cookbooks and food writing. A must-read for those interested in culinary or women's history and the evolution of American cookbooks." - Library Journal (starred review)
"Making a lively book debut, James Beard Award–winning journalist Sen, who teaches food journalism at NYU, celebrates the accomplishments of seven immigrant women who defiantly introduced new tastes, ingredients, and recipes to their adopted country...Well-crafted, engaging portraits of culinary and cultural pioneers." - Kirkus Reviews
"A gathering of voices that's altogether necessary, radical, heartfelt, and intimate." - Monique Truong, author of
The Book of Salt
"
Taste Makers
is beautiful. Mayukh makes the American kitchen feel vast, interconnected and full of wonder – never insular, small-minded or cold – and weaves together these undertold stories with unmatched care and respect. He's a masterful chronicler of American cooks and cooking, and we're lucky to have this book." - Ruby Tandoh, author of
Eat Up!
"Through meticulous research and broad insight, Mayukh Sen follows seven immigrant women who crashed the gates of the U.S. food establishment in the twentieth century.
Taste Makers
is essential history for understanding American food's current reckoning with inclusion and diversity." - John Birdsall, author of
The Man Who Ate Too Much
About The Sweepstakes
We have five hardcover copies of
Taste Makers: Seven Immigrant Women Who Revolutionized Food in America
by Mayukh Sen to give away.
This offer is open to residents of the USA, except for BookBrowse members who are welcome to enter wherever they live. If a member not resident in the US wins, they receive an extension to their membership.
Giveaway ends December 27, 2021