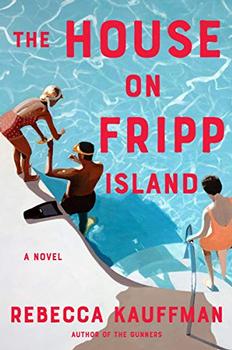 The House on Fripp Island
by Rebecca Kauffman
A taut, page-turning novel of secrets and strife. When two families—one rich, one not—vacation together off the coast of South Carolina, little do they know that someone won't be returning home.
Fripp Island, South Carolina is the perfect destination for the wealthy Daly family: Lisa, Scott, and their two girls. For Lisa's childhood friend, Poppy Ford, the resort island is a world away from the one she and Lisa grew up in—and when Lisa invites Poppy's family to join them, how can a working-class woman turn down an all-expenses paid vacation for her husband and children?
But everyone brings secrets to the island, distorting what should be a convivial, relaxing summer on the beach. Lisa sees danger everywhere—the local handyman can't be allowed near the children, and Lisa suspects Scott is fixated on something, or someone, else. Poppy watches over her husband John and his routines with a sharp eye. It's a summer of change for all of the children: Ryan Ford who prepares for college in the fall, Rae Daly who seethes on the brink of adulthood, and the two youngest, Kimmy Daly and Alex Ford, who are exposed to new ideas and different ways of life as they forge a friendship of their own. Those who return from this vacation will spend the rest of their lives trying to process what they witnessed, the tipping points, moments of violence and tenderness, and the memory of whom they left behind.
Reviews
"Rebecca Kauffman has long been one of my favorite writers, and
The House on Fripp Island
is her best novel yet. The story of two very different families brought together for an unlikely vacation that takes a dangerous turn, Kauffman's latest is a rare and gripping combination of gloriously observed prose and three hundred pages of pure suspense. I loved it." - Julie Buntin, author of
Marlena
"A novel full of secrets set in a stunning beach house is my definition of a perfect summer read. I was stunned by the twists and turns of Rebecca Kauffman's masterful novel,
The House on Fripp Island
. Bring plenty of sunscreen when you take this book to the beach...you'll be reading all day long." - Amanda Eyre Ward, author of
The Jetsetters
"A sharp, modern story about the wilderness of family life." - Adrienne Celt, author of
Invitation to a Bonfire
and
The Daughter
"Kauffman's keen, atmospheric follow-up to
The Gunners
explores class, friendship, and dark family secrets…inevitably, events spiral to a shocking conclusion. Kauffman's characters leap off the page…Readers will devour this suspenseful summer drama." - Publishers Weekly
"Our assumptions about whose tensions, desires, rages, and shy longings might erupt into murder are provoked and reversed right up until the final pages, when the mystery of Fripp Island is revealed...An entertaining and ultimately tender book." - Kirkus
About This Sweepstake
We have three paperback copies of
The House on Fripp Island
by Rebecca Kauffman to give away.
This offer is open to residents of the USA only, except for BookBrowse members who are welcome to enter wherever they live.
Giveaway ends June 15, 2020