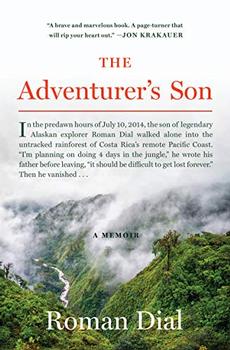 The Adventurer's Son
by Roman Dial
"A brave and marvelous book. A page-turner that will rip your heart out."--Jon Krakauer
In the tradition of
Into the Wild
comes an instant classic of outdoor literature, a riveting work of uncommon depth.
The Adventurer's Son
is Roman Dial's extraordinary account of his two-year quest to unravel the mystery of his son's fate.
In the predawn hours of July 10, 2014, the twenty-seven-year-old son of preeminent Alaskan scientist and National Geographic Explorer Roman Dial, walked alone into Corcovado National Park, an untracked rainforest along Costa Rica's remote Pacific Coast that shelters miners, poachers, and drug smugglers. He carried a light backpack and machete. Before he left, Cody Roman Dial emailed his father:
"I am not sure how long it will take me, but I'm planning on doing 4 days in the jungle and a day to walk out. I'll be bounded by a trail to the west and the coast everywhere else, so it should be difficult to get lost forever."
They were the last words Dial received from his son.
As soon as he realized Cody Roman's return date had passed, Dial set off for Costa Rica. As he trekked through the dense jungle, interviewing locals and searching for clues—the authorities suspected murder—the desperate father was forced to confront the deepest questions about himself and his own role in the events. Roman had raised his son to be fearless, to be at home in earth's wildest places, travelling together through rugged Alaska to remote Borneo and Bhutan. Was he responsible for his son's fate? Or, as he hoped, was Cody Roman safe and using his wilderness skills on a solo adventure from which he would emerge at any moment?
Part detective story set in the most beautiful yet dangerous reaches of the planet,
The Adventurer's Son
emerges as a far deeper tale of discovery—a journey to understand the truth about those we love the most.
The Adventurer's Son
includes fifty black-and-white photographs.
Reviews
"In its emotional restraint and careful descriptions of the wild, this is a slow-burning tribute. A poignant, highly moving memoir of tragic circumstances and a lifelong love of exploring." - Kirkus Reviews
"Gripping. … Dial paints a riveting, richly conflicted portrait of family legacies and the call of the wild." - Publishers Weekly
"Real-life mystery, travelogue, nature writing, and memoir all combine to make this book a must-read that you'll stay up all night to finish." - Book Riot
"[A] powerful memoir of a father's love of adventure and of his child. ... Complex and moving. ... Through the twists and turns of his search, Dial must follow his own compass to stay true to the son he knew." - Booklist
"[A] true-life family saga. ... Both riveting and devastating." (Chicago Tribune)
"Roman Dial has written a brave and marvelous book. It's a page-turner that will rip your heart out." - Jon Krakauer, author of
Into the Wild
"A haunting, beautifully-crafted narrative by one of the renowned wilderness explorers of our time. Above all else,
The Adventurer's Son
is a sensitive tribute to a son who never emerged from his journey into the rainforests of Central America. Riveting and complex, this is a book that will remain with you long after you've turned the last page." - Rebecca Martin, President, Exploration Connections, and Founding Director, National Geographic Expeditions Council
"Out of an unbearable personal tragedy, Roman Dial has fashioned an unbearably powerful memoir. 
The Adventurer's Son
is at once the narrative of a desperate search for a lost son, a poignant meditation on the depths of paternal love, and, in the end, a reaffirmation of the glory of exploration and adventure in the teeth of sorrow and loss." - David Roberts, award-winning adventure writer and co-author (with "Free Solo" star Alex Honnold) of
Alone on the Wall
"
The Adventurer's Son
is a gripping account of a tight-knit family whose shared passion for the natural world leads them unsuspectingly to that harshest traverse of all, across time, life and death." - Seth Kantner, bestselling author of
Ordinary Wolves
"An explorer at heart, a scientist by profession, and a parent above all else, Dial guides readers on a suspenseful and heart-wrenching journey from the windswept Alaskan tundra to the impenetrable Costa Rican jungle.
The Adventurer's Son
is a poignant story about loss, but also about a father's passion for adventure, his love for his son, and the bonds forged through their experiences in the natural world." (Caroline Van Hemert, author of
The Sun Is a Compass: A 4,000-Mile Journey into the Alaskan Wilds
)
About This Sweepstake
Adventurer's Son
by Roam Dial publishes Feb 20. We have five hardcover copies to give away.
This offer is open to residents of the USA only, except for BookBrowse members who are welcome to enter wherever they live.
Giveaway ends February 3, 2020