The Guest Book
by Sarah Blake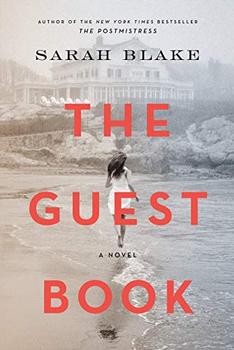 Sarah Blake's triumphant novel tells the story of a family and a country that buries its past in quiet, until the present calls forth a reckoning.
A lifetime of secrets. A history untold.
No.
It is a simple word, uttered on a summer porch in 1936. And it will haunt Kitty Milton for the rest of her life. Kitty and her husband, Ogden, are both from families considered the backbone of the country. But this refusal will come to be Kitty's defining moment, and its consequences will ripple through the Milton family for generations. For while they summer on their island in Maine, anchored as they are to the way things have always been, the winds of change are beginning to stir.
In 1959 New York City, two strangers enter the Miltons' circle. One captures the attention of Kitty's daughter, while the other makes each of them question what the family stands for. This new generation insists the times are changing. And in one night, everything does.
So much so that in the present day, the third generation of Miltons doesn't have enough money to keep the island in Maine. Evie Milton's mother has just died, and as Evie digs into her mother's and grandparents' history, what she finds is a story as unsettling as it is inescapable, the story that threatens the foundation of the Milton family myth.
Moving through three generations and back and forth in time,
The Guest Book
asks how we remember and what we choose to forget. It shows the untold secrets we inherit and pass on, unknowingly echoing our parents and grandparents. Sarah Blake's triumphant novel tells the story of a family and a country that buries its past in quiet, until the present calls forth a reckoning.
Reviews
"Three generations of intriguing women. An exclusive family-owned island off the coast of Maine. Lives of privilege versus lives without. A strict sense of matriarchal duty. Secrets. Regrets. All elements that draw me in for a good read. All elements in Sarah Blake's The Guest Book. An artfully written book with fresh and vibrant descriptions; some characters are imbued with such passionate joy and hope that I felt I was walking beside them (Sheryl M)." - BookBrowse
"Spanning three generations of Miltons, The Guest Book deserves a spot on your summer TBR in 2019." - Bustle
"An American epic in the truest sense…Blake humanely but grippingly explores the heart of a country whose past is based in prejudice." - Entertainment Weekly
"The Guest Book proudly owns the appeal of an old-fashioned sweeping storyline, and in so doing, complicates many of its characters beyond their shallow first impressions. In fact, one of the most engaging characters here defends the essential human yearning for a good story." - NPR
"Blake has a particular knack for dialogue; she knows exactly how to reveal the hidden depths of the characters both through what is said and what is unsaid. The result is potent and mesmerizing." - Publishers Weekly
"Tacking between the present, in which Kitty and Ogden's grandchildren may not be able to hold onto 'the Island,' which defines their legacy, and the fateful summer of 1959, when the Milton kingdom is infiltrated, thanks to the younger generation, by two inquisitive men, one Jewish, the other African American, Blake deftly interrogates the many shades of prejudice and "the ordinary, everyday wickedness of turning away"." - Booklist (starred review)
"This novel sets out to be more than a juicy family saga—it aims to depict the moral evolution of a part of American society. Its convincing characters and muscular narrative succeed on both counts." - Kirkus Reviews (starred review)
"Sarah Blake is such a beautiful writer she can make any world shimmer, but The Guest Book is particularly fascinating?an intergenerational exploration of memory, identity, love, and family loyalty?of what it costs to inherit a name, a place, and a difficult alignment with history. Powerful and provocative storytelling." - Paula McLain, New York Times bestselling author of The Paris Wife and Love and Ruin
"I loved The Guest Book. Sarah Blake has managed the extraordinary feat of writing both an intimate family saga and an ambitious excavation of the subterranean currents of race, class, and power that have shaped America. This is a vivid, transporting novel, written by a master conjuror of time and place." - Jessica Shattuck, New York Times bestselling author of The Women in the Castle
"Sarah Blake's powerful, beautifully written story portrays a couple's secret choices that come to haunt succeeding generations. The Guest Book is richly atmospheric and morally compelling in a way that stirs the mind long after the last page." - Nancy Horan, author of Loving Frank and Under the Wide and Starry Sky
About This Sweepstake
We have three hardcover copies of
THE GUEST BOOK
by SARAH BLAKE to give away.
This offer is open to residents of the USA only, except for BookBrowse members who are welcome to enter wherever they live.
Giveaway ends July 1, 2019