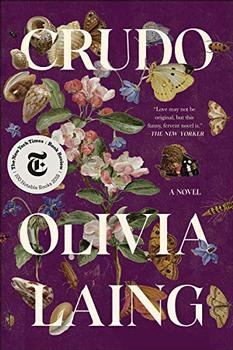 Crudo
by Olivia Laing
A New York Times Notable, The New Yorker, Washington Post, NPR, Guardian, Esquire, and Bustle Best Book of 2018

"Love may not be original, but this funny, fervent novel is."―The New Yorker
It's the summer of 2017 and Kathy is getting married. Meanwhile, fascism is on the rise, truth is dead, the planet is heating up, and Trump is tweeting the world ever closer to nuclear war. In Crudo, her first work of fiction, Olivia Laing radically rewires the novel with a fierce, compassionate account of learning to love when the end of the world seems in sight.
First published in hardcover and e-book Sept 2018. Paperback reprint: Sept 2019.
Reviews
"Like the foodstuff for which it is named, Olivia Laing's
Crudo
is weird, intense, served in a small portion, and totally delicious... Beautifully written and artfully focused."—Rebecca Mead, The New Yorker
"A single moment in modernity, deconstructed by the savagely entertaining, Acker-inspired voice of Laing."—Paris Review Daily
"A narrative written with immense vitality and, miraculously, the lightest of touches."—Deborah Levy,
Wall Street Journal
"Written with bristling intelligence, this debut novel… pays homage to the iconoclastic author Kathy Acker, creating a pastiche of voices and identities."—
New York Times
, "Notable Book of 2018"
"Breathless and gripping.… [
Crudo
] traps the first summer of Trump and Brexit like a fly in amber.… As a record,
Crudo
is perfect, and agonizing."—NPR
"[
Crudo
is] about the longing to escape our ossified selves—to become, if only for moment or within the pages of a novel, someone wilder and more radically free. And in staging that longing so directly and so honestly, Olivia Laing makes
Crudo
her own."—
New York Times Book Review
"
Crudo
could turn out to be a novel that we pick up years from now to remind ourselves how these times felt."—Alexandra Schwartz,
The New Yorker
"
Crudo
seduces from the very first sentence. Laing as Acker is not a literary device—it is literary detonation.…
Crudo
is a hot, hot book."—
Guardian
About This Sweepstake
One winner will be selected, who will win up to 12 paperback copies of CRUDO by OLIVIA LAING. If the winner is in a book club they will receive a copy for each member of their book club (up to a maximum of 12 copies); if the winner is not in a book club they will receive 4 copies (one for themselves and three to share with friends).
This offer is open to residents of the USA only.
Giveaway ends September 2, 2019