The Children by Ann Leary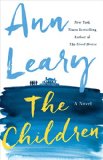 From New York Times bestselling author Ann Leary comes the captivating story of a wealthy, but unconventional New England family, told from the perspective of a reclusive 29-year-old who has a secret (and famous) life on the Internet.
Charlotte Maynard rarely leaves her mother's home, the sprawling Connecticut lake house that belonged to her late stepfather, Whit Whitman, and the generations of Whitmans before him. While Charlotte and her sister, Sally, grew up at "Lakeside," their stepbrothers, Spin and Perry, were welcomed as weekend guests. Now the grown boys own the estate, which Joan occupies by their grace - and a provision in the family trust.
When Spin, the youngest and favorite of all the children, brings his fiancé home for the summer, the entire family is intrigued. The beautiful and accomplished Laurel Atwood breathes new life into this often comically rarefied world. But as the wedding draws near, and flaws surface in the family's polite veneer, an array of simmering resentments and unfortunate truths is exposed.
With remarkable wit and insight, Ann Leary pulls back the curtain on one blended family, as they are forced to grapple with the assets and liabilities – both material and psychological – left behind by their wonderfully flawed patriarch.
Reviews
"Starred Review. In this deeply satisfying novel about how unknowable people can be, intrigue builds with glass shards of dark humor toward an ending that is far from comic." - Kirkus

"Although Leary (The Good House) ties up her loose ends a little too neatly, her characters are a delightful blend of strong personalities, all with their own little touch of delicious evil, and her darkly comic send-ups of New England wealth, nouveau riche, and Internet culture should keep readers absorbed until the final, most shocking secrets are revealed." - Publishers Weekly

"Ann Leary's compelling tale is satisfyingly layered with unreliable witnesses and betrayals large and small; in which the worst harm may not be caused by an unknown stranger." - Helen Simonson, author of Major Pettigrew's Last Stand

"With a deft, sure touch, Ann Leary moves easily and confidently between comedy and pathos, painting a rich portrait of a wealthy, eccentric Connecticut family whose conflicts and loyalties are far more complex than they first appear. As the story unfolds, it becomes a profound meditation on the burden of expectations, familial ties that bind, and the explosive nature of buried secrets." - Christina Baker Kline, author of Orphan Train

"The Children is populated by comically quirky characters reminiscent of Anne Tyler at her best. But in Ann Leary's capable hands, they come alive as funny, wise, sometimes confused but always hopeful as they navigate a plot rich with unexpected turns. Leary's unique voice and perspective make this the novel you won't be able to put down this summer." - Ann Hood, author of The Obituary Writer
We have 5 hardcover copies of The Children by New York Times bestselling author Ann Leary to give away.

This giveaway is open to residents of the USA only, except for BookBrowse members who are welcome to enter wherever they live.
Giveaway ends May 30, 2016