The Comedown by Rebekah Frumkin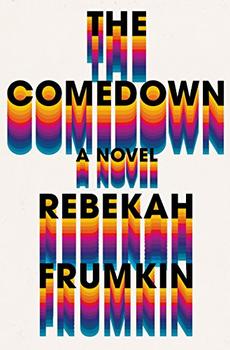 A dazzling epic that follows two very different families in Cleveland across generations, beginning with their patriarchs, who become irrevocably intertwined one fateful night.
A blistering dark comedy, Rebekah Frumkin's
The Comedown
is a romp across America, from the Kent State shootings to protest marches in Chicago to the Florida Everglades, that explores delineating lines of race, class, religion, and time.
Scrappy, street smart drug dealer Reggie Marshall has never liked the simpering addict Leland Bloom-Mittwoch, which doesn't stop Leland from looking up to Reggie with puppy-esque devotion. But when a drug deal goes dramatically, tragically wrong and a suitcase (which may or may not contain a quarter of a million dollars) disappears, the two men and their families become hopelessly entangled. It's a mistake that sets in motion a series of events that are odd, captivating, suspenseful, and ultimately inevitable.
Both incendiary and earnest,
The Comedown
steadfastly catalogs the tangled messes the characters make of their lives, never losing sight of the beauty and power of each family member's capacity for love, be it for money, drugs, or each other.
Reviews
"Starred Review. A stronger novel would more efficiently connect its many threads (or dispense with a few), but from page to page, character to character, this is a powerful debut. Frumkin has talent to burn, and this very good novel suggests the potential for a truly great one." - Kirkus

"[A] messily realistic narrative with many loose ends and too much detail about minor players, yet with a powerful sense of personal blind spots and self-delusions. Fans of puzzling, epic family sagas will enjoy the layered narrative, but the roundabout path may put off some readers." - Publishers Weekly

"And if her novel's sprawl comes at the cost of its focus, Frumkin displays a real knack for creating lifelike, original characters and letting them do the talking. Readers who enjoy getting quite literally lost in interconnected stories and drilled-down character studies will happily buckle up for the ride." - Booklist

"The Comedown is everything you could want in a novel - an intergenerational family saga, a mystery that spans modern American history, a scalpel cut through our many national foibles and shames. Funny, heartbreaking, tremendous; Frumkin's intelligence and empathy radiates off every page." - Carmen Maria Machado, author of Her Body and Other Parties

"Rebekah Frumkin is a writer of deeply impressive imagination and brilliant execution. I've read few writers who take such an ambitious and convincing bite of the world." - Ethan Canin, Guggenheim fellow and author of A Doubter's Almanac, America America and more

"As inclusive and capacious as it is intimate, this look at a turbulent time in American political and family life will invite comparisons to Jonathan Franzen and the Coen Brothers, but Rebekah Frumkin's unsparingly honest and endlessly compassionate voice is unique, as is her ability to combine humor and pathos in a way that strikes the heart." - Deborah E. Kennedy, author of Tornado Weather
About This Sweepstake!
We have 5 hardcover copies of
THE COMEDOWN
by REBEKAH FRUMKIN to give away.
This offer is open to residents of the USA only, except for BookBrowse members who are welcome to enter wherever they live.
Giveaway ends May 26, 2018