Blood at the Root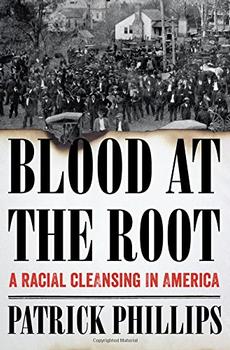 Forsyth County, Georgia, at the turn of the twentieth century was home to a large African American community that included ministers and teachers, farmers and field hands, tradesmen, servants, and children. Many black residents were poor sharecroppers, but others owned their own farms and the land on which they'd founded the county's thriving black churches.
But then in September of 1912, three young black laborers were accused of raping and murdering a white girl. One man was dragged from a jail cell and lynched on the town square, two teenagers were hung after a one-day trial, and soon bands of white "night riders" launched a coordinated campaign of arson and terror, driving all 1,098 black citizens out of the county. In the wake of the expulsions, whites harvested the crops and took over the livestock of their former neighbors, and quietly laid claim to "abandoned" land. The charred ruins of homes and churches disappeared into the weeds, until the people and places of black Forsyth were forgotten.
National Book Award finalist Patrick Phillips tells Forsyth's tragic story in vivid detail and traces its long history of racial violence all the way back to antebellum Georgia. Recalling his own childhood in the 1970s and '80s, Phillips sheds light on the communal crimes of his hometown and the violent means by which locals kept Forsyth "all white" well into the 1990s.
Blood at the Root
is a sweeping American tale that spans the Cherokee removals of the 1830s, the hope and promise of Reconstruction, and the crushing injustice of Forsyth's racial cleansing. With bold storytelling and lyrical prose, Phillips breaks a century-long silence and uncovers a history of racial terrorism that continues to shape America in the twenty-first century.
Reviews
"An engaging portrait of the South's haunting legacy, the lessons of Blood at the Root: A Racial Cleansing in America will stick with readers long after they have completed the book. Regrettably, they are lessons Americans still need to learn, for many black Americans today continue to experience racial injustice. Incidents like Trayvon Martin's murder and the unrest in Ferguson, Missouri are modern reminders of how much work Americans need to do to eradicate racial intolerance. The plight for equality in the United States continues." - BookBrowse
"There are few heroes in this accounting, which stands as a sobering reminder that the racial fantasies and fears that have ruled so much of our history only continue to haunt the present." - Library Journal
"Starred Review. This is a gripping, timely, and important examination of American racism, and Phillips tells it with rare clarity and power." - Publishers Weekly
"Starred Review. Phillips brings a journalist's crisp perspective to this precise and disquieting account of a reprehensible and underreported chapter in America's racial history." - Booklist
"Starred Review. An impressive reckoning with a shameful piece of the past that 'most natives of Forsyth would prefer to leave ... scattered in the state's dusty archives or safely hidden in plain sight'." - Kirkus Reviews
"Nothing undermines social justice more than our collective ignorance about the racial terrorism that haunts too many places in America. Blood at the Root is a must-read, thorough, detailed, and powerful. It's a story we need to know and never forget." - Bryan Stevenson, author of Just Mercy
"There are places the civil rights movement literally passed by, and for decades Forsyth County was one of those pockets. Blood at the Root is a vital investigation of Forsyth's history, and of the process by which racial injustice is perpetuated in America." - U.S. Congressman John Lewis, author of March
"Some would say that Patrick Phillips should leave well enough alone and keep quiet… But [his] voice is too honest, too brave, and too brilliant to be silenced. With a poet's gift for music, and with a detective's dedication to the facts, Blood at the Root faces the specter of a bloody history without turning its back on the hope that the present has brought us. If the truth sets us free, this book will give you wings." - Tayari Jones, author of Silver Sparrow
"The burden of southern history lies not in what we know about the past but what we do not know. Patrick Phillips uncovers an important untold piece of history… What he reveals in this important book does not make this chilling piece of the past any easier to bear, but he brings it into sharper focus, which is long overdue." - W. Ralph Eubanks, author of Ever is a Long Time: A Journey in Mississippi's Dark Past
"This extraordinary book lays bare a telling paradox of historical amnesia and unforgettable terror. Behind the fearsome legend of Forsyth County, Georgia, Patrick Phillips finds more of America than we would like." - Taylor Branch, author of Parting the Waters
"A powerful, timely and necessary reckoning with the past." - Natasha Trethewey, Pulitzer Prize–winning author of Native Guard and former U.S. Poet Laureate
We have 5 hardcover copies of Blood at The Root: A Racial Cleansing in America by Patrick Phillips to give away.

This offer is open to residents of the USA only, except for BookBrowse members who are welcome to enter wherever they live.
Giveaway ends October 4, 2016