Memorial Drive
by Natasha Trethewey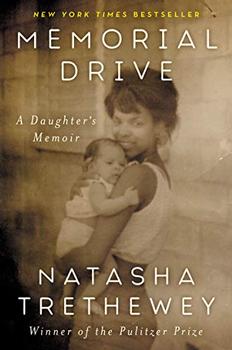 A chillingly personal and exquisitely wrought memoir of a daughter reckoning with the brutal murder of her mother at the hands of her former stepfather, and the moving, intimate story of a poet coming into her own in the wake of a tragedy.
At age nineteen, Natasha Trethewey had her world turned upside down when her former stepfather shot and killed her mother. Grieving and still new to adulthood, she confronted the twin pulls of life and death in the aftermath of unimaginable trauma and now explores the way this experience lastingly shaped the artist she became.
With penetrating insight and a searing voice that moves from the wrenching to the elegiac, Pulitzer Prize–winning poet Natasha Trethewey explores this profound experience of pain, loss, and grief as an entry point into understanding the tragic course of her mother's life and the way her own life has been shaped by a legacy of fierce love and resilience. Moving through her mother's history in the deeply segregated South and through her own girlhood as a "child of miscegenation" in Mississippi, Trethewey plumbs her sense of dislocation and displacement in the lead-up to the harrowing crime that took place on Memorial Drive in Atlanta in 1985.
Memorial Drive
is a compelling and searching look at a shared human experience of sudden loss and absence but also a piercing glimpse at the enduring ripple effects of white racism and domestic abuse. Animated by unforgettable prose and inflected by a poet's attention to language, this is a luminous, urgent, and visceral memoir from one of our most important contemporary writers and thinkers.
Reviews
"The memoir is bookended by the author's recounting of a recurring dream. Of this dream and a particularly vivid and traumatic memory from childhood, she writes, "What matters is the transformative power of metaphor and the stories we tell ourselves about the arc and meaning of our lives." For a writer especially, metaphor is a powerful tool. But Memorial Drive offers insight and instruction for anyone who has experienced trauma. The memories, dreams and other ephemera that haunt us may ultimately prove key to finding meaning and hope (or perhaps just the ability to put one foot in front of the other) in our darkest hours." - BookBrowse
"Fixating on her mother's past as well as her own, Trethewey constructs a moving reflection on racism, abuse and trauma." - Time
"Trethewey, a former U.S. poet laureate, sketches a portrait of her mother's life in the South as she considers the enduring influence of her love as well as the vicious effects of domestic violence, racism and sudden loss." - Boston Herald
"This is a book with a slow, steady build. This is restraint in service to release....Even though you intuit what is coming, the moment you learn of Gwendolyn's death is as stunning as the moment when Anna Magnani is shot in the street in Roberto Rossellini's Rome, Open City." - New York Times
"Trethewey excavates her mother's life, transforming her from tragic victim to luminous human being...This is a political book. It is the story of a woman cut down in her prime, about a sick man who imposed his control and had his way, about the larger story of power in America." - Washington Post
"Stunning . . . The work confronts the brutal murder of her mother, committed at the hands of her second husband, as well as the searing, unique pain of growing up, as Trethewey writes, a 'child of miscegenation.'" - Esquire
"A breakthrough book that artfully balances prose and lyricism as it guides us through unspeakable trauma. . . . A deep examination of memory, race, and racism, subjects that fuel her renowned poetry collections" - Los Angeles Review of Books
"[B]eautifully composed, [and] achingly sad...This profound story of the horrors of domestic abuse and a daughter's eternal love for her mother will linger long after the book's last page is turned." - Publishers Weekly
"[A] graceful, moving memoir...Delicate prose distinguishes a narrative of tragedy and grief." - Kirkus Reviews
"Through spare prose and vivid imagery, the author presents a narrative of a trauma survivor's need to remember a past that, for 30 years, lapsed into the mind's shadows. A moving, heartbreaking memoir about a traumatic event and the path to healing." - Library Journal (starred review)
"Natasha Trethewey has composed a riveting memoir that reads like a detective story about her mother's murder by a malevolent ex-husband. It reads with all the poise and clarity of Trethewey's unforgettable poetry—heartrending without a trace of pathos, wise and smart at once, unforgettable. The short section her mother penned as she was trying to escape the marriage moved me to tears. I read the book in one gulp and expect to reread it more than once. A must-read classic." - Mary Karr, author of The Liars' Club, Cherry, and Lit
"In Memorial Drive, Natasha Trethewey has transformed unimaginable tragedy into a work of sublimity. There's sorrow and heartbreak, yes, but also a beautiful portrait of a mother and her daughter's enduring love. Trethewey writes elegantly, trenchantly, intimately as well about the fraught history of the south and what it means live at the intersection of America's struggle between blackness and whiteness. And what, in our troubled republic, is a subject more evergreen?" - Mitchell S. Jackson, author of Survival Math
"Haunting, powerful, and painfully stunning, Memorial Drive is one of the best memoirs I've read in a long time. A brilliant storyteller, Trethewey writes the unimaginable truth with a clear-eyed courage that proves, once again, that she's one of the nation's best writers." - Ada Limón, author of Bright Dead Things and NBCC award-winner The Carrying
About The Sweepstakes
We have five hardcover copies of
Memorial Drive
by Natasha Trethewey to give away.
This offer is open to residents of the USA only, except for BookBrowse members who are welcome to enter wherever they live.
Giveaway ends October 5, 2020