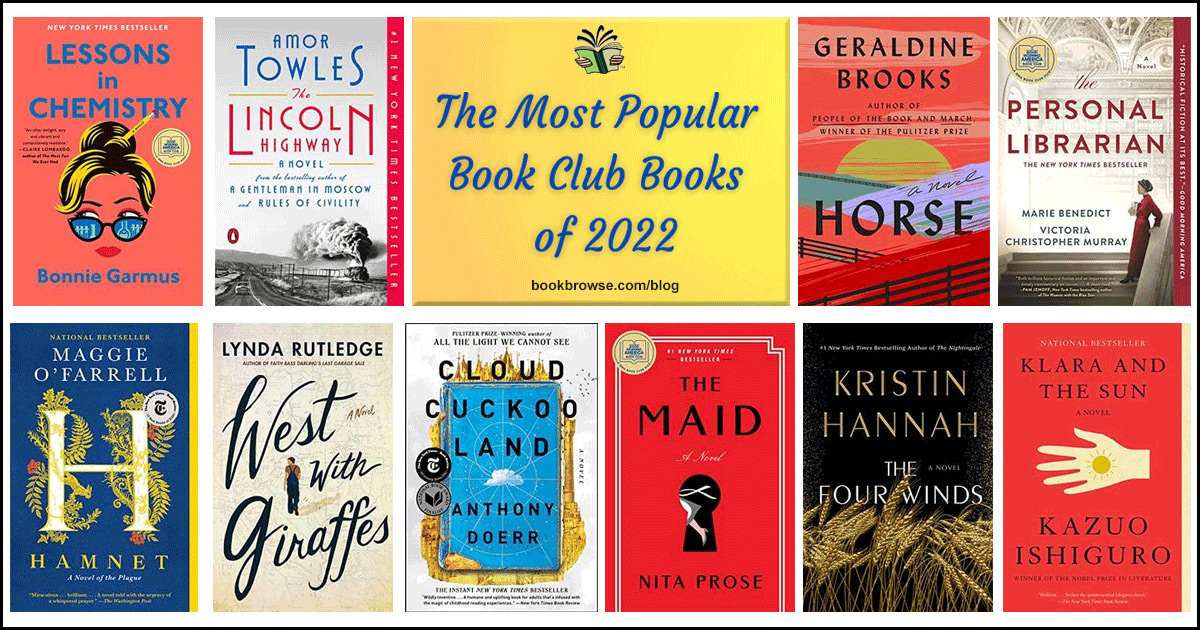 At the start of each year, we ask BookBrowse subscribers to look back on the previous year and tell us which books they most enjoyed discussing with their book group. The 2022 Top 10 includes some favorites from previous years and some new arrivals!
The Most Popular Book Club Books of 2022
For the second year, Amor Towles takes a top spot with The Lincoln Highway, along with four other books which were also on the Top 10 List in 2021: The Personal Librarian, Hamnet, The Four Winds and Klara and the Sun. These are all excellent books which continue to deliver superlative storytelling and rich fodder for discussion.

But topping the charts, with one in seven respondents naming it as a favorite book, is Lessons in Chemistry. This is a particularly impressive given that Bonnie Garmus' debut didn't publish until April 2022, and is not yet available in paperback (the preferred format for many book groups).

Although Top 10 lists make for interesting reading, it's important to remember that there are book groups for every possible reading interest, and even among what might be considered typical groups, reading mostly literary fiction with forays into genre fiction and nonfiction, there are so many exceptional books to choose from that this Top 10 list represent only the very tip of the iceberg. In fact, the list of favorite titles is so wide and varied that only 14 books were named by at least 2% of respondents—and more than 1,300 different titles were named overall!

Here are the remaining titles that got at least 2% of votes (in ratings order):
More related posts:

Best Fiction Books for Book Clubs in 2023
Best Nonfiction Books for Book Clubs in 2023

The Most Popular Book Club Books of 2021
The Most Popular Book Club Books of 2020
The Most Popular Book Club Books of 2019

Book Clubs' All-Time Favorite Authors
Book Clubs' All-Time Favorite Books
Book Clubs' All-Time Favorite Mysteries/Thrillers
Book Clubs' All-Time Favorite Nonfiction

The above information is based on a February 2023 survey of BookBrowse subscribers. Only subscribers were eligible to take part so as to prevent the ratings being skewed by enthusiastic fan bases. Respondents must have discussed at least five books in a book club setting in 2022, and were permitted to name up to three favorites; a total of 3527 votes were cast; 97% of respondents were female.