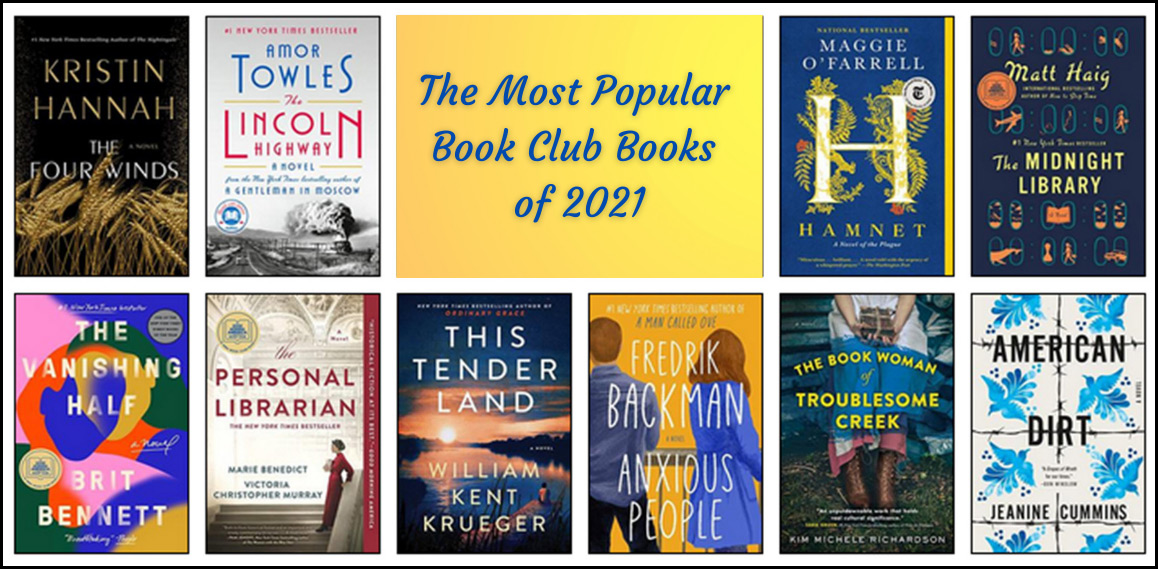 We recently asked BookBrowse subscribers to tell us about the books they most enjoyed discussing with their book group in 2021. This is what they told us:
The Most Popular Book Club Books of 2021

It's no surprise that novels by Kristin Hannah and Amor Towles take the top two spots. Hannah's The Great Alone (2018) was listed as a book club favorite in our 2019 survey, and her novel The Nightingale (2015) made it onto our list of Book Clubs' All-Time Favorite Books; and Amor Towles' novel A Gentleman in Moscow (2016) took the top spot on the All-Time Favorites list, and the second spot in the 2019 survey. Both authors deliver exactly what many book clubs look for in terms of rich fodder for discussion.

Meanwhile, four of the books in last year's Top 10 were also ranked in the 2020 Top 10: This Tender Land, The Book Woman of Troublesome Creek, The Vanishing Half and American Dirt.

It's important to note that book clubs are not homogeneous. There are book groups for every possible reading interest, and even among what might be considered typical groups (reading mostly literary fiction with forays into genre fiction and nonfiction), with so many books to choose from and groups being at different points in their reading journey, this Top 10 list represents the very tip of the iceberg. In fact, the list of favorite titles is so wide and varied that only 14 books were named by at least 2.5% of respondents and more than 900 different titles were named overall.

The titles that got at least 2.5% of votes but fell outside the Top 10 are (in ratings order) The Dutch House by Ann Patchett, Caste by Isabel Wilkerson, Klara and the Sun by Ishiguro Kazuo and Where the Crawdad Sings by Delia Owens.
Other articles in this series:
All-Time Favorite Authors
All-Time Favorite Books Overall
All-Time Favorite Mysteries/Thrillers
All-Time Favorite Nonfiction
The Most Popular Books of 2020
The Most Popular Books of 2019


The Top 10 shown above is based on a February 2022 survey of BookBrowse subscribers. Only subscribers were eligible to take part so as to prevent the ratings being skewed by enthusiastic fan bases. Respondents must have discussed at least five books in a book club setting in 2021, and were permitted to name up to three favorites. There was a total of 3,280 votes cast. Ninety-seven percent of respondents were female.