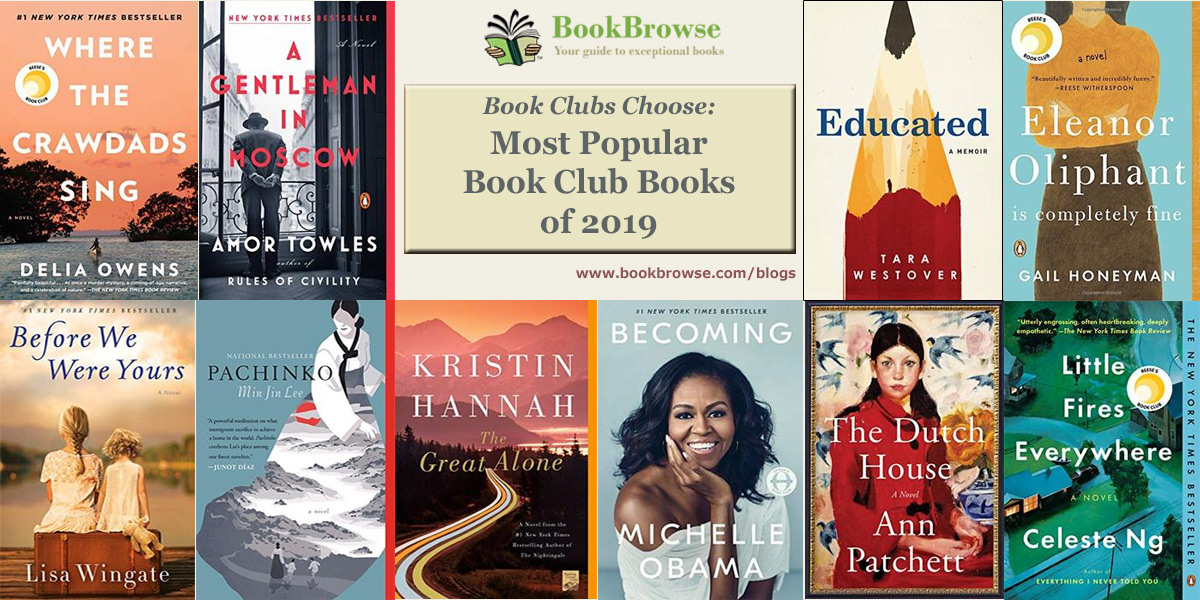 This is the fourth in a series of four posts. See also overall favorites, nonfiction and mysteries and thrillers.
In the previous three posts in this sequence, we shared the results of our 2020 survey of book club members to find out their favorite book club books of all-time. In three separate questions, we asked them to name their overall favorites, their nonfiction favorites and their mystery/thriller favorites, always reminding them to only name books that they had discussed in a book club setting, because the qualities that make for great books to read don't always translate into great discussions.
In the final question, we asked them to think back over just those books they discussed in a book club during 2019, and to name their one overall favorite; 1,354 responded to this question:
The Most Popular Book Club Books of 2019
| | | |
| --- | --- | --- |
| Rank | Book | % of Respondents |
| 1 | Where the Crawdads Sing by Delia Owens (2018, Putnam) | 14.2% |
| 2 | A Gentleman in Moscow by Amor Towles (2016, Viking) | 5.3% |
| 3 | Educated by Tara Westover (2018, Random House) | 4.1% |
| 4 | Eleanor Oliphant is Completely Fine by Gail Honeyman (2017, Pamela Dorman) | 1.9% |
| 5 | Before We Were Yours by Lisa Wingate (2017, Ballantine) | 1.8% |
| 6 | Pachinko by Min Jin Lee (2017, Grand Central) | 1.6% |
| 7= | The Great Alone by Kristin Hannah (2018, St Martin's Press) | 1.4% |
| 7= | Becoming by Michelle Obama (2018, Crown) | 1.4% |
| 9 | The Dutch House by Ann Patchett (2019, Harper) | 1.3% |
| 10 | Little Fires Everywhere by Celeste Ng (2017, Penguin Press) | 1.2% |
Jan 2020 Survey: 1,354 responses, one choice each.
Where the Crawdads Sing was clearly the runaway hit of the year, and A Gentleman in Moscow and Educated continued to reach, and impress, new groups.

There is remarkably little to distinguish the rest of the pack. Other than the top three, no book received more than 2% of votes, and overall, only 14 titles received even 1% of votes. Including the Top 10, these were The Book Woman of Troublesome Creek by Kim Michele Richardson, The Alice Network by Kate Quinn, The Overstory by Richard Powers, and The Library Book by Susan Orleans. In fact, with well over 400 titles named by at least one respondent, not even a handful of votes stands between the bottom end of the Top 10 and the books that came in just below; and, by extension, with the books that came in below them.

In short, to reprise the point made in the opening post in this sequence, the books that book clubs read, and the books that most resonate with readers, are as diverse as the people in book clubs themselves.

Please do share your favorite book that you read with a book club in 2019 by posting below!


More Top 10 Lists
The Most Popular Books of 2020
The Most Popular Books of 2021
Overall All-Time Favorites
All-Time Nonfiction Favorites
All-Time Mystery & Thriller Favorites
About the Survey