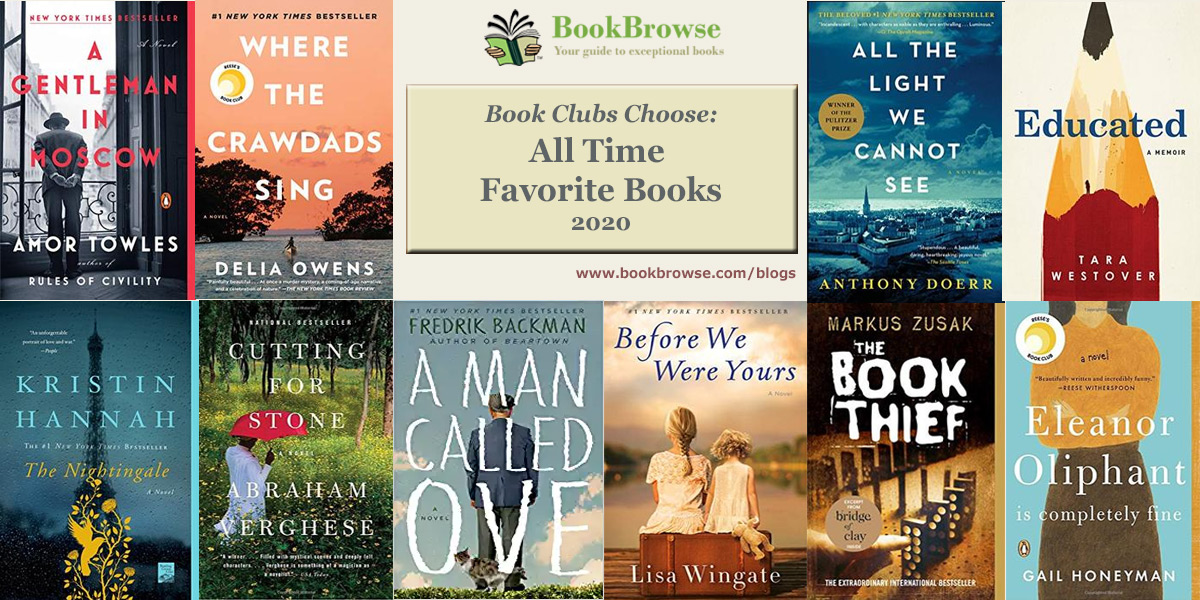 This is the first in a series of four posts. See also nonfiction, mysteries & thrillers, and most popular books of 2019.
What are your top three all-time favorite book club books?
This is the question we posed to the 1,901 book club members who took part in our January 2020 survey.
Those who responded were well-qualified to answer this question. Over 90% have been in a book club for at least three years, 55% have more than ten years of book club experience under their belts, and almost half belong to more than one group. In other words, they've discussed a lot of books, so the titles that made it into the overall Top 10 had to triumph over a lot of competition.
Book Clubs' All-Time Overall Favorite Books
| | | |
| --- | --- | --- |
| Rank | Book | % Respondents |
| 1 | A Gentleman in Moscow by Amor Towles (2016, Viking) | 14.6% |
| 2 | Where the Crawdads Sing by Delia Owens (2018, Putnam) | 12.0% |
| 3 | All the Light We Cannot See by Anthony Doerr (2014, Scribner) | 7.4% |
| 4 | Educated by Tara Westover (2018, Random House) | 6.5% |
| 5 | The Nightingale by Kristin Hannah (2015, St Martin's Press) | 6.0% |
| 6 | Cutting for Stone by Abraham Verghese (2009, Knopf) | 3.8% |
| 7 | A Man Called Ove by Fredrik Backman (2014, Atria) | 3.1% |
| 8 | Before We Were Yours by Lisa Wingate (2017, Ballantine) | 2.9% |
| 9 | The Book Thief by Markus Zusak (2006, Knopf) | 2.8% |
| 10 | Eleanor Oliphant is Completely Fine by Gail Honeyman (2017, Pamela Dorman) | 2.7% |
Jan 2020 Survey: 1,901 responded, option to name up to 3 books, 5,355 total responses, average 2.8 titles per respondent.
It would be tempting to glance at a Top 10 list like this and assume that book clubs are a homogeneous bunch all cycling though the same books but, in fact, that is far from the truth. While a handful of the titles in the list above clearly stand head and shoulders above the others in terms of the percentage of book clubbers rating them as favorites, book club reading is as diverse as the people in them, as shown by the fact that, in total, respondents named well over 800 different titles as all-time favorites.

With that said, it is interesting to note how consistent the list has remained since we asked this same question two years ago. Only three of the 2018 Top 10 are not on the 2020 list, and two of those only narrowly missed making the cut: Boys in the Boat (#5 in 2018, #13 in 2020) and The Help (#8 in 2018, #11 in 2020). The remaining 2018 title was Our Souls at Night which was at #9, perhaps boosted by the 2017 movie adaptation.



Top 10 Comparison 2020 vs 2018
April 2018 Survey: 1,038 responded, option to name up to 3 books, 2,868 total responses, average 2.8 titles per respondent.
It is also interesting to see how contemporary the list is. A number of factors likely contribute to this, not least the fallibility of the human brain. A book read years ago has to be extraordinarily powerful to stay top of mind and ready to be recalled at a moment's notice for a survey of this type, which make the inclusion of Cutting for Stone and The Book Thief particularly notable.

Another factor is that we specified that respondents could only vote for books that they had personally discussed in a book club setting. Because most book clubs tend to focus on discussing relatively recently published books, many respondents would not have had the opportunity to discuss the older titles that did receive votes in our survey but not enough to push them into the Top 10. Sometime in the not too distant future, we'll revisit the survey data and publish a longer list of favorites in the hope of inspiring book clubs to explore some of the older but still excellent books that show up further down the list.

While there's no such thing as a one-size-fits-all book club book, there are certain criteria that most book clubs look for in their reading, the most fundamental of which is, of course, that there's plenty to discuss! For more on this topic, see The 13 Things Book Clubs Look for When Picking Books.

Please do share your all-time favorite book club books by posting below!


More Top 10 Lists, or scroll down for demographics:
All-Time Nonfiction Favorites
All-Time Mystery & Thriller Favorites
Most Popular Books of 2019
About the Survey
The survey was conducted between Jan 21-30, 2020. Only those already subscribed to BookBrowse's monthly
Book Club News
newsletter were invited to take part and were asked not to share the link with others, so as to discourage publishers, authors or fans reaching out to their friends and followers asking them to vote for a particular book. Many popular awards actively encourage this behavior but it obviously skews the responses and makes the resulting data of limited validity. About 15% of respondents were not on BookBrowse's mailing list, but the consistency of results compared to our 2018 survey indicates that no significant skew was introduced.
Age and Gender
97% of respondents were female. 88% lived in the USA, 5% in Canada, and the remainder elsewhere.
78% indicated they were aged 55+. BookBrowse has conducted extensive research into book clubs over more than 15 years (such as
The Inner Lives of Book Clubs
, 2019) which has consistently shown that the proportion of readers in book clubs increases with age, but the responses to this particular survey skew notably older. In part this is likely to be because BookBrowse's most engaged users tend to skew older, and also because older age groups are significantly more likely to respond to surveys.
Are you now, or have you ever been, a member of a book club?
84% currently in a book club
16% previously in a book club but not now
Where does/do your current book club(s) meet?
90% in person
3% online
4% in person and online
3% other
How many book clubs do you currently belong to?
52% one group
33% two groups
15% three or more groups
In past research of BookBrowse's subscribers, we've seen that around one-third of book club members report being in more than one group. The percentage here is higher which we believe is due to similar factors as noted above for age. Additionally, among BookBrowse's subscribers, and particularly those who subscribe to our Book Club New newsletter, we are fortunate to count many librarians, book club leaders and highly engaged readers in general, who by extension have an above average likelihood of being in multiple book clubs.
Including book clubs you may have belonged to in the past, approximately how many years have you spent in book clubs?
8% 2 years or less
10% 3-4 years
14% 5-7 years
13% 8-10 years
15% 11-14 years
16% 15-19 years
15% 20-29 years
9% 30+ years
– Davina Morgan-Witts