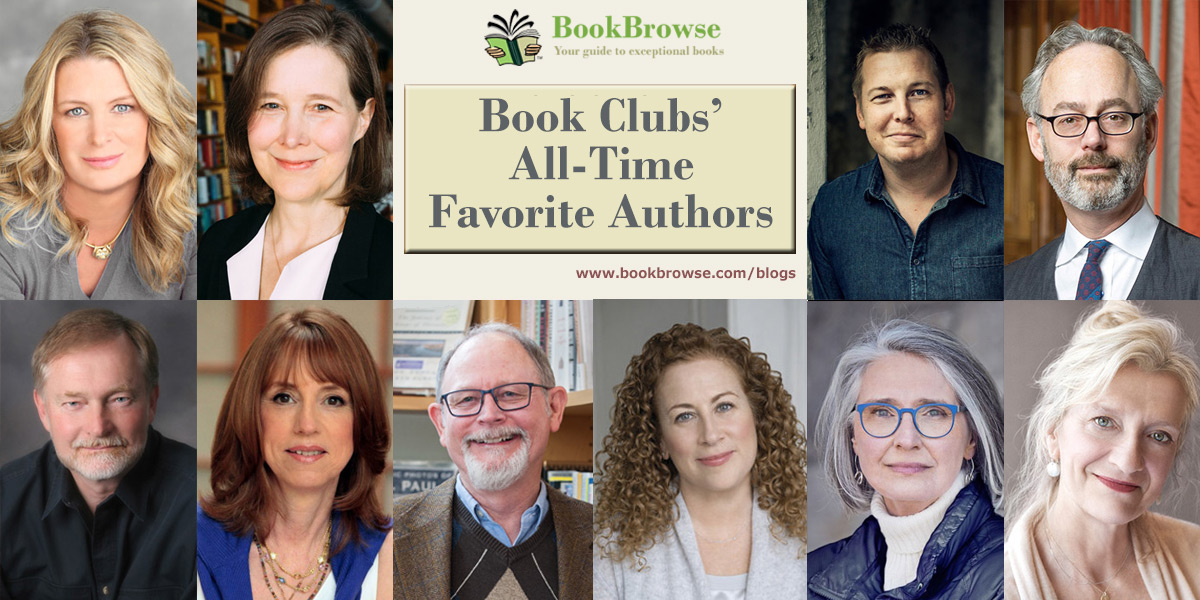 Last year, we asked book club members to vote for their favorite book club books of all time. Despite the survey question stating that we could only accept individual book titles, a number of people wrote in responses such as "anything by xxx." So, this year, alongside asking book clubbers to name their
favorite 2020 books
, we also asked them to name their all-time favorite book club authors. This is what they told us:
Book Clubs All-Time Favorite Authors
February 2021 survey of 1,454 respondents who had the option to name up to 3 authors, resulting in 4,049 total responses; an average of 2.8 authors per respondent. Book count based on data from FantasticFiction for all authors, except Wikipedia for Erik Larson.

Only those subscribed to BookBrowse's book club mailing list were eligible to respond, so as to prevent the ratings being skewed by enthusiastic fan bases. Respondent Profile: Approx. how many years of your life have you spent in a book group: Less than 5 years: 15%; 5-10 years: 25%; 11-19 years: 30%; 20-29 years: 19%; 30+ years: 11%. 96% female. Age: 65+ years: 71%; under 65: 29%.


Kristin Hannah is the clear #1 favorite author among our respondents; but as I've said many times before, book clubs are not homogeneous. While an impressive 18% of BookBrowse subscribers who responded to the survey listed Hannah as one of their all-time favorite authors to read and discuss, that's still less than one-fifth of all respondents. To me, the bigger story is how wide the range of favorite authors is -- over 700 authors were named, and overall only 24 authors received votes from 2% or more of respondents. In addition to the 10 in the chart above, the others are (in ratings order): JoJo Moyes, Barbara Kingsolver, Delia Owens, Alice Hoffman, Isabel Allende, Lisa Wingate, Louise Erdrich, Geraldine Brooks, Jane Austen, Anne Tyler, Isabel Wilkerson, Sue Monk Kidd, Colson Whitehead and Anthony Doerr.

To some degree, the more prolific an author, the greater chance that they will score high in the rankings. For example, Kristin Hannah has published at least 24 books (albeit she did not hit book club pay dirt until her 2015 bestseller, The Nightingale which marked a genre shift from romance to historical fiction), while Delia Owens fell outside the Top 10 author list despite her debut, Where the Crawdads Sing, ranking as the #1 most popular book club book of 2019 and 2020.

However, quantity is not everything because we know from our research that the great majority of book groups actively look for books that challenge them, and so while they will return to proven authors, on the whole they're unlikely to read through an entire series together. Thus, Louise Penny's 17 books and William Kent Krueger's 21 do not necessarily give them an advantage in proportion to their output, because all of Penny's books and most of Krueger's are part of a series.

By comparison, Erik Larson's eight nonfiction books are all on different topics but all share his signature dynamic narrative style. Larson is also notable as being the only nonfiction author to make the top 10. In fact, when it comes to nonfiction writers, only he and Isabel Wilkerson (author of Caste) scored more than 2% of votes, despite most book clubs reading nonfiction at least occasionally.

When factoring in overall output, I would say that Amor Towles #3 ranking is particular impressive given that his small but perfectly formed oeuvre consists of just three books, one of which is A Gentleman in Moscow, which book club members voted their #1 all-time favorite book in our survey last year.

It is a little sad to see that contemporary authors dominate the top of the list; only Jane Austen made the top 24.

It is also disappointing to see how, even when looking at the extended list, the great majority are white (and American.) But it is important to emphasize that this list does not begin to represent all authors that are being read and enjoyed by book clubs -- only the very tip of the iceberg of the more than 700 authors that were named as all-time favorites by at least one respondent. And this in turn, represents just a fraction of all the authors and books being read by book groups, because the survey format allowed respondents to name just three favorite authors from all the books they have ever read with their book clubs--over a period of time that often extends into multiple decades of participation. With all that said, historically speaking, the publishing industry has not given books by people of color the attention, sales and sizeable contracts offered to white authors; and the majority of book clubs do tend to gravitate to the higher profile titles.

– Davina Morgan-Witts


Other articles in this series:

Book Clubs':
All-Time Overall Favorite Books
All-Time Favorite Mysteries/Thrillers
All-Time Favorite Nonfiction
The Most Popular Books of 2019
The Most Popular Books of 2020
Photo credits where known:
Kristin Hannah: Charles Bush
Fredrik Backman: Henric Lindsten
Erik Larson: Mary Cairns
William Kent Krueger: Paul Dinndorf
Jodi Picoult: Nina Subin
Louise Penny: Jean-Francois Bérubé

This post was edited shortly after publication to expand the final paragraph.