Although a difficult year for many, 2020 turned out to be a great year for excellent books. If you don't already have a stack of unread books on your nightstand waiting for your attention (or even if you do), you'll definitely want to pick up a few of these titles from our Best of Year lineup - the highest rated books of 2020, as voted on by BookBrowse subscribers in our annual Best of Year survey (over 9,400 votes were cast). The books are listed in ratings order lower down this page; but first, the four 2020 Award Winners!


The 2020 BookBrowse Award Winners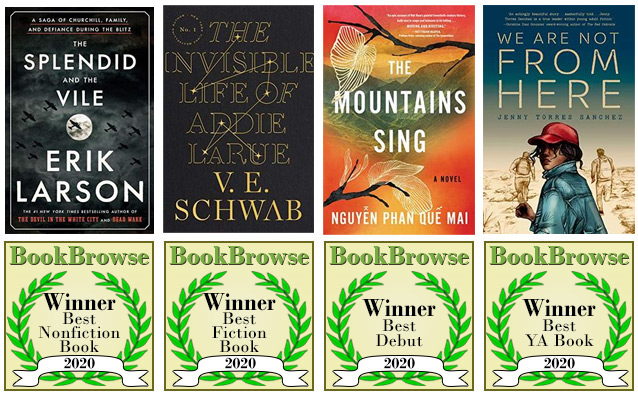 The award for Best Nonfiction Book goes to
Erik Larson
's
The Splendid and the Vile
. Larson, known for other bestsellers such as
The Devil in the White City
and
Dead Wake
, delivers a gripping account of Churchill's political brinkmanship as he united Britain to face the challenge of an apparently unbeatable foe.
The Best Fiction Book Award goes to
V.E. Schwab
for
The Invisible Life of Addie LaRue
, the compelling saga of a woman who sells her soul for a longer life - but with a catch: she'll live precisely as long as she wants to but she will leave no mark of her passage, no proof she existed; she is cursed to be forgotten through all time.
Our Best Debut Award goes to
Nguyễn Phan Quế Mai
's
The Mountains Sing
, a multi-generational tale of the Tran family, set against the backdrop of the Viet Nam War. Nguyen Phan Que Mai is a celebrated poet in Vietnam, and her first novel in English has proven to be very popular, receiving starred reviews from BookBrowse, Publishers Weekly, Library Journal, and Kirkus Reviews.
We Are Not From Here
by
Jenny Torres Sanchez
wins the Best Young Adult category. This moving novel explores desperation, escape, and survival across the U.S.-Mexico border, and is inspired by current events. It brings a vivid portrait of lives torn apart and the desperate plight of migrants at the U.S. southern border to a young adult audience.
The Top 20 Best Books of 2020
Below is the full list of all 20 Best Books of 2020 in ratings order. Click any jacket to read about each book.
How We Select These Books
BookBrowse's Awards are different to other popular awards for two reasons. Firstly, voting is only open to BookBrowse subscribers - so there is no vote stuffing by rabid fan bases. Secondly, instead of just voting for a book (which favors the most widely read titles) participants rate each book they've read that is on the shortlist, and the winners are the books with the highest overall rating.
More about the process
.
Past Winners
You can browse 16 years of
Award Winners
and 21 years of
Favorites
on BookBrowse.