All Booked Up Book Group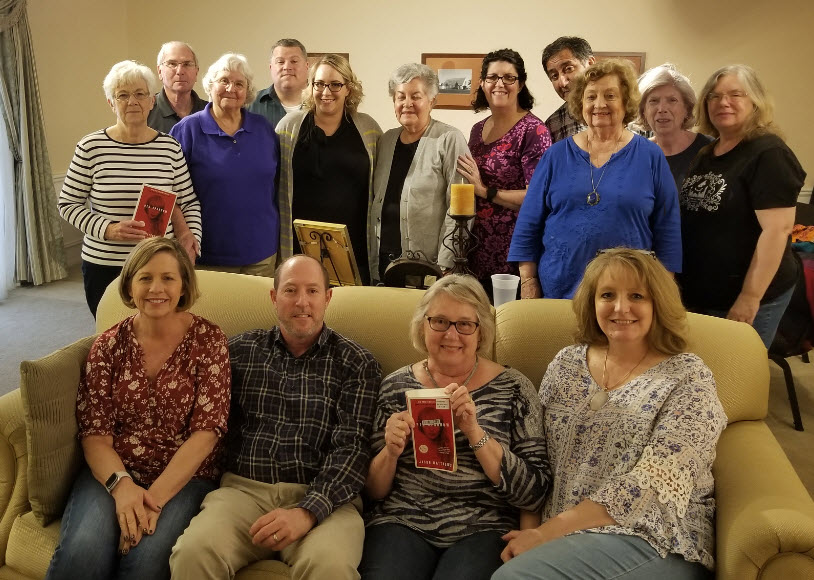 The All Booked Up Book Group is a mix of younger and older readers, different faiths, and an openness that facilitator Ann Zeigler feels creates a unique dynamic between its members. Tamara Ellis Smith interviews Ann:


Hi Ann! I'm so glad to talk with you today! Please tell us a bit about your book group.

Let's see. The All Booked Up book group has 18 members. Four of us are male. Our ages range from 30 to 88, although we do have a 20-year-old college student who is the daughter of one of our members and will join us when her classes allow. We changed our name last year after 17 years of being named The Read and Dialogue Book Group.

Why did you decide to do that?

The Read and Dialogue Book Group name was a bit too dated and we needed a catchier one.

I like it!

Oh also, we prefer using the word "group" rather than "club."

Okay, I'm totally interested in why you prefer one word over the other?

The word "club" sounded too cliquish and not inviting to all.

I can see that. That is very cool. So I can already see a little bit of the personality of your group, but how else would you describe it?

We're all learners. We're open to new ideas and respectful of all members. We also share a lot of humor and fun!

I want to join!

We really do care a lot about each other.

Is there something in particular that makes your group special to you?

I think our age differences. And our openness. Also, we have three faiths represented and respected.

That's the learning you mentioned, right? You come from things at different angles?

Yes. And all viewpoints are really heard.

That's so special.

You're right. We are special because we are so diverse. Although we began years ago as a church book group, as I said we now have three major faiths represented. We are a mixed gender bunch with varied political beliefs and varied levels of education—

But you all—

But we all are avid readers. And we have a writer in the group too! A New York Times best-selling author in our midst.

I have to ask—who?

Leila Meacham – I am fortunate to be her "unofficial" reader. In fact, we were on the phone this morning and she read to me another chapter. She is most gracious when I question or suggest something. Her latest book Dragonfly came out on July 9. Leila and I met at church eons ago and have been great friends. She was an English teacher – She is 80 and beginning still another book, very different from the others. Her first book was Roses, followed by Tumbleweeds (prequel to Roses), and Titans. She had written three books earlier just to get her feet wet. Her research is so thorough and her characters real. I guess I am a bit prejudiced.

Ha! How could you not be? But really, what a wonderful relationship between you two.

On to a different topic. How did All Booked Up get started?

I was the Christian Educator at a Presbyterian Church in San Antonio, Texas. I noticed that many people in the congregation loved reading and discussing what they had read. Leila is also a church member and loved by all, and so she and I talked about the possibility of a book group and she ran with the idea! In December of 2001 there were 10-12 of us who chose the first books to be read. Leila was our leader.

Very cool!

Her writing career took off so she can't meet with us on a regular basis now, but she always does a special book signing with us.

Where do you meet?

The first eight or so years we met in members' homes. We then moved to a church, which seems to suit this changing group. Some feel more comfortable meeting outside of homes and others prefer not to have the responsibility of having a group over. Several of us work so it's enjoyable having a place all ready for us. We meet in a warm, roomy church parlor.

Can you tell us about your meetings?

We meet once a month from August to June. In August, we all get together at a member's home and have a fun pot-luck, and each of us bring recommendations for the year's books. Due to the number of active members, we limit the recommendations to 2-3 each or we would never get our books chosen. This is one of my favorite get-togethers.

It sounds fun!

It is! Good food, wine, intro to new books and authors, and so much laughter. All books are listed and the group votes for 10.

Only ten?!

That can be so difficult, but fun. I do make a list of all books and authors recommended in case one wasn't chosen to the group.

Do you have snacks or a meal with your meetings?

Yes. We will sometimes even have something related to the book. But we try to keep the book the priority and not the food. We do have some chefs in the group, and they bring really great treats. We always have dessert because we meet in the evening. And we have the fall and summer potlucks at the beginning and end of group's year.

Now on to the books! Can you tell us about the kinds of book you read?

We pick all sorts of books. Sometimes it seems we read anything we can get our hands on. Our choices range from the classics to current best sellers, including fiction, non-fiction, mysteries, spy novels, biographies, historical novels, novels that take place in non-U.S. settings and novels that focus on character studies—

I have to admit, those are my favorites!

We read books that have moved us or challenged us, books that have made an impact on our lives.

Those are the most special books of all! What are some of those for you all?

They are different for each of us, but a few favorites among our members: Ordinary Grace by William Kent Krueger, Peace like a River by Leif Enger, The Madonnas of Leningrad by Debra Dean, The Help by Kathryn Stockett, Born to Run by Christopher McDougall, Roses by Leila Meacham, and Caleb's Crossing by Geraldine Brooks.

Books that have generated the best conversations include: Immortal Life of Henrietta Lacks by Rebecca Skloot, To Kill a Mockingbird by Harper Lee, The Train to Crystal City by Jan Jarbor Russell, Uncle Tom's Cabin by Harriet Beecher Stowe, Small Great Things by Jodi Picoult, Eleanor Oliphant is Completely Fine by Gail Honeyman, and The Weight of Ink by Rachel Kadish.

These are most recent – I cannot recall all in years past. So many great discussions!

Are there any books that just haven't worked for the group?

Usually if there is a book we personally don't like, once we have the discussion, we come to appreciate it. Sharing our ideas opens up new ideas.

Wow. To me, that right there—sharing ideas opens up new ideas—is the whole point of a book group. That is the kind of openness and connection that can change the world.

Back to some more logistics. How do you organize All Booked Up?

We correspond by email. My task is to remind everyone of dates, reviewers, hosts, and, of course, the book for the month. Each member has a list of the year's books and reviewers plus all of the books previously read by the group.

What is a reviewer?

The reviewer is responsible for adding information about the author, such as other books by the author, interviews given by the author, and information that enables us to know the author better and maybe helps to understand his/her writings. The reviewer gives a very brief synopsis of the book and then opens the discussion with questions. These we get online. If there are no specific questions about that book, from online sources or publishers, then the group uses the ones BookBrowse shared.

I like this extra role you all have!

Do you hold special events, or visit places, or do activities together?

Our only real special event is attending Leila Meacham signings together. Our August and June potlucks are special. But I feel every get together is special. I love this group!!

I understand! Finally, Ann, do you have advice for other book club groups?

Cultivate a warm and accepting atmosphere, be open to new ideas, respect and value one another, read each book, stay focused on the books and don't become a gossip group. Realize that everyone has different thoughts and ideas and that you can learn from them.

Yes!

Also, create rules together that you all agree upon. Learn and laugh together! Have great fellowship through books, snacks and caring for one another. Always remember: each person in the group has shoes we have not walked in.

Oh my gosh I love that, Ann! That's a perfect way to end this interview. Thank you for letting us walk in All Booked Up's shoes!