The Friday Morning Book Group
Librarian Debra Berenbaum runs the Friday Morning Book Group at Wellesley Free Library in Wellesley, MA. They are a tight knit community of book lovers whose caring and generous spirit shines brightly. She talks with Tamara Ellis Smith about this group of dedicated readers.


Hi Debra! Please tell us a bit about your book group.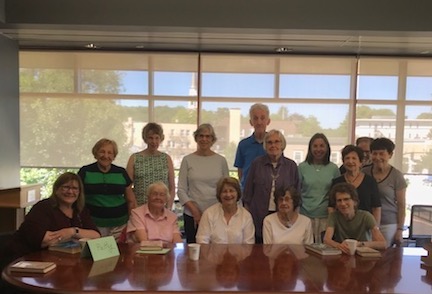 Sure! Our group is called the Friday Morning Book Group. We have about 45 people on my distribution list. Generally, we get about 15-25 people though I have had as many as 33—

Wow!

Yes, that was a bit too much. Most of our members are retired but we have a large age range: from late 30s to 90s. Most members are women, but we have about five or six men.

Is there a defining personality to such an age-diverse group?

I would classify the group's personality as always open to new ideas, flexible, fun loving and very cohesive. By that I mean that many of the members have become friends outside of the library and I am thrilled about that.

Oh, that's wonderful!

Yes, we are definitely a community of book lovers and friends!

Is there something in particular that makes your group special to you or that you think might be different from other groups?

I have never run another group so I'm not sure what makes us different but here goes!

I'm ready!

I started the group with the intention of including movies, either stand alone movies or movie tie-ins with books. As we have evolved, members seem to prefer talking about books. One other fact about our group is that about 1 or 2 times per year I run a book chat instead of a discussion about one title. Folks bring in their recommended titles and we share in turn around the table. In my job as adult reference librarian, I spend a large amount of time preparing for each month's meeting: picking the title, doing research on the author, and finding related information. This is truly the best part of my job – so rewarding – I can't imagine my job without it! The members form a very cohesive group – they support each other and are very respectful of everyone's opinion whether they agree or not. They tell me that I bring out the best in them but truly, I feel it is the other way around!

I'm sure that both are true! So how did your group get started?

The group started about 6 years ago with about 5 members. It was led by a young librarian who left after a year and I was tasked with taking over. It quickly grew by leaps and bounds! Our members are huge readers, and many belong to multiple book groups.

Can you tell us a little about your meetings?

We meet once per month on a Friday morning at 10AM. We are supposed to finish around 11 but usually go on until about 11:30. Many members like to remain after the discussion to socialize.

What kinds of books do you choose?

I like to pick books which are not on the NYT Bestseller list, if you know what I mean.

I do!

Many of the books are what I like to call literary sleepers and become favorites.

Do you provide food during meetings?

Food is important! I serve coffee from Starbucks and pastries from a local bakery. We have a kitty and members are encouraged to contribute whatever they wish.

Do you use reading guides?

We try to keep the conversation on topic but, of course, sometimes it roams. Over the 5 years of running the group, I have a good sense of how to lead folks back to the topic at hand and to gently discourage long soliloquies.

How do you do that?

We have a routine which I try to follow, but I always remain flexible if possible. We start with me introducing the book and author, little known facts which folks may be interested in, and my feelings about the book. Basically, I introduce talking points to get us started. We then go around the room. Everyone has a chance to say something (limited to 2 minutes if the crowd is large) but I stress that contributing to the discussion is completely voluntary. Therefore, we do occasionally have people who wish to remain silent as we go around.

Do you use reading guides?

I use them in my research.

What sorts of books do you read?

I pick nonfiction, fiction, memoirs, true crime – basically everything.

How do you decide which books to read?

I obsess about this a lot! The book has to be one which will generate good discussion whether it is about emotionally charged issues like the war in Syria, character driven novels, or just a fun read like The Storied Life of A.J. Fikrey (our read for July 2018).

Have you had any favorites?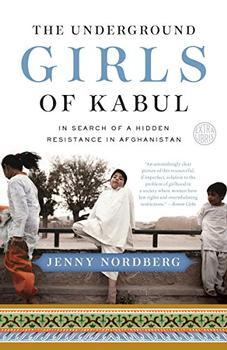 Oh yes! Some of our favorites have been: A House in the Sky by Amanda Lindhout, Behind the Beautiful Forevers by Katherine Boo, The Prince of Los Cocuyos: a Miami Childhood by Richard Blanco, The Underground Girls of Kabul: In Search of a Hidden Resistance in Afghanistan by Jenny Nordberg, My Korean Deli: Risking It All for a Convenience Store by Ben Ryder Howe, Heft by Liz Moore and Montana 1948 by Larry Watson

Are there any books that bombed?

The group asked to do a book about the Syrian conflict and so I chose We Crossed a Bridge and it Trembled – Voices from Syria by Wendy Pearlman. The topic was on point and the interviews were heartbreaking and total eye openers, but the format was less than ideal.

What types of books tend to make for vibrant discussions?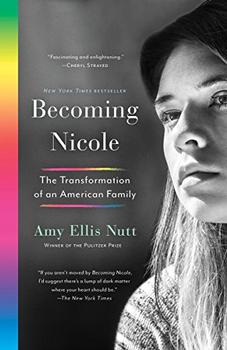 Books concerning current events or pressing social issues are naturally made for discussion. Becoming Nicole: the transformation of an American family by Amy Nutt was a huge success. We all learned a tremendous amount about transgender people. A real eye opener!

What books are coming up on your reading schedule soon?

As I said, our July our read is The Storied Life of AJ Fikrey by Gabrielle Zevin. In August it will be Amor Towles' first book – Rules of Civility. For September, I am tasked with doing our annual town read which is Frankenstein: Annotated for Scientists, Engineers, and Creators of All Kinds by Mary Shelley, author; edited by David H Guston, Ed Finn, and Jason Scott Robert, MIT Press. This book is in celebration of the 200th anniversary of the original.

Have the types of books you've read changed over time?

When we started 5 years ago the public discourse was different – not so angry as now. I believe our books have shifted a bit as the mood of the country has shifted.

That makes so much sense. Are there any special events you've held, or visits you've taken, or activities you've participated in?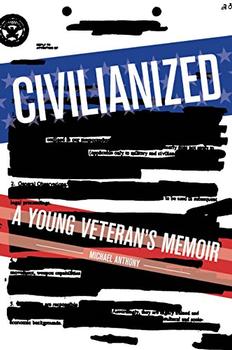 We read Civilianized: a Young Veteran's Memoir by Michael Anthony and the author came to the group. At first, members were not enthusiastic about this book but the author was an excellent speaker and he made it a success.

Have you faced any challenges as a group?

Probably the biggest challenge has been dealing with folks who like to talk for long periods of time. I have learned how to politely engage everyone without offending anyone.

Finally, are there any tips that you'd like to pass on to other book clubs?

I try to be gracious, accommodating, flexible, understanding and accepting of all who join us barring anyone who is disruptive. We did have one or two in this category and I did not encourage a return visit. But we always love to get new members and welcome them at all times. And I encourage people to join us regardless of whether they have finished the book or not.

Your group sounds so open and warm!

They really are! Just recently, I was unable to attend a meeting due to illness (first time in 5 years that I missed the group!) and received many heartwarming and sweet get well messages. We are a tight knit community of book lovers whose caring and generous spirit shines brightly.

Shine on, Debra! And thank you for talking with me.

Thank you!
© BookBrowse.com July 2018.
Would you be interested in being interviewed for this feature? If so, please
contact us
with brief details about your club. It is very helpful if you include both a contact email and a telephone number.