The Bookies
Angie Simmonds has been a member of the Bookies since August 2001 when there were just 3 members. Now there are 16 and they even have a waitlist! This fun-loving bunch of women elect a Queen of the Bookies each year from within their group. Angie talks with Tamara Ellis Smith about this vibrant group of readers.

Hi Angie! Please tell us a bit about your book group.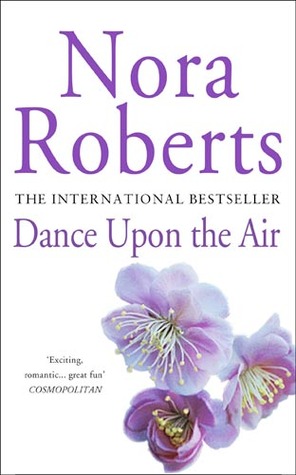 The Bookies started out with three members in August of 2001. Sheila, our founder, loved books and wanted to talk about that love with others. She posted the first book club selection Dance Upon the Air by Nora Roberts on a bulletin board at work and she, myself and one other person showed up. Initially it was just a few of us from work but then we started inviting others and it just kind of grew from there.

How big is the book club now?

We currently have 16 members – women of varying ages. For the first several years we would meet at different restaurants in our area on the second Tuesday of every month, but as we grew it was not only harder to accommodate the group's size, but it was hard for people on one end of the table to hear people on the other end, so we started meeting at members' homes. We actually had to cap our club at 16 members. We feel that's a pretty good size, but we actually have a sizeable waiting list to get into The Bookies if someone moves away!

Wow!

Yes, we're a fun group of women with strong opinions but much respect for each other. We like to make each meeting special in some way.

Is there something in particular that makes The Bookies special to you or that you think might be different from other groups?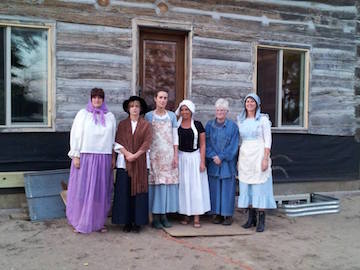 The Bookies likes to do quirky, fun things to celebrate each book. We have dressed up as characters from the book.

Oh my gosh, I love that. I spent much of my afternoons after school dressed up like Jo from Little Women! Can you name a few?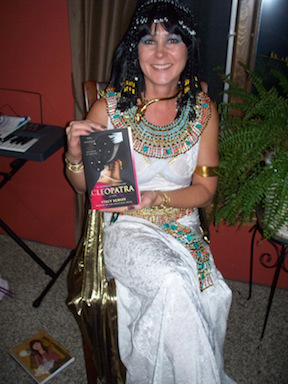 We have dressed up as the characters from The Wizard of Oz, one of our members wore a wedding dress to reflect the one that April returned to a thrift shop in Vintage by Susan Gloss. We've even had a member dress up as Cleopatra from the book of the same name by Stacy Schiff.

Your meetings must be so fun! Can you tell us about them?

We theme our book club meals around the book. We even have a member who "sets the scene" when a meeting is at her house! We walk up to her house looking around us because we know she'll have some sign or diorama that's based on something in the book.

Oh, that is wonderful!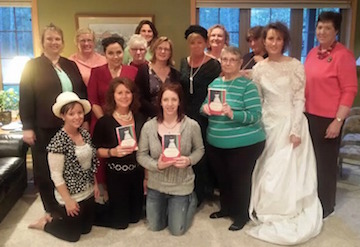 We have attended movies together when one comes out that is based on a book we read with the Bookies. Also, every October is our Classic Read month. Truthfully, most of our members are not fans of the classics but we keep this event because we feel we should read them at some point.

Do you dread that month?

No, to make it a little more fun we usually dress up for this one.

Fantastic idea!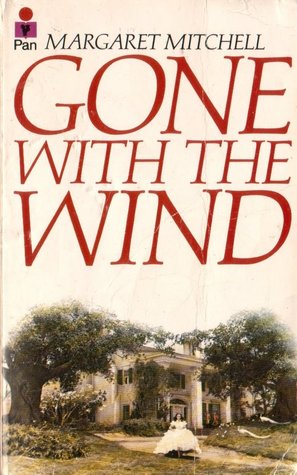 When we read Gone With the Wind for instance, we made curtain dresses to wear for the meeting!

I'm so impressed, Angie. The Bookies are also the Re-enactors and the Seamstresses and the Chefs...

And the Queens! We also have an annual event called The Queen Event. The idea loosely came from a book called The Same Sweet Girls by Cassandra King in which characters in the book explain why they're the best in the group and they vote on one to be the "leader" for the year. As Bookies though, we always take things one step further.

I'm beginning to understand that!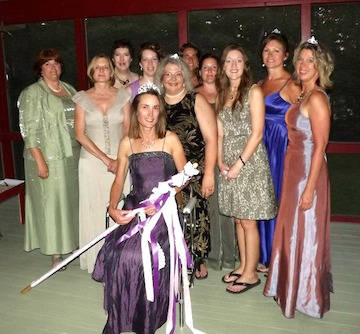 We decided to have a Queen of the Bookies! Every July we come to the meeting in our prom dresses, bridesmaid dresses and formal gowns that we have found at rummage sales, Goodwill and the like. We perform songs, skits, poetry and other goofy acts to prove to the others what book club means to us and why we should be the Queen of the Bookies. Then we all vote by closed ballot and elect a Queen and a Lady in Waiting – in the event the queen is unable to perform her duties!

So what happens?

We crown the queen, and she receives a scepter and a golden throne. The "throne" is actually a commode that our founder purchased when a hospital closed down.

Of course it is!

It was painted gold and every year the Queen bedazzles it in some way before the end of her reign and then returns it the following July for the next Queen.

I don't want to leave this part of the conversation I love it so much! And I really want to figure out a way to be the Queen of the Bookies! I'll scheme. But in the meantime, can you tell us more about your meetings?

We meet once a month, always on the second Tuesday. All members are invited to bring a book nomination and then we vote on which one we'd like to read. Each member actually votes on two titles and the one with the most votes wins. We started voting for two books because when we were a book club of just three members we would all want to vote for our own nomination and it would be a three-way tie! In the case of a tie now—

Let me guess! The Queen of the Bookies gets to choose?

Yes, the queen breaks the tie.

How do you talk about the books?

We start out with a list of questions from a reader's guide, but it's not really structured. We can easily go off tangent and start discussing how the book affected us personally. We have shared so much laughter and so many tears throughout the years.

You've gotten close?

Yes, we've become a group of close friends with a shared love of books.

What kinds of books do you read?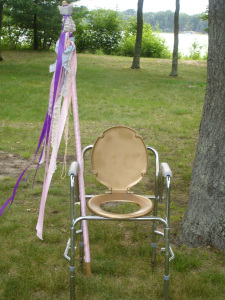 They've definitely changed over time. We started out with mass-market paperbacks, something that was easy to find. Now with everything so readily available on the Internet we have moved on to mostly trade paperbacks. Romance novels generally don't work for us, although there are several members that like them, but they don't lead to a good discussion. Some of our best discussions have been books that we really didn't like, or books that are controversial in some way.

Are there any books that none of the Bookies liked?

We Need to Talk About Kevin by Lionel Shriver was one of the first books I remember that pretty much the whole club didn't like, but it made for such an interesting discussion. My Sister's Keeper by Jodi Picoult was kind of controversial, but the discussion on it was fantastic.

What did you talk about?

How far would you go to save your child's life? Would you have another baby to use her as a donor for the other child?

Tough questions.

Generally our least favorite books are the classics we have read. After reading Wuthering Heights by Emily Bronte I decided to bury the book—

What? I really didn't like it—

That is clear!

I buried it and then decided to dig it up a year later. You know, similar to how Healthcliff feels the need to keep digging up Catherine?

You actually did it!

The following October I arrived at the meeting with the dirty, sodden, worm eaten book.

You did it. You are hilarious! What else can you tell me about the Bookies?

To stay in touch between meetings we use email, but for the most part we communicate on Facebook. We have our own secret Facebook page where Sheila posts info about the upcoming meeting and a synopsis of the last meeting. We use it for sharing recipes of some of the dishes we brought to the meetings and other bookish news.

Do you do anything together outside of your meetings?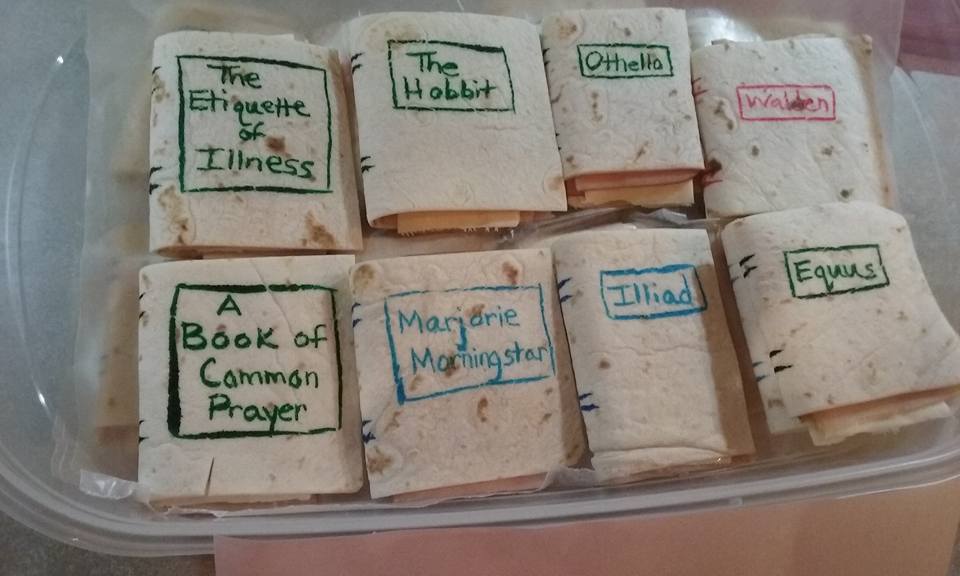 There is one community event that we go to as a book club – our local library holds a big fundraiser every year called Wine & Words. We buy tickets to fill a couple of tables and spend the evening sampling wine and listening to authors talk about their latest release. Lorna Landvik is our emcee every year. Boy is she a hoot!

What authors have come? This was the fourth year of the event and they usually have five authors each year. William Kent Krueger, Sarah Pekkanen, Wendy Web, Sandra Brannon and Peter Geye were the authors this year. There is a huge silent auction and the authors sign books after the event. It's a lot of fun and the money goes to support the local library so it's all for a good cause!

It sounds like a lot of fun! One last question for you, Angie. Do you have any tips for other book clubs – besides the obvious one: make club members royalty!

First of all make it fun! Do goofy things. Step outside your comfort zone. Read books you would normally never pick up. And for goodness sake, discuss the books! I have heard so many people say their book club just goes to drink wine, or only a few people in their club actually read the book. All of our members really strive to finish the book every month. It's what makes for a solid, well rounded discussion.

Thank you, Angie. And what fun it's been talking with you! Dressing up, decorating, Commode Queen! In all seriousness though, the Bookies seem to embody the perfect balance between sheer fun and real depth of thought. That impresses me.
Book sandwiches made for a book club meeting.
© BookBrowse.com November 2017.
If you feel that your book group has something unique to offer, and you would like to tell others about it, please
contact us
with brief details, and maybe we can feature you in the future.