Wednesday Afternoon Book Discussion Book Club
The Wednesday Afternoon Book Discussions at the Merrick Library in New York , NY have been around for a long time, but they really took off when librarian Carol Ann Tack began leading them six years ago. They are home to a "super smart, funny and completely fabulous" group of readers! Carol Ann talks with Tamara Elllis Smith about this dedicated group.

Hi Carol Ann. Thanks for joining us at BookBrowse. Can you please tell us a bit about your book group?

I host the terrific Wednesday Afternoon Book Discussions once a month.

How many people come?

At this point I'm fortunate to host anywhere from 35-50 patrons who spend 90 minutes with me. We have women and men aged 40+. This group is super smart, funny and completely fabulous.

Is there something in particular that makes your group so fabulous?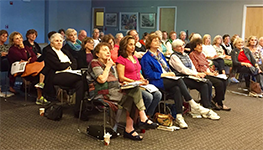 I love this question because I cannot begin to tell you how much these patrons mean to me personally. We see each other every month, they come out on the coldest, hottest, and rainiest of days. The library was under construction during a very hot summer day and we still managed 42 people.

Wow!

The patrons have spread the word and brought their friends, and their friends tell their friends, and just like that old commercial, "and so on and so on…"

It sounds like you're a popular Wednesday destination!

Yes, but there's more to it than that. Patrons have made friends with each other and attend the theater and other outside events. Again, I cannot tell you how lucky and blessed I am. We are a better group together than apart. It's wonderful.

How did the group get started?

Merrick Library has had a book discussion group in some form or another for quite some time. But over the past 6 years, it's really blossomed.

Can you tell us a little about your meetings?

We meet once a month for 90 minutes, but we often run close to two hours. Light refreshments are served: cookies, Entemann's cake, decaf coffee & tea—

Literary fare!

Yes! Sometimes the members bake and bring. Lucky us!

Who chooses the books you read?

I do. Typically they are books that I've read and loved. I determine if they will be a good "fit", and provoke interesting conversation and dialogue.

How do the conversations work? Does it get chaotic with so many people?

No, the conversation stays on topic with occasional diversions, but not often. I don't typically use reading guides and, instead, I write my own questions. I always provide some type of handout with pertinent material as it pertains to the book and its background.

That's great. Can you tell us about the sort of books you read?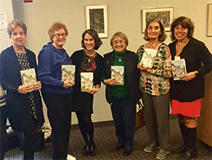 We've recently read and loved Indiscretion by Charles Dubow, and we were thrilled to host him in person at the library. We had over 50 people join us and everyone had read the book. We ran almost 2 ½ hours.

That sounds amazing!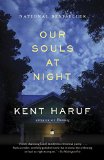 It was delightful. Another terrific title we read this year was The Girl From the Garden by Parnaz Foroutan and, once again, she was able to come here and having her visit was just fabulous. Another super title was Our Souls at Night by Kent Haruf. This was an interesting choice because we read the first book in Haruf's Plainsong trilogy and when I put it to the group to decide if we should read the second book, it was a resounding "Yes!"—

And so the third in the trilogy—

It was a no-brainer! We gobbled it right up. When Haruf passed away we all had such a visceral response and reaction that Our Souls at Night was an obvious choice and that particular discussion was profound.

Have any books you've chosen not gone over well with your group?

We haven't had too many books that "bombed". But when we've been less than thrilled with a book, the conversations have centered around editing, narrative flow etc.

You deconstruct why the book didn't work for you all.

Yes.

That's a great exercise!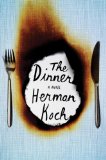 Yes. As we've grown as a group, we're smarter about what makes a novel work. We've had provocative discussions around The Silent Wife and The Dinner.

What books are coming up on your reading schedule soon?

If I tell you, I'll have to kill you.

Ha!

I like to surprise the group a bit. In January, Heft by Liz Moore was featured and we hosted her via Skype. We're reading Circling the Sun by Paula McLain in February.

I won't tell a soul! Have the types of books you've read changed over time?

Maybe a bit. I always try to aim for the books that pack a punch in some way.

How do you organize yourselves outside of meetings?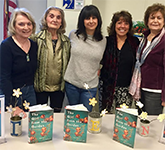 The patrons who've become friends attend theater and other activities together.

Have you held any special events, or taken visits, or done any other activities?

I try to host as many authors as possible, either in person, or via Skype.

That is wonderful. There is nothing like meeting an author in person!

I agree. And if I can't get an author I do try to keep the patrons as entertained as possible while we're together.

Do you have advice for other book club groups?

If it works, keep doing it.

If you were starting from scratch is there anything you'd do differently?

Nope.

Have you faced any challenges as a group?

Nope.

Are there any tips that you'd like to pass on to other book clubs?

If what you're doing works, keep doing it!

Sounds like you've set up a program with your Wednesday Afternoon Book Discussion Group that does just that – it really works! I hear, in fact, that you've just been asked to lead a workshop at the Long Island Libraries Conference in the spring called: Pack the House: Recommendations for Star Quality Book Discussions.

Yes! I'm super excited about it!

Clearly you have a very good thing going! Thanks for sharing with us, Carol Ann!

Thank you!
First book club photo: Mady Alcalay, Gail Offerman, author Lauren Acampora, Regina Fischgrund, Toni D'Alto, Carol Ann
Third book club photo: Mary Jean Baker, Toni D'Alto, author Parnaz Foroutan, Carol Ann, Patti Nacht
© BookBrowse.com February 2017.
If you feel that your book group has something unique to offer, and you would like to tell others about it, please
contact us
with brief details, and maybe we can feature you in the future.