Me Time Book Club
Me Time Book Club is a group of women from Tuscaloosa, AL. Their mission is to "relax minds and enhance souls through words in the form of books." Kena Clark talks with Tamara Elllis Smith about this creative and charitable group.

Hi Kena! Please tell us a bit about your book group.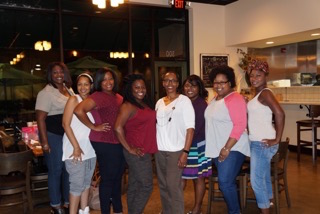 The name of our book club is Me Time. We have 8 members, consisting of all women, our ages range from 30 to over 50 years old. The personality of the book club is free spirit.

Oh I love that! Free spirit…

We allow every member to express herself fully and without judgment.

That's an incredible tenet to express and follow! Is there anything else that makes your group special to you or that you think might be different than other book clubs?

What makes our group special is the fact that we give back to our community. We participate in charity events and community service.

That is special—

One of our members suffers from Lupus, and every year we participate in their walk and donate to the Lupus Foundation.

What a great, important thing to do.

In July, 2015, Me Time donated a variety of books to the Lewis and Faye Manderson Cancer Center, which is located on the campus of Tuscaloosa's Druid City Hospital. The books were placed in the center's infusion room so that people can read during treatment!

Oh my gosh, Kena. What a vital gift.

The staff at the Manderson Cancer Center were very appreciative of the book donation and felt that the books would be put to good use.

I would imagine that is so true. Books are such a wonderful escape.

Yes. We also host authors! So far, we have hosted three authors and will continue to host even more.

How did the group get started?

I started the book club in November, 2011. The premise, initially, was to get a group of women together who already loved to read. "Me Time" represents us taking a break from our day to day routine by reading and relaxing.

Ah, just as you write in your mission statement on your website! "Our mission is to collectively enhance our minds and relax our souls through words in the form of books." I love that.

Yes.

Very cool. Can you tell us about your meetings?

We meet every five to six weeks, and every member gets a chance to host her own meeting. The hostess picks the book, the venue and the food. We try very hard to stay on topic. The hostess is in charge of the flow of the meeting and asks the questions.

What sort of books do you read?

We read all genres. The hostess picks whatever type of book she likes.

Do you all have any favorites?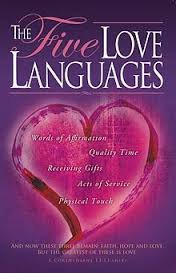 The Five Love Languages by Gary Chapman sparked a lot of discussion. This self-help book, so to speak, gave light to how we each need to be loved. It helped us understand each other even more. The Shack by William Paul Young sparked another great discussion.

What did you talk about?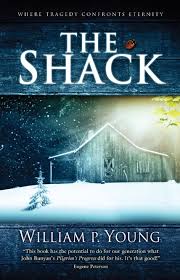 We discussed religion and how we felt it affected our individual lives.

Have you held any special events, or visited places?

Our president and the events coordinator organize projects outside of meetings and...

Wait! You have a president and an events coordinator?

Yes.

You sound very organized!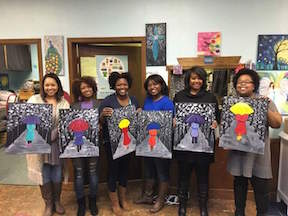 In September, 2015 we traveled to Memphis, TN to the Literary Arts Festival. We were able to participate in book club workshops there, meet authors and even win prizes.

How fun!

Yes, it was an awesome event and we plan on returning.

Excellent! Finally, do you have advice for other book club groups?

Sure. Some advice I would give—

Let me guess…to be organized!

Yes! To be organized, and also to divide responsibilities. Have different people to help the president. This takes the load off of one person and increases productivity. When we were presented with difficulties, we decided to do a group conference call. It was then that we decided to come up with bylaws. These bylaws have been very helpful. They let new members see exactly how we operate and also keeps everything fair among all of us.

Thank you for sharing Me Time Book Club with us, Kena! What an extraordinary group of women you are.

Thank you!
Me Time members from L to R: Keshia, Kena, Jessica, Andria, Regina, Shamire, Keara, and Tanya
Me Time at Sips n Strokes, as part of Keshia's meeting, discussing Pleasantville by Attica Locke. From L to R: Keshia, Kena, Jessica, Andria, Shamire and Keara
© BookBrowse.com August 2016.
Would you be interested in being interviewed for this feature? If so, please
contact us
with brief details about your club. It is very helpful if you include both a contact email and a telephone number.