The Kindred Spirits Book Club
The Kindred Spirits Book Club live in Warren, Ohio. They like to mix it up, alternating genres, trying to guess whose biography each member has read based on clues, and reading paragraphs out loud that they find especially compelling. Marlene Pond, co-facilitator of Kindred Spirits Book Club talks about the ways her book club has evolved over the years.

Hello, Marlene. Let's just jump right in! Can you please tell us a bit about your book group?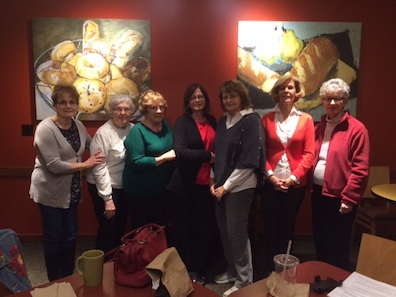 Our book club is called Kindred Spirits. It was suggested by one of our members who loved Anne of Green Gables by Lucy Mudd Montgomery. We thought it was perfect as it named our shared love of books. We are 9 women ranging in age from 60s to 80s. We lost one of our members due to premature death, which was very hard.

Oh, I'm so sorry.

... and one member who decided not to attend any longer.

How did Kindred Spirits get started?

I am a former educator and went to work at a branch library when I retired. When the branch manager of the library retired from her job (I happened to still be working part time at the library) she and I decided to form a book club. We invited some patrons of the branch to join, as well as some personal friends.

Can you tell us about your meetings?

Kindred Spirits meets at Panera once a month. We use Panera's meeting room and club members get whatever they would like to eat before the discussion begins. We have a half hour for eating and socializing, and then we generally discuss the book for about one hour and a half.

The co-founder and I use reading guides, which we modify a bit, and then pass around to the group. We initially did this because some of the members weren't contributing very much. The idea was that the member reading the question would respond first and then the rest of the group would offer their comments. In this way the quiet or shy members would have an opportunity to join in the discussion immediately. It worked pretty well. It seems to get members more involved.

Great idea!

We originally met September through June. Now we meet all year round due to popular demand! During the summer months we don't read a particular book but, rather, each member brings something they have read in a book, magazine or newspaper that they would like to share with the group. This next summer we plan to ask the members to form a question for the group to respond to about their selection shared.

When we first started our book club the co-founder and I chose the books, but after 4 years we thought we would mix things up. We then tried having each club member suggest a book for a given month. That didn't work out so well as most of the recommendations weren't viewed favorably. Several members asked that the co-founder and I resume selecting the books. So as to not hurt any feelings I suggested that we mix things up again. For the last two years we have alternated reading a book from a specific genre with one from realistic fiction. We have found this interesting, as some of us never would have read some of the genres on our own.

Another great idea!

And this January we are each reading an autobiography or biography. Instead of each member telling us about the person, we each will write 5 detail statements, trying not to be too vague. We will put these statements into a bowl, a member will choose one, read the clues and the group will try to guess the person.

So you really mix it up in terms of how you explore each book?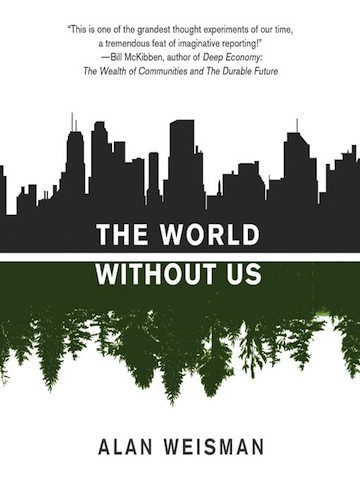 Yes. When we read The World Without Us by Alan Weisman, we asked each member to choose a paragraph or two that they found interesting, read that aloud to the group and tell why she had selected the passage or ask a question about the selection to the group.

Very cool.

And one month we all read a book about women and then each did a book talk. Some of those books were One Thousand White Women by Jim Fegus, Why Women Should Rule the World by DeeDee Myers, and Selling Women Short: The Landmark Battle for Worker's Rights At WalMart by Lisa Featherstone.

Also very cool. Your meetings sound creative and lively.

They are! Once I won copies of The Returned by James Mott for the entire book club. Some of the members have watched the television series based on that book.

What types of books tend to make for good discussions in your group?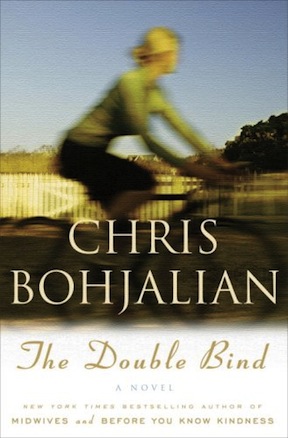 Some of the books that have generated good discussions are :The Double Bind by Chris Bohjalian, My Name is Mary Sutter by Robin Olivera, Homeland by Barbara Hamby, An Inconvenient Wife by Megan Chase, Caleb's Crossing by Geraldine Brooks, Away by Amy Bloom and Under the Banner of Heaven by Jon Krakauer. Interestingly some of these are books the members didn't care for because of the story or writing style, but they also fostered the most discussion.

We have found over time that our members are not particularly fond of overly complex books such as Bring Up the Bodies by Hilary Mantel.

Speaking of books that didn't go over well, do you have others?

Some of the books that did not inspire much discussion, and generally we can even hash over almost anything, were: Three Cups of Tea by Greg Mortenson, A Cup of Friendship by Deborah Rodriguez, Fault Lines by Nancy Huston, and Searching Paradise in Parker, PA by Kris Radish. Most of those were due to poor story lines. They were too predictable and didn't have strong character development.

Have you faced any challenges as a group? If so, what and how did you deal with them?

We have faced some of the usual problems that book clubs have, the biggest being when a member monopolizes the conversation.

And do you have any words of wisdom for other folks who are in, or who might want to start, a book club?

When starting a new book club, it is important to invite people whom you know are readers and not just socializers. It is important also to take care of issues that arise immediately like someone who dominates the conversation because the longer it goes on the harder it becomes to address the issue.

Wonderful! Thank you so much, Marlene!
Kindred Spirits members from left to right: Carol Mullen, Polly Martin, Carolyn Sacks, Donna Holt, Sally Welke, Marlene Pond, Des Puhak. Missing are Mary Shrodek and Jeanette Menz.
© BookBrowse.com December 2015.
If you feel that your book group has something unique to offer, and you would like to tell others about it, please
contact us
with brief details, and maybe we can feature you in the future.