An Interview with the South Austin Spiritual Book Group


Could you please tell us a bit about the South Austin Spiritual Book Group?

Stephanie: We are usually 15-25 in attendance unless we have a guest author leading our discussion, at which time attendance has been as many as 50. We are about 2/3 female and 1/3 male now - the men keep getting more numerous. Ages range from about 35 to 80. We always sit in a circle, and the discussion leader rotates every month, while the moderator stays constant. We can always count on one another to speak our minds. This group has had excellent participation from the start. Almost everyone shares at meetings, even the introverts.

That's amazing!

Stephanie: Even if some people don't read the book, they come for the fellowship of like-minded folks. All are welcome and I think people sense that acceptance.

It sounds like you have created a safe and dynamic environment within your group. Is there something in particular that makes your group special in your mind?

Stephanie: One thing is that we only read one or two subgenres of nonfiction – spiritual nonfiction, self-help, and inspirational.

How did you come together as a spiritual book group? This seems very unique.

Stephanie: Our spirituality is about openness. We tend to be independent thinkers and drop-outs from various belief systems. When we began, the store put up signage about our meetings and I put calendar listings in our city newspaper. I think the store still mentions us on their website. We had a blog for a while, a Meetup page for six months, and then a couple of years ago we initialized a Facebook page. Regulars invite like-minded friends - the growth feels organic.

How did the group get started?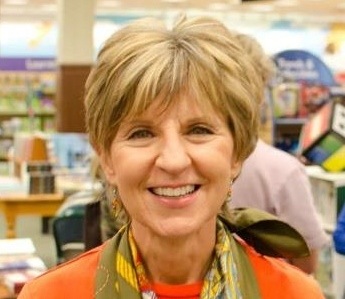 Stephanie: I started the group to see if there were others in the south end of town who wanted to discuss spiritual nonfiction during the day. There was a similar group downtown that met at night, but I wanted to form my own group in the 'burbs during the day to see if anyone would come.

And they did! Had the members been in other groups before?

Stephanie: Some had and some had not. A Baha'i book group at another Barnes & Noble had just folded if I remember correctly.

Can you tell us a little about your meetings?

Stephanie: We meet on fourth Thursdays from 1-2 PM, January through November at a Barnes & Noble. We are open to the public and there is no membership – I have been careful to keep money and commercial promotion out of the picture at meetings. Our email distribution list has never been shared.

How do you pick books?

Stephanie: In lieu of meeting in December, we nominate titles we want to read the next year and then we vote on them through email.

Do you have snacks? Is your food elaborate, simple or nonexistent?

Stephanie: We have no food except for the occasional energy bar someone may pull out to stabilize their blood sugar.

And do you keep the conversation on topic, or roam?

Stephanie: Discussion questions for the book (created by the monthly rotating leader) are the basis of our conversation. We hardly ever use reading guides.

What are some of the books that have generated the most interesting discussions for your group?

Stephanie: The largest turnout was for Gilbert Tuhabonye's This Voice In My Heart. The next largest turnout was for Janet Conner's Writing Down Your Soul. We must like neuroscience because we had lively discussions the year we read Jill Bolte Taylor's My Stroke of Insight and later How God Changes Your Brain.

What books have been the group's favorite books?

Stephanie: It's hard not to like John O'Donohue, who I was fortunate to be with on retreat in Oregon two months before he died. Our group gravitates somewhat to Buddhist philosophy and likes Pema Chodron, although we have only one practicing Buddhist in the group. We have read Wayne Muller and Stephen Levine more than once, and this year we are reading Lynne McTaggart twice.

Are there any books that just bombed?

Stephanie: Early on we read a few that were too academic for us – ones that might have been better suited to a theology syllabus perhaps.

This group tends to get their dander up when they sense an offensive level of ego in a book. They want to hear the message without the messenger thinking too highly of himself. As I recall, Brad Blanton did not go over very well.

What books are coming up on your reading schedule soon?

Stephanie: Our 2013 reading list is:


Have the types of books you've read changed over time?

Stephanie: Initially we read about the world's religions, and now we read more of what I would call life philosophy.

How do you organize yourselves outside of meetings?

Stephanie: Some go for coffee within the store or down the street after meetings. Between meetings we communicate via email and through South Austin Spiritual Book Group's Facebook page.

Any special events you've held, visits taken, activities and so forth?

Stephanie: We have tried a few field trips, but we do better if we stick to fourth Thursdays.

Do you have advice for other book club groups?

Stephanie: This group has had a following from the afternoon it first gathered in September of 2005. I think part of our success is the format. Being able to keep the same time, day and location over many years has helped the cohesiveness.

That makes a lot of sense. You are consistent and reliable.

Stephanie: Yes. People who attend infrequently take comfort in knowing that we're always there, arranged in a circle.

Have you faced any challenges as a group? If so, what and how did you deal with them?

Stephanie: We have needed more chairs from time to time!

Well, that says everything about how successful your group has been, doesn't it?! That is wonderful! One last question for you, Stephanie: Are there any tips that you'd like to pass on to other book clubs?

Stephanie: My advice would be to do your own thing, I think the reason my group took off is because it filled a need. People are exiting organized religion in this country in droves, and one thing you usually get from going to church is a sense of community. A book group that meets regularly and discusses inspirational subject matter backfills the need for personal connection.

Thank you!

Thank YOU! It was so interesting talking with you, Stephanie...
© BookBrowse.com February 2013.
If you feel that your book group has something unique to offer, and you would like to tell others about it, please
contact us
with brief details, and maybe we can feature you in the future.