The Boys Book Club - aka the "BBC" - based out of San Diego, California, is made up entirely of men between the ages of 45 and 60 and has been meeting monthly for over two years.
Tell us, how did the BBC get started?
Another founding member and I both loved to read and so decided to create a book club. Originally we were open to both sexes joining, but he suggested trying an all-guys format. Several of the members are British and so we came up with the name "BBC". Interestingly, some of our wives are in an all-girls book club, and we've had one BBC-GBC get together - a Sunday brunch with about 20 attendees. It was a lot of fun with an hour or so of food and conversation, followed by an hour of in depth discussion of the book Cutting for Stone. I always enjoy listening to a woman's perspective, and the topics the book covered were perfect for a BBC-GBC discussion. We have talked about doing it again - perhaps two or three times a year.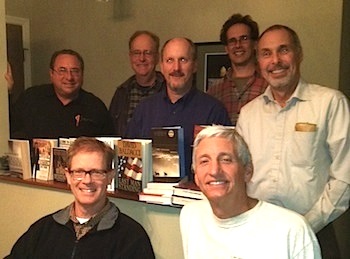 How would you describe your group's personality?
We're very easy going, we enjoy life to the fullest, and we're respectful of each other's views.

Is there something in particular that makes your group special and/or that you think might be different from other groups?
Unlike many book clubs, we really do have in-depth discussions about the books! We chat about sports, politics, etc, over dinner then have a solid hour/hour-and-a-half conversation about the novel we just read.

What sort of books does your group usually pick?
We have only read fiction to date, and have tended to choose mostly male authors. However we have read a variety of books from a variety of authors - diversity being a goal of the group - and our selections have included several female authors. We have read a lot of Man Booker Prize and Pulitzer Prize selections.

How do you decide which books to read? Do you have a system?
We originally tried to pick the next month's selection without any advanced preparation, and that did not work well - we wasted a lot of time trying to think of books. Then we decided to have the host of each meeting select 3-4 books that he finds interesting and have the group choose from that selection. We've found that this system works well as each person has a chance to make recommendations and the group gets some choice too.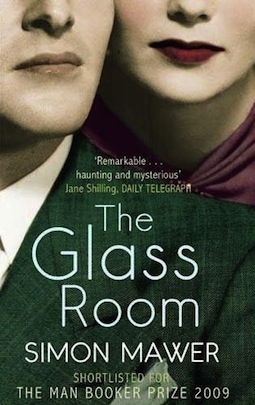 What are some of the books that have generated the most interesting discussions? Why were those books so conducive to good conversations?
Cutting for Stone by Abraham Verghese, Every Man Dies Alone by Hans Fallada, The White Tiger by Aravind Adiga, The Book Thief by Markus Zusak, The Glass Room by Simon Mawer... These books all had good, solid writing with rich characters that kept our interest. They allowed us to learn something new about a place or an issue or a history we knew little about before.

Are there any books that bombed? If so, why?
Absurdistan, The Gathering, The Sun Also Rises, Indignation, Never Let Me Go... They rated on the low side for a variety of reasons, but they all seemed not to be the author's best effort. Some were obtuse and hard to follow, and some were simply not a pleasurable reading experience!

Where do you meet?
We rotate meeting at each other's homes. Each month the host cooks an entire meal for everyone - including dessert! - and club members bring beverages to share. (The dinners are always excellent with good wine and beer to stir our book review juices!) The nice thing about combining dinner with the book discussion is that it creates an enjoyable evening where good friends get together to enjoy each other's company and love of books. It's cheaper than a restaurant, and there are no distractions that would interrupt our discussions.

Do you ever get off topic during your meetings? If so, has it ever caused friction among group members?
We only get off topic if a book is bad. We may migrate to other books or a related subject, but it doesn't really happen much since we clearly separate social hour/dinner from the book club discussion.

If you were starting from scratch, is there anything you'd do differently?
No, not really. We seem to have a great group of folks - that's the key, to have people who really commit themselves to fully reading the book each month and who enjoy listening to the discussion and the views of others.

Have you faced any challenges as a group? If so, what were they? And how did you deal with them?
One member left the club; his literature choices just differed from the rest of ours. He knew this, and so when we talked with him about maybe not being in the club, he fully understood with no hard feelings.

Are there any tips you would like to pass on to other book clubs?
Commit to reading the book. Have social hour first, then have a good solid hour to discuss the book. And allow for active participation from each person in the club - don't allow any one person to dominate the discussion.

And finally, what are your favorite things about belonging to the BBC?
My favorite things are sharing our friendship, having a solid discussion about the good and bad qualities of a book, and learning how each member responded to the given subject matter/writing style/genre of a book. Sometimes everyone likes or dislikes the book, but the most fascinating discussions come when there are a variety of opinions. In fact, several of our members who had never been in a book club before and joined with a bit of skepticism have now found a love of books they did not realize they had.
© BookBrowse.com January 2012.
Would you be interested in being interviewed for this feature? If so, please
contact us
with brief details about your club. It is very helpful if you include both a contact email and a telephone number.