Bound To Be Read Books is an independent bookstore in East Atlanta Village, Georgia. BookBrowse caught up with owner Jeff McCord to talk about the store's many book clubs – including their infamous Scandalous Book Club.
Congratulations on Bound to Be Read's 4th anniversary! Tell us about your bookstore.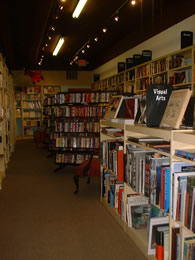 Thanks so much! It's been a fun four years. We started this venture in 2005 as a completely used books store, but really quickly found out that the neighborhood was interested in buying new books from us as well, so we started stocking bestsellers and other new books. And then we added remainders to the mix as well, which we sell as discount books, and they've been very popular, too. We stock everything side by side on the shelves, with everything organized by category, author and title. We're a little OCD about that, so we've been called the most organized used book store in town.


From the beginning, we wanted the store to be a community resource, so we set aside a space we call our "Luxe Lounge" for meetings, events and activities. We don't have a huge space to begin with, so setting aside some room speaks to our commitment to the community, I think. And it's a great community, very activist, kind of artsy and musical. We have lots of young families in the neighborhood now, too.

Of course, we have a bookstore cat – named Kona - who is quite popular. I think she has more friends on Facebook than I do.

You host a number of book clubs at the store. Can you tell us a bit about each of them?

Our monthly book club is the most popular. It meets in the evening on the third Thursday of every month. They select their own reading picks, which have ranged from light fiction to serious nonfiction. This year they ventured into graphic novels with Watchmen, and we're venturing into poetry in December. People seem to be surprised that we actually talk about the books. It's a diverse group - although mostly female – but our members vary in age from 20s-60s, straight and gay, black and white. We have fun. We laugh, but we have some thought-provoking discussions, too. Above all, our members respect each other and that really helps.

The Scandalous Book Club meets quarterly to discuss some of the most controversial books in publishing history.

The Spiritual Book Club also meets quarterly, but focuses on books of a spiritual nature.

Our book clubs and writing groups meet in the Luxe Lounge. Our book clubs generally average about 6-12 people, although we have had more for certain titles. Every meeting is open to anyone who wants to come. Jef Blocker, our store manager, facilitates all the book clubs, except the Spiritual Book Club. He also manages the writing group.

I must say, I'm most curious about this Scandalous Book Club.

Jef Blocker always joked that he wanted to start a "trashy book club." He started pitching the idea to customers and received a positive response about doing it quarterly, especially from readers who were intimidated by reading a book within a month's time. Plus, the vibe of this reading group really fit the edginess and sense of humor of our neighborhood. We decided to give Jef's idea a chance, although I insisted that he come up with another name. We decided on the Scandalous Book Club because he planned to focus on novels that caused a scandal when they were published.

What scandalous books have you discussed so far?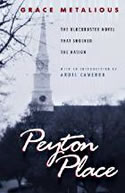 Since the Scandalous Book Club began in the summer of 2008, we have read Valley of the Dolls by Jacqueline Susan, Fear of Flying by Erica Jong, Uncle Tom's Cabin by Harriet Beecher Stowe (that one was kind of an anomaly), The Story of O by Pauline Réage, and Lolita by Vladimir Nabokov. Our next selection is Peyton Place by Grace Metalious, which is the title Jef wanted to start the book club with, but it was not available at the time. They story behind that book is really interesting.

Tell us about some of the scandalous books that have generated the most interesting discussions?

There have been some interesting discussions! Many of the titles touch on the theme of women who are in control of their sexuality and the idea that women can enjoy sex for the sake of having sex and it's okay. These were radical concepts at the time some of these books were published, so it's interesting to listen to our book club members (mostly women in the 20-40 range) discuss these characters and stories both within the context of when they were published and from the perspective of readers today.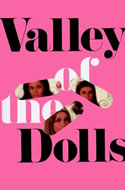 The conversation about Valley of the Dolls was fun because many of the members had watched the movie before they discussed the book. Everyone agreed that the book shouldn't be judged by the movie!

The Story of O was probably the most interesting discussion because a young lady showed up who was a submissive and had similar experiences as the protagonist in the book. She shared some of her personal experiences and it was a very enlightening discussion.

One of our regular Scandalous Book Club members had an interesting perspective on Lolita. As a college student, she loved reading the book. As a mother of a one-year-old daughter, she found it difficult to read.

Any books that bombed?

A member from another book club joined us for our discussion of Fear of Flying by Erica Jong and suggested we read Uncle Tom's Cabin after that. Our regular book club members weren't interested in reading that book, so none of them showed up - and neither did the person who suggested Uncle Tom's Cabin. It was a good lesson in staying true to the focus of your book club. Although Uncle Tom's Cabin was scandalous upon publication, the Scandalous Book Club members tend to favor more salacious fiction.

Tell us more about the Spiritual Book Group. How did it come about?

Again, Jef Blocker is our Energizer Bunny of ideas and he had wanted to start a spiritual book club; however, he didn't have the time to facilitate another book club. As he says, he "put the intention out into the universe," and a few weeks later, one of our customers who is also a friend of his mentioned that she'd like to read more spiritual books and discuss them with other people. Her name is Kimberly Hicks and Jef asked her to facilitate the book club.

Members of the Spiritual Book Club have varied from book to book. We haven't noticed any patterns in regard to faiths, but the book club members do seem to share curiosity about new ideas and teachings.

Kimberly picks a different title each quarter. They've read more commonly known spiritual books such as A New Earth by Eckhart Tolle and The Power of Intention by Dr. Wayne W. Dyer. Last quarter she chose a more obscure selection, Waiting for Autumn by Scott Blum, which was a great book but didn't excite people so the turnout was low.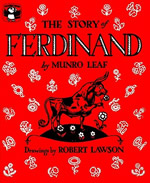 In December the Spiritual Book Club is reading the classic children's book The Story of Ferdinand, by Munro Leaf. What a wonderful, unexpected choice!

We're excited about this selection because some of the simplest messages are the most powerful. We also think this book is very timely. It will be interesting to see if adults respond to a children's book.

I also see that your "regular" book club is discussing Kathleen Sheeder Bonanno's new book of poetry, Slamming Open the Door. Has this group discussed poetry before?

No, we have not read any poetry before with the book club. One of our members heard about the book on NPR's Fresh Air and suggested it. The book club seems to be open-minded about reading the book. Also, from what I've gathered about the book (I haven't had the opportunity to read it yet), it seems to have an arc from beginning to middle to end, which is based upon the author's experiences about the murder of her daughter. With that in mind, I think it will facilitate an easier transition from fiction to poetry than some other books of poetry. Jef says he'll probably begin the discussion with the back story about the author and how the book came to be written. Then we'll focus on what people liked or disliked about the book and let the conversation go from there.

How do you usually structure the discussions?

It's fallen to Jef Blocker – as store manager – to facilitate the monthly club and the Scandalous book club. He uses reading group guides from the back of the book or from publishers' websites, but he also comes up with questions of his own. He has a good ear for hot spots within the conversation, and he'll gently maneuver the discussion to hit those hot spots. He's also good about making sure that every book club member shares their opinion about the book, even if it means calling on them individually, although he never makes anyone feel uncomfortable.

Kimberly Hicks, one of our customers, leads the spiritual book club. She generally prepares questions for the discussion and tries to keep people engaged and focused.

Have you faced any challenges in your groups?

Sometimes, there's just not so much to discuss! Everyone liked the book and agrees with everything the other person just said, so… end of discussion. When that happens, it's OK to say "We're done!" and let people go home early or sit around and just socialize. But it's actually better for discussion when there's some dissent in the group.

Our biggest challenge has been having authors attend the meetings. It's a great opportunity to get an author to attend the meeting where everyone's read their book, right? Well, we've noticed that when the author is there, our members tend to get really quiet. Which is awkward for the author. But book club members are obviously shy to discuss the book in front of the author if they feel that the author might perceive their comments as negative or critical. Or maybe they're just in awe. I don't know.

Are there any tips that you'd like to pass on to other book clubs? Advice for other bookstores to jazz up their own groups or increase attendance?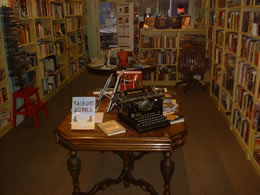 Have fun with your book club. Be creative. Listen to your customers who aren't in book clubs and ask them what type of book club would intrigue them.

Listen to your book club members and get them involved. Encourage your book clubs to occasionally read outside their comfort zone; they'll be surprised at the number of great authors and titles they'll discover. And discuss the book! People can be social after the meeting, but keep the discussion on track. If they took the trouble to read the book, they should have a chance to really talk about it. They'll appreciate a good facilitator who can do that.

This Q&A first ran in November 2009