Cross/Over Book Club
Melissa Fox co-runs the Cross/Over Book Club with Kate Schreffler at Watermark Books and Cafe in Wichita, Kansas. The club's focus is Young Adult fiction and attracts members who are both young adults and adults. Melissa talks with Tamara Ellis Smith about this group of readers that crosses age and genre lines.


Hi Melissa! Please tell us a bit about your book group!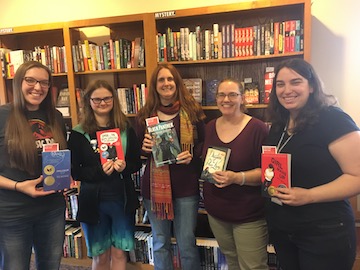 For the past five years we have had a teen book club over the summer, where we have read Young Adult (YA) books and discussed them. This past year, after we had a resistance theme to our summer book club, we decided there was enough interest to run a YA book club for teens and adults year-round. We called our book club the Cross/Over book club.

Why do you call it that?

Because the goal of the club was to cross over ages and genres.

Ah, got it!

We're still working on outreach to gain members - the highest number we've had so far is eight - but the response has been positive.

Is there something in particular that makes your group special to you and/or that you think might be different to other groups?

It's special to us because we're both huge YA fans-

Who's we?

-Oh right! Oh right! Kate Schreffler, a bookseller here at Watermark, runs the club and I provide moral support and advice (and enthusiasm!).

Ah okay!

And as I was about to say, we love talking about YA books with other people. We know there are other fans out there, it's just a matter of finding them. And while other book clubs at Watermark sometimes do YA books, there hasn't been a year-round book group focused solely on them.

I love YA too and, because I am a children's book writer, I read a lot of it. Sometimes people ask me when I'm going to read a "real" book (meaning one geared toward adults) and I always say that good literature is good literature, regardless of what age it is for, and some of the best literature out there is YA, in my opinion.

I agree!

How did the Cross/Over Book Club get started?

I started the summer book club the summer The Fault in Our Stars movie came out (2014), and it was so successful we continued to have a summer book club every year. But when Kate started at Watermark last July, and had a passion and knowledge about YA books, I jumped at the chance for her to lead the year-round club.

Can you tell us about your meetings?

We meet monthly, on the third Thursday, in Watermark's café.

The books and food combo, nice!

Yes, so people can buy coffee, pastries, and sandwiches if they like.

Do you use reading guides?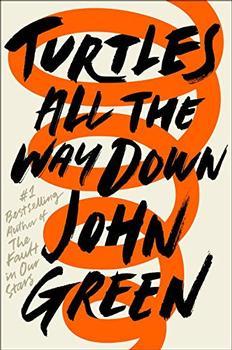 The conversations tend to roam all over the place; we'll often bring up a topic related to the book, but let the discussion roam freely. We sometimes grab a question or two from a guide if there is one, but generally, we don't like them, so we don't use them.

Can you tell us about the sort of books you read? Obviously they are all YA, I assume?


Yes, mostly, though sometimes we read adult books if we think they have YA appeal. We try not to read too much of one thing (ie: all fantasy or all "issue books", etc.), and we've noticed that our members prefer to purchase paperbacks. We try to keep it diverse, both in terms of authors and subjects, as well as genres. So far the group's favorite book has been Turtles All the Way Down by John Green, but the discussion surrounding All American Boys by Jason Reynolds and Brendan Kiely was amazing.

Oh, I LOVE that novel!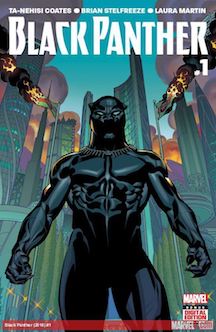 An Ember in the Ashes by Sabaa Tahir didn't go so well; perhaps it was too long, or too genre-specific or maybe we just didn't talk it up enough. Obviously, issue books lend themselves to more discussion, but we have a lot of fun with our non-issue books as well. For the next quarter we are reading The Black Panther graphic novel by Ta-Nehisi Coates; Challenger Deep by Neal Shusterman; and Girl Mans Up by M-E Girard.

Those all sound amazing. (I wish I lived closer to your book store!) Does Cross/Over Book Club hold any special events?

We haven't yet, because we're still relatively new. But we think it'd be fun to read a book tied to a movie and then go see the movie together and discuss both together.

There are so many great YA books-turned-movies, aren't there?

Definitely! We read Simon vs. the Homo Sapiens Agenda by and we're planning on seeing Love, Simon together. Maybe we can make an event of it!

Finally, Melissa, do you have advice for other book club groups?

Don't give up! We had a couple months at the beginning where we didn't have any members, but we kept talking about it to all our customers and we found the people who wanted to come.

Same advice they give us writers: Never give up!

Probably good advice for just about everyone, right?

Yes! Thank you for sharing Cross/Over Book Club with us, Melissa!

Thank you!
Cross/Over Book Club members: Audra, Emma, Melissa, Melissa, Kate

This interview first ran in March 2018
More Book Club Interviews
© BookBrowse.com September 2022.
Would you be interested in being interviewed for this feature? If so, please
contact us
with brief details about your club, particularly noting the things that you think make your group special. Please include both a contact email and a telephone number.