The Bookies
Joan Kingsley tells us about The Bookies, a book club she formed at the First Presbyterian Church of Oyster Bay in Long Island, New York. The group welcomes anyone to participate and enhances their wide variety of book choices with food. Elisabeth Cook interviews Joan:

Hi, Joan! So, you started The Bookies at your church back in 1998. Can you tell me how the idea for the club came about?

It was such a long time ago that I'm not sure I can remember! It just came to me that a book club would be a great idea for the church and might encourage more people to come. At any rate, I just came up with the thought and talked to my friends Jane Byrd McCurdy and Carol Johnston about it. They thought it was a possibility. I decided that we should start a club, whether it succeeded or not. When I came up with the name The Bookies I knew it would work. I loved it because it was a double entendre.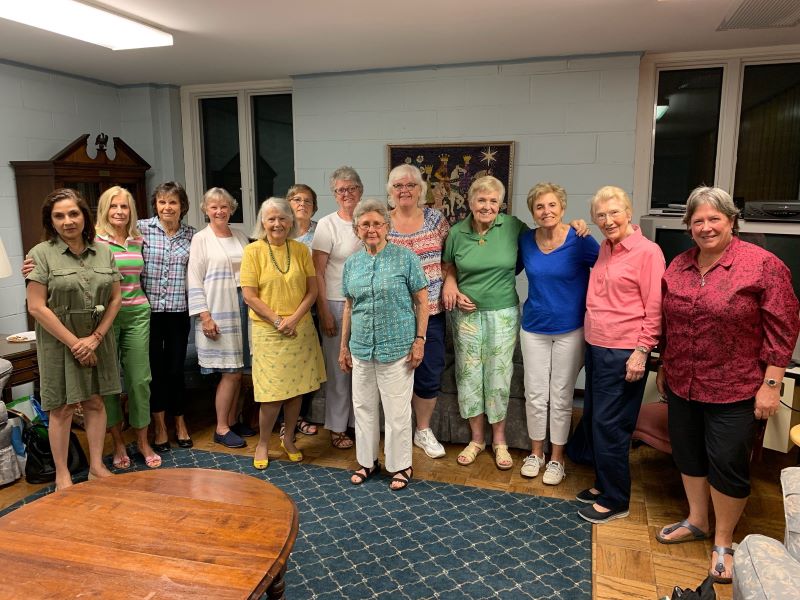 It's a great name. How did you let people know about the group?

We made an announcement in church and quite a few women came through and have been with us since. There were no men, though I wanted it to be all-inclusive, men and women. I also wanted people to come whether they read the book or not, whether they read part of it or none of it. They were and are all welcome. The reason is because we discuss not only the nature of the book but the concept and ideas from the book. You don't have to read the book itself to talk about issues beyond it.

That sounds like a very comfortable and welcoming way of running a book club. How did people like the first books and meetings?

Mostly they loved the book choices, and if they didn't that was okay and was part of the discussion. No one was ever forced to participate, but almost everyone did whether they read the book or not. The discussions were always open to all and everyone jumped in. I think that everyone appreciated that they could come to The Bookies no matter what. It was a real team and we all loved the meetings, especially when we added the food which I think was right away.

That's right, you mentioned that the club has always had food related to the books, at least during in-person meetings. Can you tell me a little about that?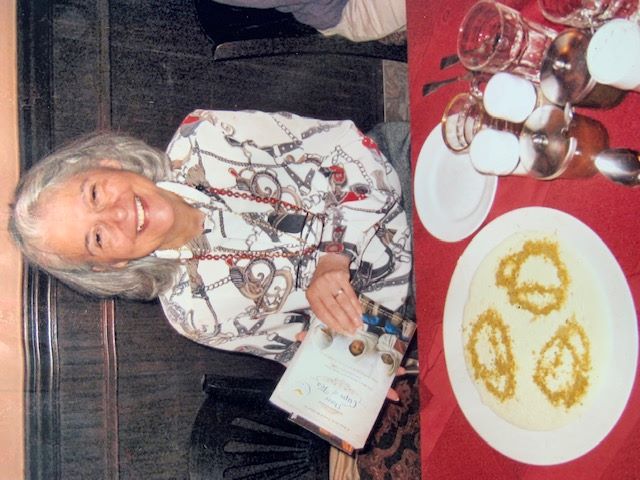 We always have had the food of the book. Believe it or not, when we read Babette's Feast we made the meal from the book and had 25 people for dinner. There was no live turtle, however. Depending on the book, we invite people to join us. When we read a book about the Holocaust we invited a Jewish temple to join us in the discussion. We had over 100 people and kosher food. Normally we only have 10 to 12 people, more or less. We read a book on the jungle and had insects for dinner. Yum! When we read Three Cups of Tea, we went to a restaurant that had the food of the book, and the owner made us the dessert with "three cups of tea" (see photo).

Another special feature of your club is that you alternate between fiction and nonfiction. What is it that you like about this approach?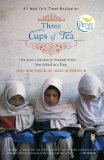 One of the major ideas is to pick books that are not only interesting and different but also give us lots to think about. Changing from fiction to nonfiction to historical fiction is always a challenge. We do this for the love of reading and to stretch our minds with new ideas and concepts. Through variety, we see and learn about different approaches to stories and history. With every book, we grow a little more. We have read everything from great classics, to history, to math and science. What we love about this approach is that it opens the world and the universe to us. It is so interesting to have the variety even if a book is not your first or favorite choice.

I can see how that would be really interesting, especially over a longer period of time.

Just two books ago, we read Neil deGrasse Tyson's Astrophysics for People in a Hurry. We learned about the nature of space and time. And, more importantly, we learned about our place in the universe. It was fun even though many had not read it. We had a great discussion. I couldn't resist picking that book.

What is it like having a club that's part of a church community?

It is great being part of the church community but it doesn't leave out people who don't come to the church. Everyone is invited and friends often come. Not as much as I would like, but they do come and stay as part of the group. No one is ever left out. At least, I hope not.

How does a typical club meeting go?

We put our food in the kitchen and then go to the little conference meeting room. There is small talk, then we get down to business. Discuss the book and then have dessert. At which time we discuss the next book.

How do you go about choosing books for your club?

We all decide on the book together. It has to be either fiction, nonfiction or historical fiction. Just not comics… though I am wavering on that.

What are some of the books your group has enjoyed the most over the years?

We enjoyed most of the books. Even if it was a book that we didn't particularly care for, we still enjoyed the discussion and analysis and, of course, the food of the book. That's why Babette's Feast was such a hit. We all enjoyed the analysis and discussions and debates. We never knew what anyone was going to say and that made it a very interesting meeting.

You mentioned that you sometimes bring in authors or guest speakers. Who have some of your favorites been?


We have had a couple of authors of the book we were reading, including Talia Carner for Jerusalem Maiden. One of the books we read had to do with the Amazon jungle and we had an expert come and discuss it with us. She was even named in the book. I so appreciated all who gave their time to our club. In recent years I have not had so many people come. It has mostly been just us.

Speaking of that, how have you handled meetings during the pandemic? What changes have you made to your usual way of doing things?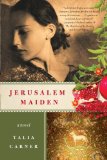 We made use of Zoom and it worked amazingly well. Unfortunately, there was no food. We had people who had moved away and because we were on Zoom they could join us. I am going to miss them if and when we go in person. I may try a mixture of Zoom and live. I have no idea how that will work out.

As someone who has started a book club that has lasted a long time, do you have any advice for others on how to be successful with their own groups? What do you think makes people want to keep coming back?

I'm not sure how to explain it exactly. I think that everyone who comes feels comfortable and that what they have to say matters. No one is left out. Everyone can express themselves without fear of mockery or worse. We have had many disagreements about the books' ideas and the conversation was always interesting even if we didn't agree. Also, we get to read so many different kinds of books that we might not otherwise read and it has broadened the way we see things. Finally, I think the food of the books ultimately brings us together.
Photos:
The Bookies
Joan with the book Three Cups of Tea and "three cups of tea" dessert
The Bookies' meeting for Jerusalem Maiden with author Talia Carner (back row, third from left)
More Book Club Interviews
© BookBrowse.com July 2021.
Would you be interested in being interviewed for this feature? If so, please
contact us
with brief details about your club, particularly noting the things that you think make your group special. Please include both a contact email and a telephone number.