The ESL Book Club of Harrison Library, NY
Giovanna Fiorino-Iannace joins us from Harrison Public Library in New York to discuss her English as a Second Language book club that attracts participants from far and wide.

Hello Giovanna! I'm so excited to talk to you about your Book Club; how did the group get started?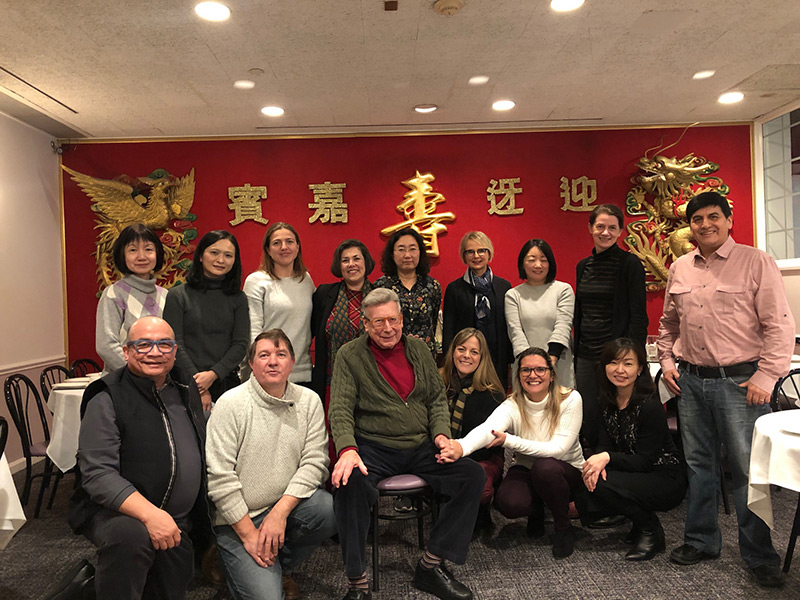 The ESL Book Club (English as a Second Language) started in January 2018 to meet the needs of the community. There's great interest in our English classes in Westchester County, but very few ESL Book Clubs currently in place. Over the years, we've had people join the group from many countries, including Japan, Korea, Finland, France, Germany, Spain, Brazil, Taiwan, Ecuador, Mexico, and Afghanistan.

Do you require a certain level of English in order to be in the group? And do some of the participants take English classes in parallel?

We welcome anyone who would like to improve their English reading skills, and as this is an informal group there is no strict requirement. However, at least a basic level of English is needed in order to benefit from the group. Some book club members also take an ESL language class in addition to participating in the book club.

So, the group is based in Harrison but serves the whole of Westchester County?

Actually, the ESL Book Club started off by serving residents of Harrison, NY and nearby towns, but after we moved online, we were able to include people from any location and we now have participants who have relocated from Westchester and join us from around the United States—Connecticut, Florida, New Jersey, and California. We even have members in Japan and the Philippines.

Where and when do you meet?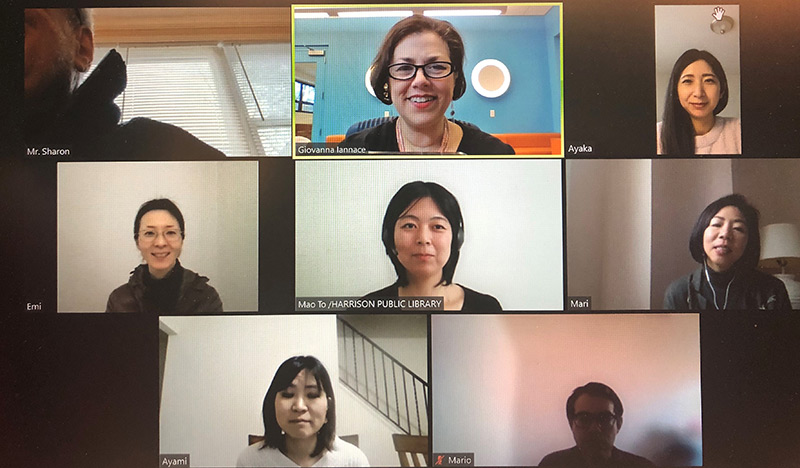 Currently, we meet every Wednesday morning on Zoom. Before the pandemic, we met in one of the library's meeting rooms, but when the library had to temporarily close in mid-March 2020, we immediately switched to an online format using Zoom. Soon, we plan to switch to a hybrid format so that we can gather in-person while still continuing to have members who live further away join us by Zoom.

That sounds wonderful. Were there any technical difficulties in moving to Zoom?

We didn't skip a beat. In part because the library has free Chromebooks available for patrons to check out, which can be used to join us on Zoom. The main issue for our book club is the start time of our meetings. The time difference between East Coast USA and Japan and the Philippines is 12 to 14 hours. We try to accommodate as many schedules as possible and so adjust the time when we can to fit as many people as we can; using Zoom makes it much easier for us to switch our meeting time.

How large is the group, and how are meetings structured?

The group gradually grew from three to 17 members, and we continue to welcome new members throughout the year even if we're in the middle of a book. The meetings last for an hour, during which we review vocabulary, definitions, reading comprehension and pronunciation/phonics; and all members who wish to have the opportunity to practice reading out loud.


It normally takes three to four months to complete a book, and our members learn a great deal during that time. Each week, one of the book club members volunteers to prepare the definitions for the vocabulary words we discuss. The final document of definitions is then shared with the group via email.

Clearly, this is a very special group!

It is! We often discuss the origins of words and phrases and share similar traditions practiced in different countries. The members have formed friendships and continue meeting on their own outside of the book club. On one occasion, one member was scheduled to get married at the Town Hall right after our book club meeting. He told us he had to leave early to attend his wedding, and we all joined him in the gazebo outside of the Town Hall to witness his marriage ceremony. It was an honor and a joy to be part of his special day. Our library director, Galina Chernykh, captured the event by taking photographs of the happy couple.

It's also very satisfying to see the progress made. For example, one member shared with us that she knew she had finally mastered the language when she started dreaming in English instead of Portuguese!

Do you have help with the group? And do you feel that running an ESL book club requires any special skills as a librarian?

Before moving to Zoom in 2020, I had two volunteers assist me; none of us had formal training on conducting an ESL course. As a book club discussion group, it was fairly easy to run the program as an English conversation class focused on topics related to the book we were reading. The volunteers no long assist me online but they do still attend the weekly meetings and join in on the discussion.

Do you find people tend to move on from the group when their English gets to a certain level?

Members who master English still enjoy participating in the book club. They also attend our other book clubs as their schedule permits; and some leave when they move into employment and aren't available to meet during the day.

What would you say is the maximum number of members you could have at a meeting with your current format? And do you envisage an evening group at some point for those who are working during the day?

I would say 20 people would be the maximum number we could have online. Some of our members leave the group when they find employment and are no longer able to attend our weekly meetings. So, if we reached capacity or there was interest, we would certainly consider offering a second ESL Book Club in the evening; but at the moment most of our members have families and prefer to meet during the day when their children are at school.

Can you share some of the books you've read?

Our first book was Wonder by R.J. Palacio, and we have alternated between Children's, Teen, and Adult books throughout the years. It's been an eclectic selection including:
The Mixed-Up Files of Mrs. Basil E. Frankweiler by E. L. Konigsburg
The Great Gatsby by F. Scott Fitzgerald (this was selected since it was a top Great American Read)
Behold the Dreamers by Imbolo Mbue
Where'd You Go Bernadette by Maria Semplev
The Rosie Project by Graeme Simsion
Hotel on the Corner of Bitter and Sweet by Jamie Ford, who spoke at the Harrison High School in 2019
"Gift of the Magi" by O. Henry
Northern Lights by Jennifer Donnelly
Orphan Train by Cristina Baker Kline
Before the Coffee Gets Cold by Toshikazu Kawaguchi
The Last Thing He Told Me by Laura Dave
The Vanishing Half by Britt Bennet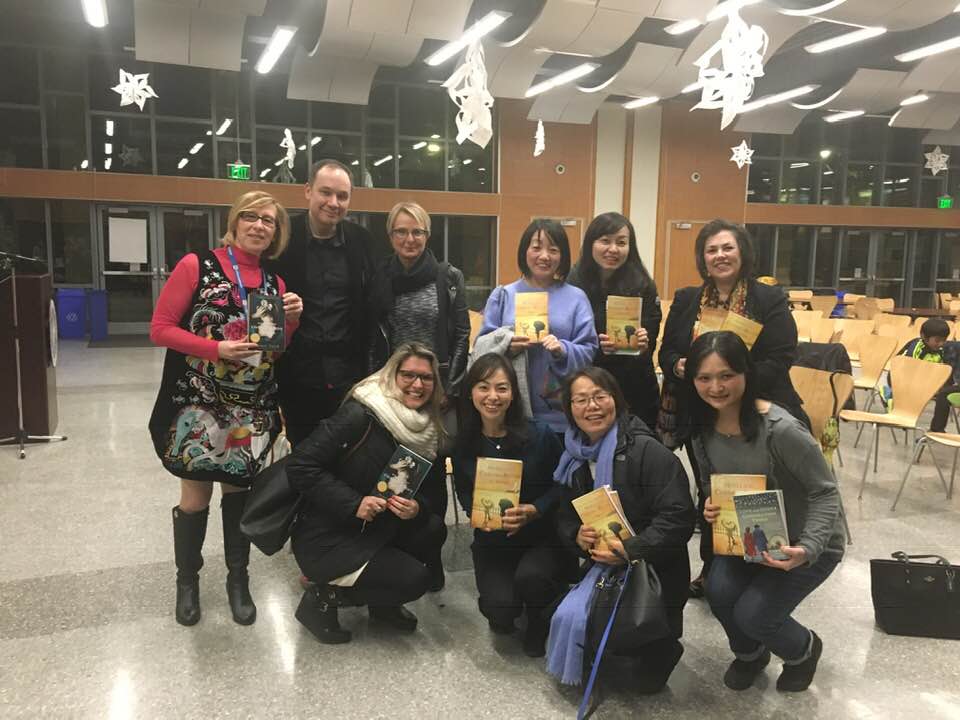 That's a great list, and some challenging titles! What are you reading now and how do you pick your books?

We started reading Black Cake by Charmaine Wilkerson last month. I select three books and book club members vote for their top choice. The book with the most votes becomes our read for the season.

Do you offer any guidance to members to help them improve their reading in their own time?

Members read on their own before each meeting and are encouraged to read other books and join our other monthly Book Clubs. I recommend they read out loud at home and check online for the correct pronunciations of words they might not recognize. Members can read ahead as well, which helps with the reading comprehension.

Do you have any tips you'd like to share with those who might be looking to start their own ESL book group?

My main tip is to make reading fun, regardless of the language. Encourage participants to ask questions, no matter how silly they may think the questions are, because the chances are other participants are wondering about the same thing.

Thank you Giovanna, it's been really interesting learning about your ESL book group, and I think many readers looking to start an ESL book club will benefit from your experience. I wish you and your group many more years reading and learning together! —Davina Morgan-Witts, BookBrowse Publisher
More Book Club Interviews
© BookBrowse.com March 2023.
Would you be interested in being interviewed for this feature? If so, please
contact us
with brief details about your club, particularly noting the things that you think make your group special. Please include both a contact email and a telephone number.