Dear BookBrowsers


It's that best of time again! The time when we stand still for a minute, turn back around and take a look at what has unfolded over the course of the year. It feels like the blink of an eye, doesn't it? From January until now? Don't you wish you could somehow slow it down?

There's a theory about time passing called the perceptual theory of time which offers that it seems to speed up as we get older because we continually evolve our perception of the world. Specifically (according to psychologist Robert Ornstein), our sense of the speed of time is determined by how much information our minds are absorbing. The more we take in, the slower time seems to pass. This is why children tend to sigh and exclaim Aren't we there YET? over and over again. They are taking in so many details that they perceive the ticking of time as endless. So how do we adults reclaim some of that leisurely pace?

One way is by reading really good books that engage our minds with dynamic story-lines, empathetic characters and fascinating details. Reading a book demands that we sit still and focus because there is so much rich information inside its pages.

And here we are in December. Turned and gazing back at the year. We're sure you've read a bunch of great books over the last 11 months, but if you missed some, if you want to slow down time in this last month of the year, then we suggest you take a look at our best of list.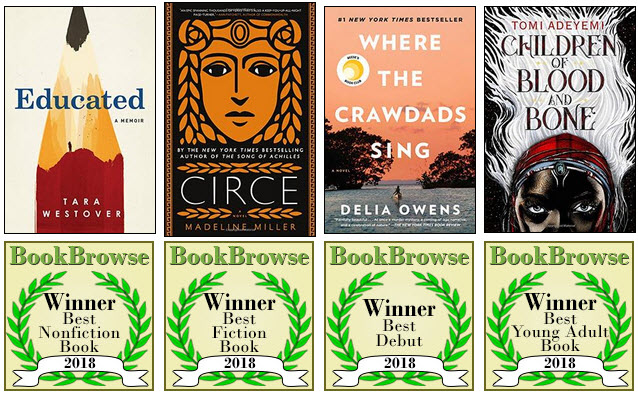 Educated by Tara Westover receives our best non-fiction award and was also our overall highest rated book. This memoir explores Westover's childhood in a survivalist family and her quest to leave to find education and herself in the process.

Circe, Madeline Miller's follow-up to The Song of Achilles receives our best fiction award. It's an epic story about family, rivalry and a celebration of strong women.

Our best debut novel award goes to Where the Crawdads Sing by Delia Owens, which is a heartbreaking coming of age story mixed with the suspenseful tale of a possible murder.

And finally, Tomi Adeyemi's Children of Blood and Bone gets our best young adult fiction award. The first in a series, this West African-inspired fantasy explores one girl's fight to bring magic back to her world before it is too late.



These four title together with the next sixteen highest rated books form our 2018 Top 20.
Thanks for reading!

Your editor,
Davina