Book Clubs in Lockdown
An investigation into how book clubs are responding and adapting to the extraordinary events of 2020, and the implications for the future.
Now Available for Free!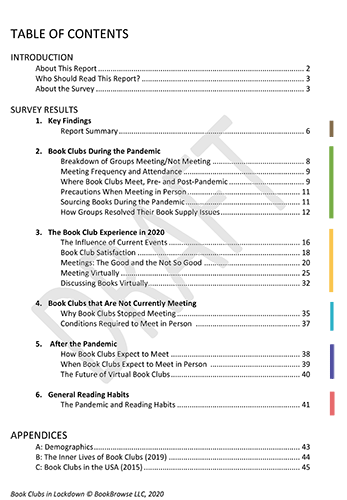 X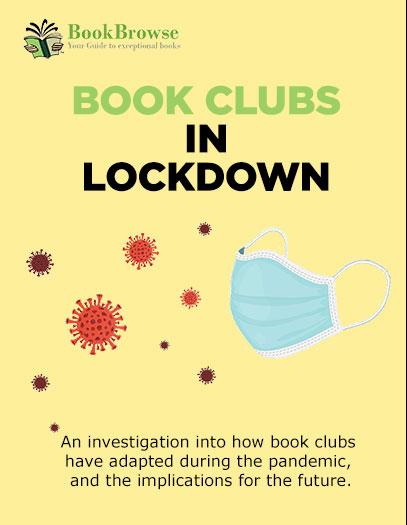 BookBrowse has surveyed readers and book clubs for more than 15 years. Over this time we have seen many relatively slow shifts including the growth in book clubs themselves, how people buy books and the formats that they read in.

However, 2020 has been different—for all of us—so many aspects of our lives have been impacted by recent events. So, in October 2020 we surveyed 3,400 people currently in a book club to find out how their book groups are doing this year.

You can download the full report for free. We recommend it to librarians, booksellers, publishers and authors; and to book club members looking to gain insight into how other groups have responded to the events of 2020. Also available in print, see below.

In it you'll discover:
How book clubs are responding and adapting to the events of 2020
How the overall book club experience compares to last year
Where book clubs are meeting and what precautions they are taking
The good and not so good aspects of meeting virtually
What book clubs are—and are not— discussing this year
The ways in which the pandemic is changing book clubs for the long term
and much more...
For a summary of key findings, see Publishers Weekly Soapbox or our press release.
"We were both so impressed with the clarity, the thoroughness and clear sighted summations at the end of each section. You have truly knocked it out of the park. We know that countless librarians will be using Book Clubs in Lockdown as a vital reference, ourselves among them!" -- Pat Sheary and Marianne Paterniti, Darien Library, CT
Download your Free Report
You can download the full report instantly by completing the form to the right. Please do share with others.

Before you leave, please take a few moments to look around BookBrowse (we have lots of resources for book clubs), and if you like what you see, or simply want to support our efforts, please consider becoming a member, giving a gift membership, or subscribing to one of our free newsletters.

We also offer library subscriptions so all patrons can access BookBrowse's premium content from anywhere at any time.

If you have any trouble downloading, contact us.
Also Available in Print
For libraries wanting to include a copy in their reference section or for those who simply prefer to read in print, Book Clubs in Lockdown is available from booksellers (and at wholesale discount through Ingram). We have priced it at cost, which shows as $13 (USD) on most bookseller websites.

ISBN: 978-1-7336192-3-3.
LCCN: 2020923426
Sample Charts
Below are some sample charts from the survey, and more images here. Please do share the report with others. If you wish to post in a blog or on social media and would like to use an image that is not displayed, contact us and we would be glad to provide.