The Immortal Life of Henrietta Lacks
by Rebecca Skloot
Hardcover: Feb 2010
Paperback: Mar 2011
Winner of BookBrowse's 2010 Best Book Award
Intimate in feeling, astonishing in scope, and impossible to put down,
The Immortal Life of Henrietta Lacks
captures the beauty and drama of scientific discovery, as well as its human consequences.
Support BookBrowse
Become a Member and discover books that entertain, engage & enlighten!
Editor's Choice
The Hermit
by Thomas Rydahl If you can be comfortable with Scandinavian noir played out against the sun-drenched backdrop of ...

The Radium Girls
by Kate Moore In 1915, Austrian-born Sabin von Sochocky developed a luminescent paint that used radium to create a...

Long Black Veil
by Jennifer Finney Boylan "This was a long time ago, before my first death, and none of us now are the people we were then. ...
Win this book!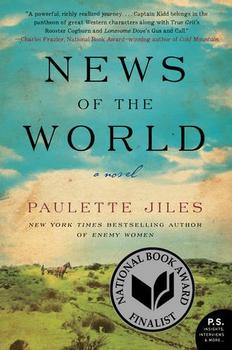 News of the World
A brilliant work of historical fiction that explores the boundaries of family, responsibility, honor, and trust.
First Impressions
The Weight of Ink
by Rachel Kadish

An intellectual, suspenseful, and entertaining page-turner.
Reader Reviews
Word Play
Solve this clue:
and be entered to win..
Book Discussion
Books that


entertain,
engage
& enlighten


Visitors can view some of BookBrowse for free. Full access is for members only.