Land Reforms in North Vietnam (1953-1956)
This article relates to The Mountains Sing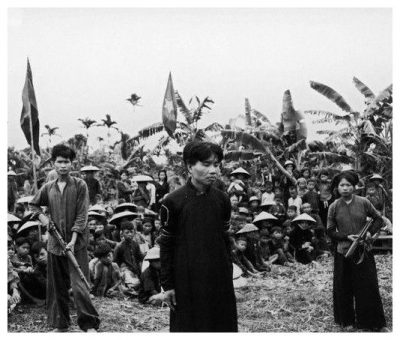 The Mountains Sing by Nguyễn Phan Quế is set against the backdrop of several decades in Northern Vietnam, including the period from 1945 to 1976 when it was an independent state known as the Democratic Republic of Vietnam (DRV). This was a time of extraordinary hardship brought about by factors related to shifts in political power and the struggle for Vietnamese self-governance, with a significant one of these factors being the land reform movement. Land reform measures in North Vietnam were initiated in 1953 by Ho Chi Minh, leader of the Lao Dong, the Vietnamese Workers' Party of the DRV, and lasted until 1956. The ideology of the Lao Dong was based on facets of Chinese communism, as well as Soviet Marxism and Leninism. Their plan for land reform was modeled after similar plans in China and the Soviet Union, and aimed to seize private property and wealth from landowners to redistribute it among the peasant class before moving towards a broader model of collective farming.

The land reforms were carried out by cadres from the party who would typically arrive in a village and investigate the working conditions and land ownership situation there. It was their goal to identify those who profited off the labor of others, who they would then classify as dia chu, or "landlords." Landlords' land and property were taken from them and redistributed to the working poor of the village. Another classification was reserved for landlords who were considered to have committed certain cruelties against others, such as murder and rape, and those given this classification were often publicly beaten or executed.

Journalists and historians have disagreed significantly on how many North Vietnamese people were likely killed during the reforms. War correspondent Bernard Fall estimated that 50,000 were executed (with "at least twice as many" put in forced labor camps), and this number was widely circulated. Some have suggested that the numbers were even higher than this. Hoang Van Chi, a Vietnamese writer who has been heavily cited regarding the land reforms, made a reference to five percent of the population having been executed (which would have been over 500,000 people), albeit after indicating that no one had sufficient information to say how many deaths there had been. This statistic was later used by the Nixon administration to justify continued U.S. military presence in Vietnam. Journalist Gareth Porter criticized these higher estimates, and put forth a much lower estimate of 800 to 2,500. Historian Edwin Moïse made an estimation both higher than Porter's but lower than some of the earlier claims, stating that the executions were "probably in the rough order of 5,000 and almost certainly between 3,000 and 15,000."

Regardless of the exact number of deaths, it has been widely accepted and admitted that the Lao Dong made errors in their attempts to identify the population by class. In 1956, Ho Chi Minh apologized for the severity of the reforms, saying, "because I lacked a spirit of democracy, I didn't listen and didn't see."

While significant land redistribution was carried out (37 percent of arable land in the northern provinces was split between 2.1 million families), this wasn't the end of the reforms. The government next implemented a plan for collectivized farming, thereby taking the land away from families and creating a bureaucratic system of labor. This new structure, involving cooperatives that paid workers based on a points system, ultimately failed to improve agriculture production and in fact caused it to decline, eventually causing serious food shortages.

While the land reform campaign has often been regarded as a sensitive and taboo subject in Vietnamese history, some authors have addressed it openly. Besides The Mountains Sing, which is the English-language debut from Nguyễn Phan Quế, a significant number of works of Vietnamese-language literature deal with the reforms. For example, Vu Bao's 1957 novel Sap Cuoi (About to Marry) tells the story of a couple, Xuan and Buoi, whose wedding and relationship are disrupted by the land reform in their village when Buoi's family is labeled as part of the landowning class. A more recent example is the 1992 novel Lao Kho (The Old Kho) by Ta Duy Anh, which shows events through the experiences of an elderly peasant character, Lao Kho, who lets himself be swayed by government rhetoric to the detriment of those around him.
Most of the Vietnamese words in this article are normally written with accents to indicate tone, including the author's name. However, due to the challenges of displaying accents in some browsers, we have not included them.

Photo: The humiliation of a landlord during North Vietnam's land reform program. Source: Alpha History.
Filed under People, Eras & Events
This "beyond the book article" relates to The Mountains Sing. It originally ran in April 2020 and has been updated for the March 2021 paperback edition. Go to magazine.
This review is available to non-members for a limited time. For full access become a member today.
Membership Advantages
Reviews
"Beyond the Book" articles
Free books to read and review (US only)
Find books by time period, setting & theme
Read-alike suggestions by book and author
Book club discussions
and much more!
Just $45 for 12 months or $15 for 3 months.