Looking for nonfiction to read with your book club in the coming year? It can be tricky to track down quality nonfiction that has real discussion potential, so we've created this list to give your group a head start on your picks for 2024.

Our selections include two books portraying lesser-explored elements of World War II from unique angles, an engaging story of sisters separated by the Chinese Civil War, an eye-opening account of women fighting discrimination at MIT, an intimate and socially conscious portrait of George Floyd, and the dramatic telling of a North Carolina community's battle for justice against a multinational corporation.

All of these titles will be available in paperback during the first half of 2024; some have full discussion guides available; for those that don't, we recommend our 36 Book Club Discussion Topics for Any Book. We hope these books spark fruitful conversations!
The Nazi Conspiracy: The Secret Plot to Kill Roosevelt, Stalin, and Churchill
by Brad Meltzer, Josh Mensch
Paperback Jan 9, 2024. 400 pages
Published by Flatiron Books
The story centers around a possible Nazi attempt to kill Franklin D. Roosevelt (USA), Winston Churchill (UK) and Joseph Stalin (USSR) while they met at the secret summit of the Big Three in Tehran, Iran, in 1943, while World War II was raging. The book details the history of these three different men, how their countries were plunged into the war, the decisions they made to work together to strategically end WWII, and the pressure this war put upon them mentally, emotionally, and physically (Anke V). Highly recommended to anyone who is already a fan of WWII history and wants to explore a different perspective or those who want to expand their knowledge of iconic events and leaders of the 20th century (Florrie C). Would provide plenty of fuel for book club discussions. And you don't have to be a WWII fan to enjoy this book (Vicky S).
Topics for book clubs:
What new information about World War II did the book bring to light, and what might have happened if Operation Long Jump had succeeded? Also, what other conspiracies have either altered world history or failed to do so?" For more ideas, see BookBrowse's
discussion of The Nazi Conspiracy
.
Read More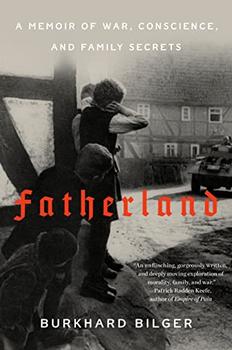 Fatherland: A Memoir of War, Conscience, and Family Secrets
by Burkhard Bilger
Paperback Apr 23, 2024. 336 pages
Published by Random House Trade Paperbacks
Born in Oklahoma to parents who immigrated from Germany in the 1960s, veteran journalist Bilger grew up eating
Bratkartoffeln
and
Gurkensalat
, immersed in German traditions, and speaking the southwestern German dialect of his parents' hometown in the Black Forest region. Bilger was 28 when his mother first told him that her father, Karl Gönner, had been arrested and imprisoned as a war criminal in France in the aftermath of World War II.
Fatherland
recounts Bilger's search to understand his grandfather's role in the war, an almost decade-long quest that involved tracking down dusty archives hidden away in forgotten storerooms in France and Germany, decoding letters and documents penned in the indecipherable loops and swirls of old German script, and plumbing the memories of scores of interviewees, including some, now in their 80s and 90s, who had been students of his grandfather. (Elisabeth Herschbach)
Topics for book clubs:
Book groups discussing
Fatherland
can talk about the difficulty of dealing with the unknowns of the past, how the actions of past generations may affect future ones, and the experiences and memories of German children who grew up in the wake of World War II.
Read More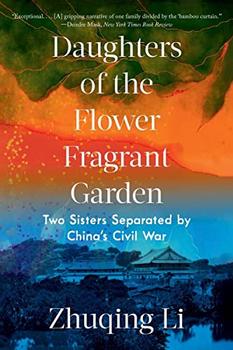 Daughters of the Flower Fragrant Garden: Two Sisters Separated by China's Civil War
by Zhuqing Li
Paperback Jun 2023. 368 pages
Published by W.W. Norton & Company
The author's aunts, Jun and Hong Chen, were two years apart in age, living as privileged and educated women in Nationalist China due to their father's position in the government. All that changed when the Communists defeated the Nationalists in the Civil War. Through sheer accident, the sisters were separated and would not see each other again until they were well into their 80s. Jun ended up in Taiwan married to a general in the Nationalist army and became an entrepreneur. Hong lived her entire life in Communist China as a doctor (Patricia C). Li has crafted a marvelous account of how these two very different women acclimated to their respective political climates, raised children and still managed to forge a path ahead (Jean F). Zhuqing Li places her family history in the context of the Chinese Civil War and the many cultural and economic changes that took place in China in the 20th century. I think this would be a great book club choice. The themes of war, endurance and strong family ties could spark an interesting discussion (Ellen H).
Topics for book clubs:
Clubs reading
Daughters of the Flower Fragrant Garden
may choose to discuss the pain of family separation, the significance of sibling bonds, and the Chinese Civil War and its broader effects.
Read More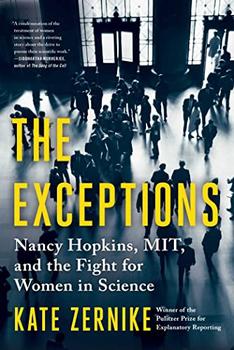 The Exceptions: Nancy Hopkins, MIT, and the Fight for Women in Science
by Kate Zernike
Paperback Feb 27, 2024. 432 pages
Published by Scribner
As debates about "wokeness" roil college campuses, it's important to remember that every action towards equality has engendered an equally strong reaction against it. Just like a law of physics, this push and pull has played out over decades, including at the Massachusetts Institute of Technology (MIT). There, it took years not just to resolve gender discrimination issues, but even for discrimination in the faculty to be accepted as an actual problem.
The Exceptions
centers around the experience of Nancy Hopkins who, in 1963, was studying at Radcliffe, which is Harvard's sister school. Hopkins became fascinated with the recent discovery of DNA and was a student of James Watson, one of the Nobel-prize-winning scientists credited with discovering the double-helix structure of DNA. By the early 1970s, she was working at MIT conducting research in their new cancer lab. Zernike intricately details the inner lives of Hopkins and other trailblazing women who persisted through the slights from their male colleagues and began asking bigger questions about their careers. (Rose Rankin)
Topics for book clubs
: Book groups who discuss
The Exceptions
may wish to compare gender discrimination in the sciences with discrimination in other fields, to consider what progress has currently been made for gender equality in the professional world and what problems still exist, and to examine this inequality in terms of how it intersects with factors such as race and economic status.
Read More
His Name Is George Floyd: One Man's Life and the Struggle for Racial Justice
by Robert Samuels, Toluse Olorunnipa
Paperback May 7, 2024. 432 pages
Published by Penguin Books
The murder of George Floyd on May 25, 2020, sparked a worldwide movement of protest against police brutality and wider forces of systemic racism, and in the process Floyd sometimes became more of a symbol than a person. Robert Samuels and Toluse Olorunnipa go beyond the marches and murals to reveal the man who was George Floyd, while also shining a light on the social, economic and political forces that frame and shape the country in which he lived and died. The result is a richly detailed biography along with a social history of modern America. (Rose Rankin)
Topics for book clubs:
Groups reading
His Name Is George Floyd
can discuss the significance of the protests following Floyd's murder, systemic racism as an ongoing issue, and the potential pitfalls of attaching symbolic meaning to one high-profile event or person.
Read More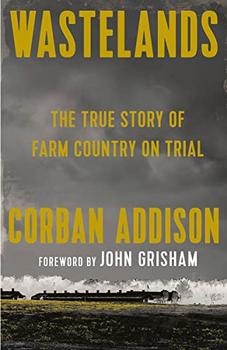 Wastelands: The True Story of Farm Country on Trial
by Corban Addison
Paperback Sep 2023. 448 pages
Published by Vintage
Growing up in eastern North Carolina in the 1950s, Elsie Herring reveled in the rustic beauty of the surrounding countryside—a pine-fringed sweep of plains dotted with small farms. But when she returned in the early 1990s after several decades away, Elsie found her childhood home transformed. A noxious stench in the air made sitting outside unbearable. Flies swarmed the yard, and buzzards circled overhead. Noisy trucks screeched by at all hours of the day and night, shattering the peace. Large-scale hog farms like the one next door to Elsie began proliferating across eastern North Carolina in the 1980s as lax regulations and industrialized farming methods gave rise to a corporate model of agriculture.
Wastelands
tells the story of the protracted struggle of Elsie and hundreds of other residents in her community to fight back and force factory farms to clean up their act. (Elisabeth Herschbach)
Topics for book clubs
: Book clubs who read
Wastelands
may like to discuss the system of factory farming, including the reasons behind it and potential alternatives to it; how communities can be affected by environmental issues for which they aren't responsible; and animal rights.
Read More