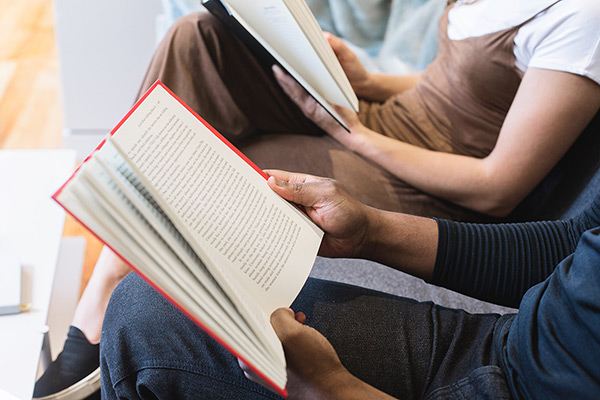 Over the past year, BookBrowse has been contacted many times by book club members asking for advice on how their group should approach discussing potentially sensitive topics, particularly relating to racial issues. While race is not the only topic that can be a challenge to discuss, it has been top of mind for many groups over the past year. In fact, in our October 2020 survey of more than 3,000 book club members, we found that 58% of US respondents said their book group had
discussed racial issues
during the year. And, of course, discussions are not just taking place in book clubs; according to a
Pew survey
published in June 2020, almost 70% of Americans said they had talked with family and friends about race and racial equality during the previous month.
With this in mind, here are some resources that BookBrowse's editorial team recommends to help these discussions be productive. Each takes a slightly different perspective, so one may resonate with you more than another.
"Can a Book Club Fight Racism?" is a HuffPost article by Claire Fallon, published in August of 2020, a time when anti-racist reading was experiencing an upsurge following protests in response to the police murder of George Floyd. This is a fantastic resource for understanding your group's intentions in discussing race and establishing your priorities around conversations, which is especially important if you have an all-white group. It quotes various people with expertise in related subjects and emphasizes the importance of building anti-racist or race-centric discussions around the work of Black people and other people of color.

The AARP's blog post "How to have a respectful conversation about racial justice" provides an overview of the topic supported by seven key points to reflect on. It also includes a handful of conversation starters--you might want to choose one or two of these to discuss before turning to the book at hand.

Seal Press provides a discussion guide for book groups planning to read So You Want to Talk About Race by Ijeoma Oluo. The basic guidelines ahead of the questions relating to the book are an excellent template for any conversation about race, advising participants to think critically about their own viewpoints (and privileges) and giving practical tips on how to handle conflict in a productive manner. This is a terrific, no-nonsense resource that points out some of the common pitfalls that tend to undermine these types of discussions. Oluo's book itself is also a useful resource for developing a broader understanding of how to have discussions about race.

Lastly, Facilitating Difficult Race Discussions from academic publisher Wiley summarizes Derald Wing Sue, PhD's book Race Talk and the Company of Silence: Understanding and Facilitating Difficult Dialogues on Race. It is targeted at educators and makes for comparatively dense reading, so is probably not one to share with your book group; but it's worthwhile to read if you're preparing to moderate a potentially sensitive discussion, particularly for its description of five ineffective strategies to be avoided--which are also available in a summarized form.