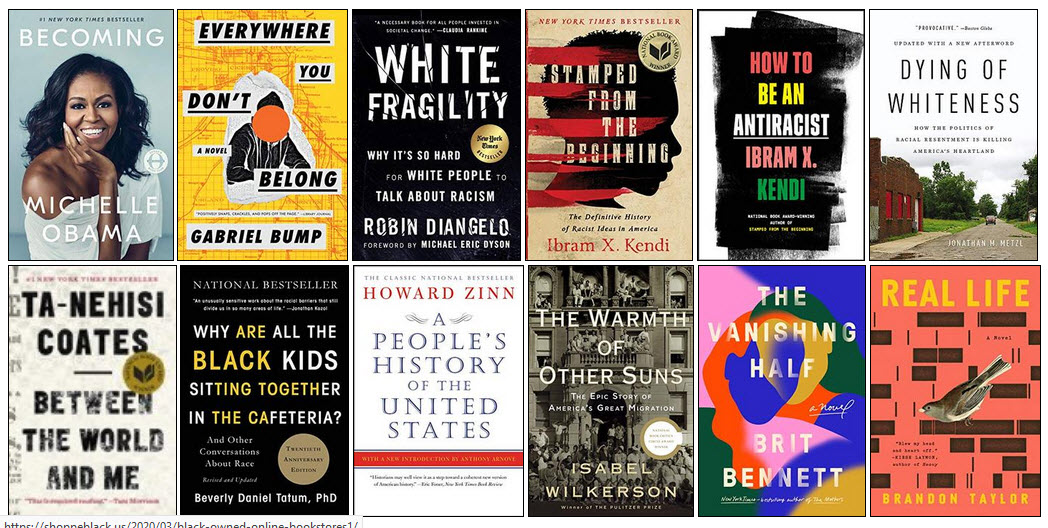 Recent protests against race-based police violence have influenced many in the United States to begin educating themselves on how to be antiracist. These events may also inspire book clubs to hold valuable discussions about fighting systemic racism and to consciously read more books from Black authors.
But with all of the reading lists flooding the internet right now, it can be difficult to know where to begin. So we've put together some focused lists for different types of reading that you can use as a starting point for antiracism discussions and actions in your book club.
You can also support Black businesses and communities by buying any of the books below from a Black-owned online bookstore.
Anti-Racist Non-Fiction
This list was compiled by PhD student Victoria Alexander on Twitter. The first graphic shows a basic non-fiction reading list, including a "starter kit," an "intermediate kit," more focused anti-racism topics, and anti-racist narratives and biographies.
Book clubs that are new to the subject may want to begin either with Ijeoma Oluo's So You Want to Talk About Race or Robin DiAngelo's White Fragility from the starter kit, as these are both accessible, practical guides with plenty of possible discussion points.
Anti-Racist Books for Young People
This manageable list from publisher Aimée Felone published in the Guardian presents a few key anti-racist books that may be useful for families, educators or anyone who runs book groups for young people. They range from the board book A Is for Activist by Innosanto Nagara to Stamped: Racism, Antiracism and You, a "remix" of Dr. Ibram X. Kendi's Stamped from the Beginning (see Alexander's list above) for younger readers, created by the author of the original text and Jason Reynolds.
Fiction from Black Authors That Addresses Racism
Below are just a few books of fiction by Black authors published this year that call attention to racism in some way and may help inspire discussions about how to be anti-racist.
The Vanishing Half by Brit Bennett is a multi-generational story centered on two identical twins, the Vignes sisters, who run away from their Louisiana town as teenagers and go on to have very different futures: One of the sisters returns to the community years later, while the other invents a new life for herself elsewhere by passing as a white woman. As the timeline of the book stretches from the 1940s up to the 1990s, book groups should find plenty of opportunity for discussion about the changing social landscape of America during this time, including the ways race and racism played into it.
Real Life by Brandon Taylor follows Wallace, a Black gay man navigating the very white world of graduate studies in a Midwestern college town. While racism, along with homophobia, is only a part of Wallace's personal and career-related struggles, the story emphasizes that racial bias and blatant prejudice are not just occasional dangers for him but built into an establishment that determines who is able to attain a certain kind of life. Taylor's novel may serve as a good starting point for discussions about racism in academic and professional settings.
Everywhere You Don't Belong by Gabriel Bump is a novel narrated by Claude McKay Love, a Black boy coming of age in a Chicago South Side neighborhood. Bump's novel depicts a riot resulting from a police shooting, which the author says was influenced by the Ferguson riots. Book groups may find this fictional event helpful for framing a discussion of current and ongoing protests against police violence.
More Recent Fiction from Black Authors
In a recent Washington Post article, director Kasi Lemmons examined the two-pronged way in which white Americans show a dangerous lack of imagination concerning the lives of Black people: on the one hand, minimizing their suffering, and on the other hand, craving depictions of it.
Part of fighting systemic anti-black racism is being aware of the commodification of Black people's pain and committing to supporting Black creators producing a variety of material. Book clubs can do this by reading books from Black writers on a range of subjects and themes--not just racism.
Elisabeth Thomas, author of the recent gothic novel Catherine House, has commented on the difficulty of trying to not focus on race as a Black author. In an interview, Thomas remarked, "Part of the weight of not being white is that you kind of have to address race, because it's addressed whether you want it or not, it's part of your life." She explained that race is still a part of the novel and that she views the racial diversity in the book as "somewhat surreal," but that she wanted to write as if she could "not talk about race."

Percival Everett's Telephone is another recent novel that contains mentions of race but doesn't address it in a prominent way. It is about the psychological journey of a father who finds out his daughter is ill, and comes with a special feature that might be particularly interesting to book clubs: There are three different versions of the novel, each with a different ending, so groups could take the opportunity to exchange copies and discuss all three.

Anti-racism isn't a single action but a commitment. Fortunately, in a book group, you have others to support you in that commitment, and you can begin at any time.

As author Ijeoma Oluo puts it, "The beauty of anti-racism is that you don't have to pretend to be free of racism to be an anti-racist. Anti-racism is the commitment to fight racism wherever you find it, including in yourself. And it's the only way forward."