We've discussed how book clubs have changed the way they source books during the COVID-19 pandemic, but what kinds of books are they reading? For our "Book Clubs in Lockdown" survey (published in November) we asked respondents about their reading habits during the pandemic -- from how much time they're devoting to reading to what kinds of books have been on the agenda. The responses are illuminating.
Reading About Current Events
For many, one of the most appealing aspects of being in a book club is the opportunity for lively discussions about themes and subjects that are relevant to real life. Books ask us to contemplate what's important to us and think critically about how we live in the world and relate to others. They often require us to evaluate our beliefs and enhance our empathy.

In addition to the pandemic, 2020 brought a new wave of racial justice activism to the forefront in America, particularly during the summer months, and the visibility of that movement changed how some book clubs made their reading selections. Among respondents in U.S. groups that choose their books six months or less ahead of time, 28% reported reading more books about racial justice in 2020 than they had in the previous year, and 58% say they have discussed issues relating to race with their group at some point during the year. Some needed a respite from the world, with 17% saying that their group had sought out books that provided a break from current events and 16% noting that their group had been reading more uplifting books.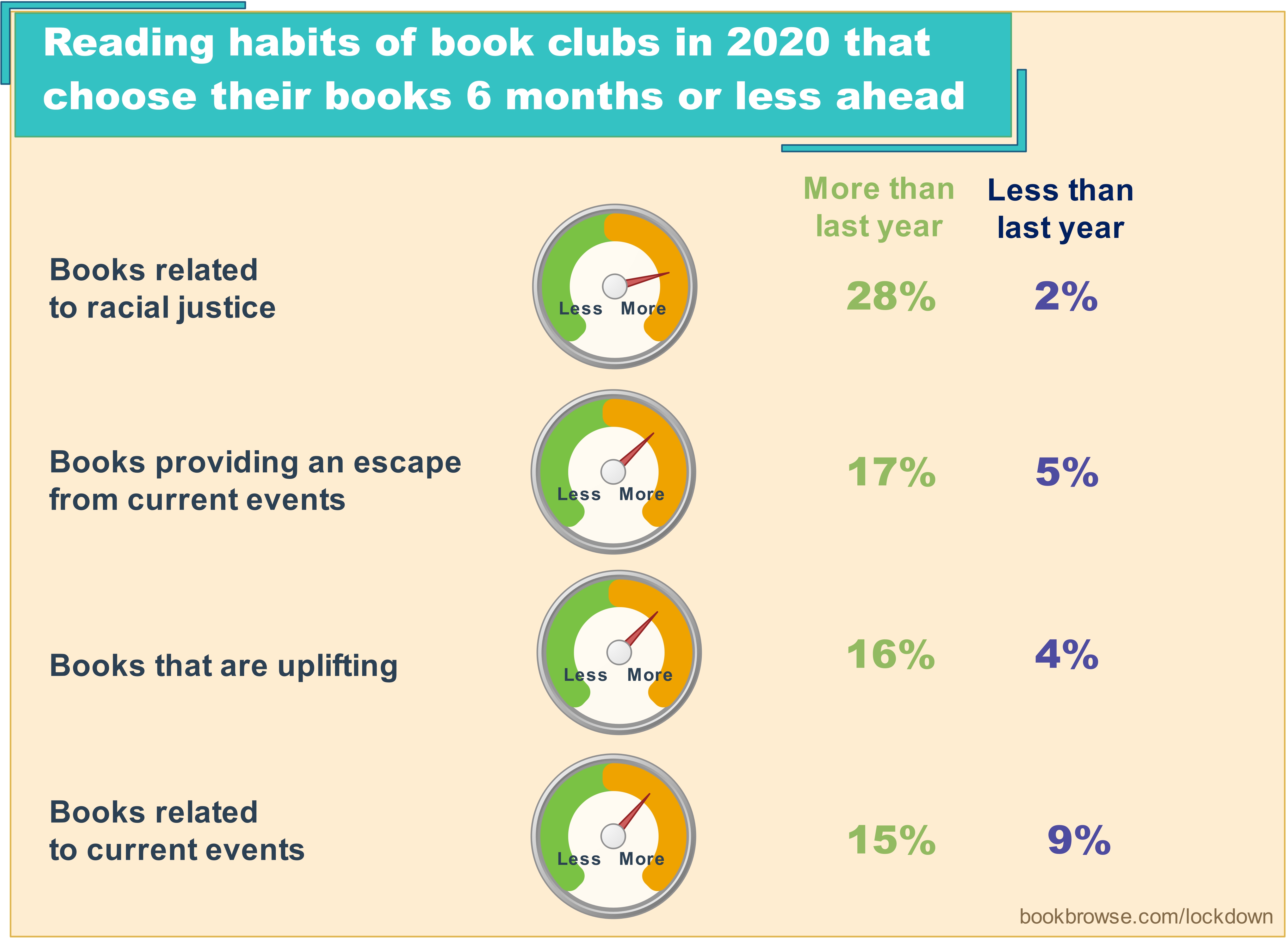 Reading and Discussing Politics
Some groups have chosen to abstain from political discussions in order to avoid potential conflict among members. 37% of U.S. respondents stated that their book group had discussed politics in 2020, but 27% reported that their group had agreed not to discuss the topic at all. This is a significant increase on the 11% who said they avoided politics when we asked the question for a survey in 2018. By comparison, only 3% of non-U.S. respondents said their group had agreed not to discuss politics (and to give you a sense of how fraught American politics has become, some of the Canadian respondents noted that their group was happy to discuss their own country's politics but had agreed not to discuss the situation in the US).
We tend to avoid political books as in the past there have been upset feelings and we want our group to be a safe haven for us all.
We have one member who is sensitive about her political views since they are different from the rest of us, so unfortunately, we avoid controversial issues.
We've changed some of our titles this year to be less stressful and not so political.
We are reading several books this year related to racial injustice, but typically we do not read books that might lead to a difficult discussion.
We prefer to escape in our book choices. Weary of social justice and real-life topics.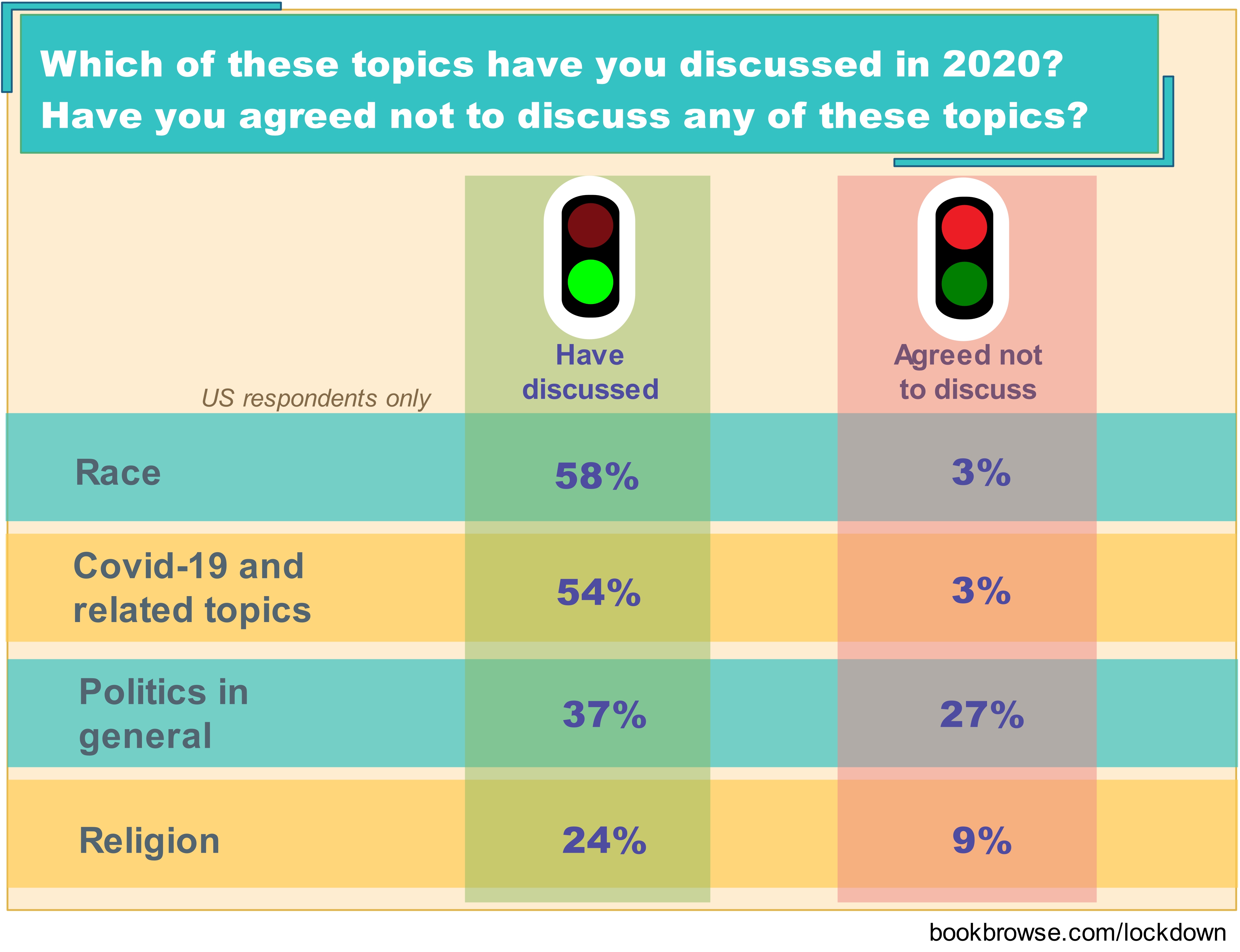 General Reading Habits
One of the few potential benefits of the pandemic and subsequent lockdowns is that many of us found more time to read during 2020. Among all respondents (both those in book clubs and those that were not), 65% reported having more time for reading in 2020 than the previous year (this broke down to 70% for respondents aged 65+ and 53% for those under 65). 58% noted that they were consuming more news than they had the previous year, and a bit over one-third said they were having difficulty focusing their attention on books.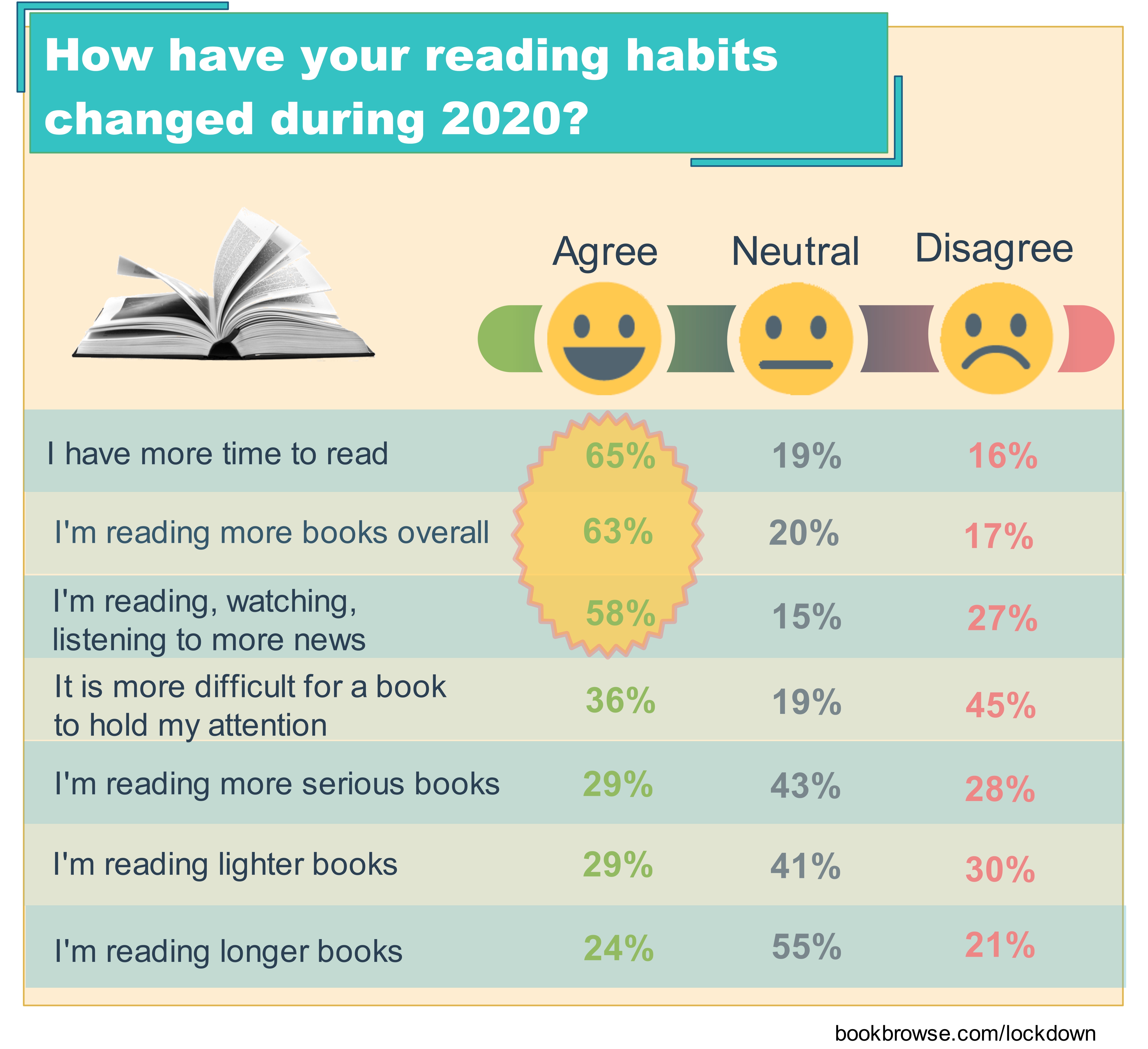 About the Survey
The survey was conducted over the last two weeks of October 2020, and published in late November. Overall, 90% of those who started the survey completed it, for a total sample size of 4,586. 3,417 of the respondents described themselves as currently in a book club; responses from this group form the bulk of the report. The remaining 1,169 had either never been part of a book club or stopped being in one for reasons unrelated to the pandemic. They were filtered directly to some general reading questions which were also answered by those in book clubs.

Would you like to learn more about how book clubs are handling the pandemic? Download the full Book Clubs in Lockdown report for free.
---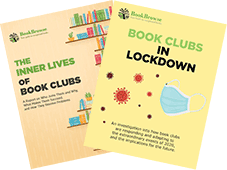 The findings in this article are drawn from our published research: The Inner Lives of Book Clubs and/or Book Clubs in Lockdown. More about both at bookbrowse.com/wp.

You can see more articles in The Inner Lives of Book Clubs section of this blog; and receive future articles in your mailbox by subscribing to our newsletters, in particular Book Club News or Librarian News.

And if you're looking for an expert on book clubs for interview, please contact us!