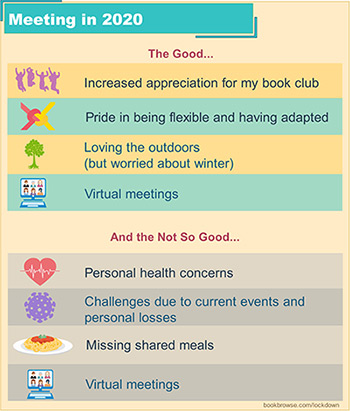 As we've been discussing in recent posts, the COVID-19 pandemic and subsequent lockdown have required book clubs to change course and do things differently. From the responses to our October 2020 survey, "Book Clubs in Lockdown," the most frequently reported change has been a switch from in-person meetings to virtual. In total, two-thirds of book clubs that were meeting at the time of the survey were doing so virtually, and of these all but a few percent were using Zoom.

We'll be looking more closely at how those virtual meetings work and what book clubs have to say about them in a future article. Here we look at some of the good and not so good aspects of the book club experience during the pandemic, irrespective of whether groups are meeting virtually or in person.
Increased Appreciation for Book Club
First and foremost, as we covered in our last post, many respondents say they have really come to appreciate their book club during the pandemic, with many pointing to the emotional support that their group has provided during this challenging time.
Pride in Being Flexible and Having Adapted
Another frequent comment from respondents is that they feel a sense of pride  in adapting to challenging circumstances.
I think we all realized that we want to meet--that we will adapt in order to keep the group active and intact. Since I am the organizer of the group, this makes me proud. The unity of a group of women who had never met before the group was organized is wonderful.

I would say flexibility of the group in terms of finding a way to meet: indoor, outdoor, patios, yards, driveways and virtual.

An awareness that despite our ages (65-80) we have embraced new technology to continue seeing each other with a specific focus on books.
You never know what you're capable of until you're tested, and the pandemic has certainly tested many of us. It's inspiring to see book club members so invested in their groups that they're willing to think outside the box and make lemonade out of lockdown lemons. We also heard many stories of groups rallying together to help each other get up to speed with technologies such as ebook downloads and meeting virtually, with the added advantage that many who learned to Zoom for their book club have found they are able to stay in touch with other friends and family as a result.
Loving the Outdoors
Of the third of groups that were meeting in person at the time of the survey, about half were meeting outdoors (with most intending to continue as long as the weather allowed) and many said it was a nice change of pace; in fact, a good number said that they'd like to continue meeting outdoors at least some of the time even after the pandemic is over.
Missing Shared Meals
Some mentioned that COVID-19 restrictions prevented them from having shared food and drinks with their book groups, and this was an aspect of the experience that was generally missed. In previous surveys we've found about a quarter of book clubs that meet in homes enjoy a full meal, either cooked by the host or a pot luck, while many others enjoy a snack, whether simple or elaborate; and, for many, the act of eating together is an important part of the group's social dynamic.
We usually meet at restaurants or cook pot luck based on the cuisine that is a backdrop to the book we are reading. Food no longer plays any part in our meetings, and that is sad.

We always served delicious, interesting foods and decorated the dining room in the theme of the book, if possible. Now we are on Zoom--no food, no big prep, not as much fun.
On the other hand, some have found taking the food element out of the equation to be an improvement, resulting in members being more focused on discussion, with a number of people whose groups are meeting in person commenting that they prefer the scaled down approach.
We meet in the evening after we have had our dinner. So, less food and less work for the hostess, which is good.

We had gotten too focused on serving food and I was one who overdid it when at my home. So now we are really simple and limited.
Thank goodness for the optimists among us. In our next article, we'll look at the pros and cons of the Zoom book club experience. Stay tuned!


This article is drawn from our 2020 report, Book Clubs in Lockdown. You can download the full report for free at bookbrowse.com/wp/lockdown.
---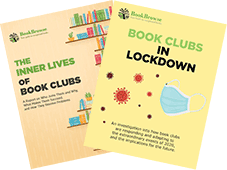 The findings in this article are drawn from our published research: The Inner Lives of Book Clubs and/or Book Clubs in Lockdown. More about both at bookbrowse.com/wp.

You can see more articles in The Inner Lives of Book Clubs section of this blog; and receive future articles in your mailbox by subscribing to our newsletters, in particular Book Club News or Librarian News.

And if you're looking for an expert on book clubs for interview, please contact us!