How is your book club doing these days? If you're like most of the respondents to our October 2020 survey, your group has gone through some changes as a result of the COVID-19 pandemic. Whether you're meeting on Zoom or gathering in person with social distancing and masking protocols, your book club meetings probably don't look quite like they used to. But not all change is bad! As we discovered in our research, satisfaction among book club participants is still high, despite the curveballs this pandemic has thrown us.

We surveyed more than 3,000 people who described themselves as currently in a book club. Of these, three-quarters were still meeting regularly with their book group, either virtually or in person; the remaining quarter mostly had not met since the start of the pandemic. The rest of this blog focuses on those who had been meeting regularly during 2020.

A full two-thirds of book clubs were meeting virtually at the time of the survey, almost all on Zoom; a further 17% were meeting outdoors; and the remainder were mostly meeting in someone's home or in a communal space (with all but 3% taking precautions). More about meeting locations in our earlier post, "Book Clubs During COVID: When Will We Meet Again?"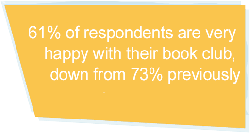 To get the bad news out of the way first: while most book clubbers described themselves as happy in their group, the percentage saying they were "very happy" was lower than in our 2019 survey: 61% versus 73%. It's unsurprising that overall happiness is diminished to some extent. With the great majority of book groups either meeting virtually or in person with safety precautions, many feel that they are missing out on the relaxed conviviality that they used to experience, leading to 36% of those meeting virtually and 23% of those meeting in person feeling that their book club experience was worse in 2020 compared to 2019 (we'll talk more about the differences -- good and bad -- between meeting in person and meeting virtually in upcoming posts).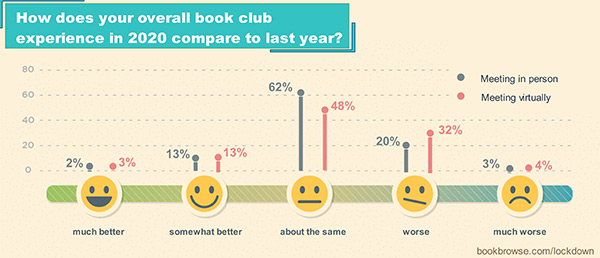 Now, for the good news. Though some people are less satisfied with their overall book club experience, 48% say that their group became more important to them in 2020 (which breaks down as 52% of those in groups meeting in person and 47% of those in groups meeting virtually).
Comparing their 2020 book club experience to 2019:
30% say it is worse, but
48% say their group is more important to them
The primary reason for this is that the book club setting provides valuable emotional support for many, particularly so during the pandemic. This is in large part because book club discussions often go deeper than our casual, everyday interactions with others. Group members tend to open up and share their perspectives on the topics being discussed, sometimes delving into personal feelings and experiences, and these conversations can lead to strong bonds of trust and friendship. And despite the challenges, regular book club meetings have provided a sense of normalcy and community for people who are respecting lockdown recommendations.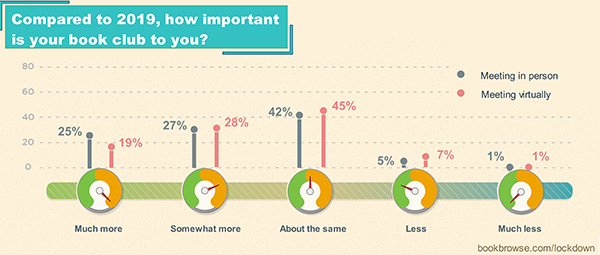 Among groups that were meeting in person at the time of the survey, 42% reported that their book group was a greater source of emotional support in 2020 than the previous year, with 35% of those meeting virtually saying the same. The pandemic has been a difficult time for just about all of us in some way -- whether we're housebound alone, anxious about getting sick, worried about friends and family, etc. -- and under these conditions, a lifeline to a sympathetic ear can be an enormous help. Many find these kinds of relationships within their book groups.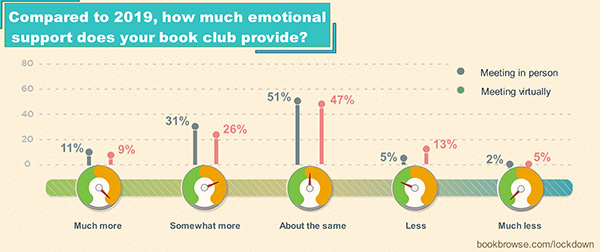 This article is drawn from our 2020 report, Book Clubs in Lockdown. You can download the full report for free at bookbrowse.com/wp/lockdown.
---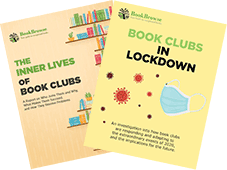 The findings in this article are drawn from our published research: The Inner Lives of Book Clubs and/or Book Clubs in Lockdown. More about both at bookbrowse.com/wp.

You can see more articles in The Inner Lives of Book Clubs section of this blog; and receive future articles in your mailbox by subscribing to our newsletters, in particular Book Club News or Librarian News.

And if you're looking for an expert on book clubs for interview, please contact us!