It's been a great year for books, and if you haven't had as much time to read as you might have liked, hopefully you can take the opportunity over the holidays to rest, read, and refuel. If you don't already have a stack of unread books on your nightstand waiting for your attention (or even if you do), you'll definitely want to pick up a few of the titles in our Best of Year lineup consisting of the 20 books that were rated highest by BookBrowse subscribers in our annual Best of Year survey. The books are listed in ratings order lower down this page; but first, the four 2019 Award Winners!


The 2019 BookBrowse Award Winners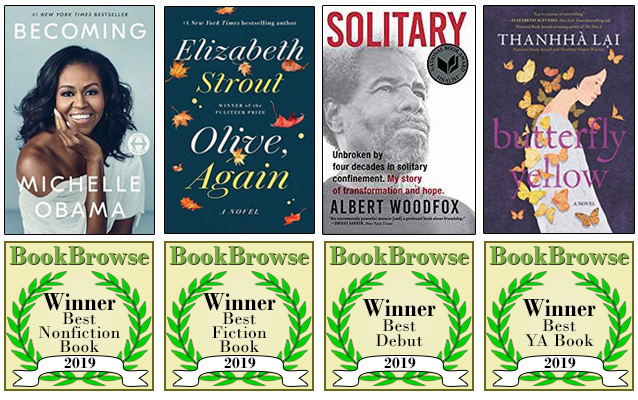 The award for Best Nonfiction Book goes to
Michelle Obama
's
Becoming
.
Becoming
published last November and is included in our 2019 Awards because voting takes place in November and therefore books published in the last two months of 2018 are eligible.
You might be interested to know that, even though
Becoming
was the bestselling book of 2018 with 3.4 million copies sold, it was not a shoo-in for BookBrowse's awards because what sets us apart from other popular awards is that we don't simply count raw votes (which favors the most widely read books), instead we ask subscribers to rate each book they've read that is on the shortlist, and the winners are the books with the highest overall ratings. We also prevent vote stuffing by restricting voting only to our subscribers.
The Best Fiction Book Award goes to the ever-popular
Elizabeth Strout
for
Olive, Again
, her sequel to
Olive Kitteridge
published ten years after the original. Readers were thrilled to return to this beloved character's stubborn but poignant perspective, and Strout's exceptional writing skills all but guarantee every outing will be a success.
Thanhha Lai
's
Butterfly Yellow
wins the Best Young Adult category. This moving novel about a teenage Vietnamese refugee's search for her brother through Texas in 1981 is Lai's second book, but her first for a YA audience. Her children's debut,
Inside Out and Back Again
, won the 2011 National Book Award for Young People's Literature and the 2012 Newbery Medal.
Our Best Debut Author Award goes to
Solitary
by
Albert Woodfox
. In this remarkable memoir, the author writes of his four decades in solitary confinement for a crime he did not commit. It is a story of hope in the face of impossible circumstances and a call to action for prison reform.
Solitary
was also a finalist for the National Book Award.
The Top 20 Best Books of 2019
Below is the full list of all 20 Best Books of 2019 in ratings order. Click any jacket to read about each book. You may also wish to
learn how these books are selected
, and browse
Award Winners
and
Favorites
for past years.