Anthony Horowitz has had a prolific career writing across multiple media including books, TV, film and stage plays. Since publishing his first novel in 1979, he has written over forty books for both adults and children, his screen credits include episodes of six TV series including Poirot and Midsomer Murders and creator and writer for six more including Foyle's War. His play, Mindgame, based on his book of the same name, opened in London's West End in 2000 and has also been performed Off-Broadway. If you're interested in more Horowitz, here are some of my favorites: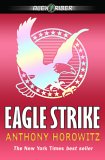 The Alex Rider series
Initially published in 2000 with the first novel, Stormbreaker, Horowitz's most well-known work is undoubtedly his children's series, Alex ...
This "beyond the book" feature is available to non-members for a limited time. Join today for full access.