Breaking news on authors, publishers, and book-related topics
BookBrowse Book News
Page 27 of 254
Obamas pen deal with Penguin Random House
Mar 01 2017: Penguin Random House has acquired the rights for two books, to be written by former US President Barack Obama and his wife Michelle respectively. Details of the deal have not been announced but it is rumored that the deal cost Random House between $30-$60 million.

...
Plenty of book-related nominations at this year's Oscars, but few winners
Feb 27 2017: Shelf Awareness reports that five of the nine best picture nominees at this year's Academy Awards were book related and there were plentiful book related nominations in other categories. But few award winners, particularly compared with recent years.

The winners were...
Author Frank Delaney dies aged 74
Feb 24 2017: Irish-born author Frank Delaney, 74, died on February 21 after a stroke. His books include the novel Ireland, the nonfiction book Simple Courage, and an ongoing podcast on James Joyce's Ulysses. A new novel is forthcoming from Putnam.
Louise Penny receives Order of Canada
Feb 21 2017: Author Louise Penny has been appointed to the Order of Canada which is one of the country's highest civilian honors, recognizing "outstanding achievement, dedication to the community and service to the nation."
Milo Yiannopoulos book deal cancelled after outrage over child abuse comments
Feb 20 2017: Simon & Schuster has cancelled the publication of Milo Yiannopoulos' book, and his fellow Breitbart employees have reportedly threatened to quit if he is not fired.

Simon & Schuster's decision follows outrage over a recording that appeared to show Yiannopoulos ...
Philip Pullman to write follow-up to His Dark Materials
Feb 15 2017: Author Philip Pullman has announced a follow-up to his best-selling His Dark Materials series, published 17 years ago. The first novel in the new trilogy, called The Book of Dust, will come out in October.
Waterstones, leading UK bookstore chain, comes "back from the dead"
Feb 06 2017: The Guardian reports on how Waterstones, the UK's leading chain of bookstores "came back from the dead... with a mixture of tough love and an unshakeable belief in the power of the physical book."

A radical move was to no longer do business through sales reps and no...
George Orwell's dystopian classic "1984" tops the USA bestseller charts less than two weeks into the Trump presidency.
Feb 02 2017: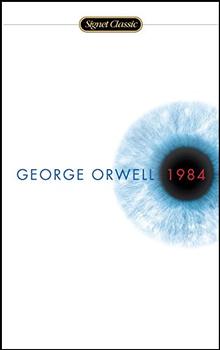 George Orwell's dystopian classic 1984 is the #1 selling book in the USA following the first week and a half of the presidency of Donald J. Trump.

Sales of other dystopian classics are also up considerably such as Margaret Atwood's "The Handmaid's Tale," which has ...