Breaking news on authors, publishers, and book-related topics
BookBrowse Book News
Page 26 of 233
Children's book illustrator Marcia Brown dies
May 07 2015: Children's book illustrator Marcia Brown died on April 28 at her home in Laguna Hills, Calif. She was 96.

One of the country's most lauded picture-book artists, Ms. Brown illustrated dozens of titles and won the Caldecott Medal three times. For some books, she also ...
Two inaugural events for indie bookstores - in USA and Canada
May 04 2015: Saturday saw two inaugural events for Indie bookstores, one in the USA, the other in Canada. In the USA, Independent Bookstore Day took off with a bang with about 400 indie bookstores across the country taking part (for background to this event see previous news stories...
Author Ruth Rendell dies
May 02 2015: Ruth Rendell, one of Britain's great mystery writers, has died aged 85 after a 50-year career. Author of the Chief Inspector Wexford novels and many standalone novels written under her own name, she also penned many writing as Barbara Vine.

To quote The Guardian, "...
Obama announces major book initiative for low-income students
May 01 2015: President Obama has announced two initiatives intended to "strengthen learning opportunities by improving access to digital content and to public libraries."

In the first initiative, major publishers including Macmillan, Simon & Schuster, Penguin Random House,...
First Independent Bookstore Day this Saturday
Apr 27 2015: Saturday May 2 marks the first Independent Bookstore Day in the USA. 400 bookstores are taking part in an event that grew out of the successful 2014 California Bookstore Day. There will be 16 exclusive books and original art pieces available. One day only. Info ...
The 2014 Top Ten List of Frequently Challenged Books
Apr 14 2015: Each year the American Library Association publishes its Top 10 Most Challenged Books. Here is the latest list:
The Absolutely True Diary of a Part-Time Indian by Sherman Alexie
Reasons: anti-family, cultural insensitivity, drugs/alcohol/smoking, gambling...
HarperCollins and Amazon agree multi-year publishing deal
Apr 14 2015: Contrary to concern last week that Amazon and HarperCollins were heading for an impasse that would lead to the delisting of all HarperCollins (as happened to Hachette last year), HarperCollins issued a brief statement yesterday saying it had "reached an agreement with ...
Support BookBrowse
Become a Member and discover books that entertain, engage & enlighten!
Editor's Choice
Before We Sleep
by Jeffrey Lent Katey Snow, aged seventeen, leaves home one night. "There was a void within her and one that could ...

The Hermit
by Thomas Rydahl If you can be comfortable with Scandinavian noir played out against the sun-drenched backdrop of ...

The Radium Girls
by Kate Moore In 1915, Austrian-born Sabin von Sochocky developed a luminescent paint that used radium to create a...
Win this book!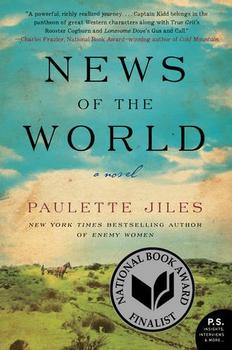 News of the World
A brilliant work of historical fiction that explores the boundaries of family, responsibility, honor, and trust.
First Impressions
The Gypsy Moth Summer
by Julia Fierro

One of the most anticipated books of 2017.
Reader Reviews
Word Play
Solve this clue:
and be entered to win..
Book Discussion
Books that


entertain,
engage
& enlighten


Visitors can view some of BookBrowse for free. Full access is for members only.