Breaking news on authors, publishers, and book-related topics
BookBrowse Book News
Page 19 of 234
Penguin Random House sells Author Solutions
Jan 06 2016: Penguin Random House has sold its self-publishing division Author Solutions to an affiliate of Najafi Companies, an international private investment firm that in 2011 had emerged as a potential buyer of Borders Group before withdrawing its bid and from 2008 to 2013, ...
Harper Lee, E.L. James, Paula Hawkins and Anthony Doerr top 2015 print fiction bestseller list.
Jan 04 2016: Harper Lee (Go Set a Watchman), E.L James (Grey), Paula Hawkins (The Girl on the Train) and Anthony Doerr (All The Light We Cannot See) topped the print adult fiction bestseller list in 2015 with sales of over one million copies each.

Click below for the full top 20 ...
Sales of print books up for second year in a row
Jan 04 2016: Unit sales of print books from outlets that report to Nielsen BookScan increased 2.8% in 2015 over 2014, marking the second consecutive year that print units posted annual gains.

The retail and club channel had a particularly good year in 2015, with sales up 5.4% over...
Sales of print books grow for second year in a row
Dec 23 2015: The book business looks ready to mark a second consecutive year of unit growth in print books. Unit sales of print books were up 2.8% through the week ended December 20, 2015 compared to the same period in 2014 at outlets that report to Nielsen BookScan with just under ...
American Booksellers Association and others support Apple at Supreme Court
Dec 03 2015: Shelf Awareness reports that The American Booksellers Association, Barnes & Noble, Authors United and the Authors Guild have filed a friend-of-the-court brief with the Supreme Court asking it to review the district court decision, upheld by the appeals court, against ...
2015 National Book Awards Announced
Nov 19 2015: The National Book Foundation has announced the 2015 winners of the National Book Awards:

Fiction: Adam Johnson, Fortune Smiles: Stories (Random House (USA))

Non-Fiction: Ta-Nehisi Coates, Between the World and Me (Spiegel & Grau / Penguin Random House)

Poetry...
Shareholders encouraged to vote in favor of plan to privatize Books-A-Million.
Nov 18 2015: Institutional Shareholder Services, the independent proxy advisory firm, has recommended that stockholders of Books-A-Million vote in favor of the plan for the Anderson family to buy BAM and take it private.
Costa Book Awards nominees announced
Nov 18 2015: The nominees for the Costa Book Awards have been announced. The Costa Awards (known as the Whitbread Awards until 2006) are one of the UK's most prestigious and literary prizes recognizing some of the most enjoyable books of the year, written by authors based in the UK ...
Support BookBrowse
Become a Member and discover books that entertain, engage & enlighten!
Editor's Choice
Do Not Become Alarmed
by Maile Meloy Full disclosure: I've never had any desire to go on a cruise. I start getting antsy and ...

Priestdaddy
by Patricia Lockwood Patricia Lockwood is a poet and the daughter of Greg Lockwood, a Catholic priest. While Catholic ...

Before We Sleep
by Jeffrey Lent Katey Snow, aged seventeen, leaves home one night. "There was a void within her and one that could ...
Win this book!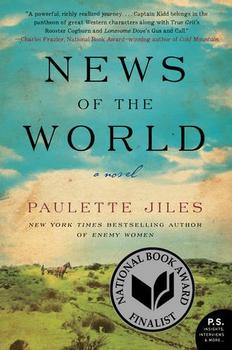 News of the World
A brilliant work of historical fiction that explores the boundaries of family, responsibility, honor, and trust.
First Impressions
The Weight of Ink
by Rachel Kadish

An intellectual, suspenseful, and entertaining page-turner.
Reader Reviews
Word Play
Solve this clue:
and be entered to win..
Book Discussion
Books that


entertain,
engage
& enlighten


Visitors can view some of BookBrowse for free. Full access is for members only.