BookBrowse:
An incredible account of a pianist's escape from war-torn Syria to Germany.
Aeham Ahmad became famous as the face of Syrian suffering when a photo of him playing piano in the ruins of his hometown Yarmouk went viral in 2015. The father of two boys, Ahmad, who was just 25 when the picture was taken, later escaped to Germany, leaving his family behind. The Pianist from Syria, he writes, is "the story behind the photo that went around the world, of a man in a green shirt playing the piano amid the rubble. And, as anyone who sees it will know, the photo can never tell you what happened before or what happened after."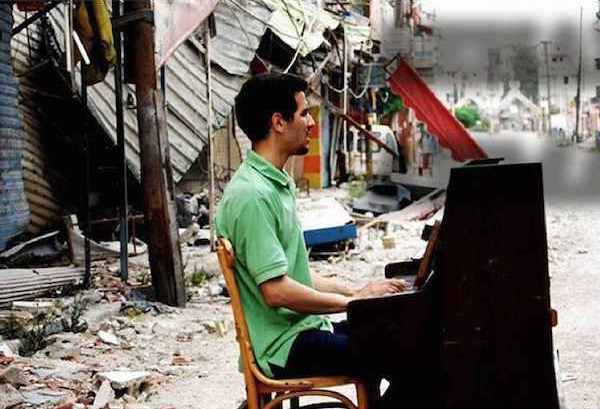 The book can be divided into three sections, differentiated by theme and focus. In the first section, Ahmad gives readers his history, touching on topics such as his grandparents' exodus from Palestine in 1948, his blind father's love of music (see Beyond the Book to learn about the oud, a musical instrument that Ahmad's father sold in his music store), and how Ahmad evolved from a recalcitrant piano student into a passionate artist. It's a fascinating story and a wonderfully detailed picture of what life was like for a regular family of businessmen before war came to Yarmouk. But the narrative changes substantially when it reaches 2011-2012. In this second section Ahmad relays how the protest movement known as the Arab Spring spread to Syria, ultimately causing a civil war. The armies of Syrian president Bashar al-Assad completely sealed off Yarmouk, believing the city to be a hotbed of unrest. The citizens had no electricity, no medicine, and no food, and many starved to death. It's a tragic story, made all the more heartrending by Ahmad's first-person account as he tells how he and his friends struggled to survive, and how painful it was for him to hear his young son crying for food he couldn't provide. And finally, in the third harrowing section, Ahmad attempts to leave Syria, enduring imprisonment, deprivation, and nearly drowning before ultimately reaching freedom.

Ahmad states that he's a pianist, not a political activist, yet his account, told from the standpoint of an innocent bystander to the conflict, can't help but come down on the side of those who fought against the Syrian regime. He declares: "In those early months of the conflict, the so-called 'neutral' outsiders were in fact on Assad's side. It was like Germany in the 1930s, when everyone outside pretended not to know what was happening." He maintains the government knew the citizens of Yarmouk had nothing to do with the unrest - many were Palestinian refugees and the children of refugees and they were, in fact, grateful for the shelter they'd been given in the country – but the government deliberately emptied out the city so rebels would move in. "That way, they could surround the fighters. They didn't care about the people who still remained there." His concerts in the middle of this war-torn area were an act of defiance:
Whenever we pushed the piano through the deserted streets, we forgot about our empty stomachs. We felt powerful. We weren't alone anymore. This was our revolution. We had a mission: we wanted the world to see what was going here. We wanted to show how Assad was killing us, and that we were standing up to him.
His friends recorded Ahmad's performances and were able to post them to various social media platforms (kluging together an Internet connection that relied on batteries charged by peddling a bicycle). They were eventually seen by Europeans who were eager to help Ahmad tell his story, and although his escape attempt was incredibly risky, he was fortunate to have backers waiting for him in Germany. While life remained difficult for him – he had to reside in a refugee camp for a time and wasn't allowed to earn money for his performances – his German friends helped get him established and eventually were able to bring his wife and sons safely out of Syria. It made me ask myself, what about all the men, women and children who weren't famous, who didn't have talent?

By far one of the best memoirs I've read, The Pianist from Syria is relevant and timely, a story specific to Ahmad and his family while at the same time raising awareness of what must be an experience shared by many refugees from war-torn areas. I highly recommend it for anyone seeking a better understanding of the refugee experience in general and the Syrian conflict in particular. It would also be an excellent book group selection.
Ahmad playing his piano in Syria
This review was originally published in The BookBrowse Review in March 2019, and has been updated for the April 2021 edition. Click here to go to this issue.
This review is available to non-members for a limited time. For full access become a member today.
Membership Advantages
Reviews
"Beyond the Book" articles
Free books to read and review (US only)
Find books by time period, setting & theme
Read-alike suggestions by book and author
Book club discussions
and much more!
Just $45 for 12 months or $15 for 3 months.