BookBrowse:
The extraordinary true story of the British spy who operated in occupied France and fell in love with her commanding officer during World War II.
Odette Sansom (1912 – 1995), a Frenchwoman married to a British man and living in the English countryside, left her three young daughters and a life of safety to join Great Britain's Special Operations Executive (SOE) during WWII. After training, she was inserted into German-controlled France to act as a courier. Code Name Lise is Larry Loftis's fascinating non-fiction account of how Sansom became WWII's most highly-decorated spy by the end of the war.

The book's heroine was undeniably a remarkable woman:
Odette Sansom didn't drink, smoke, or swear, and to the casual observer she was quite ordinary, perhaps even boring. Yet she was a trained killer. She feared neither danger nor dagger, interrogation nor torture. She didn't think twice about confronting German generals or commandants, and often placed principle before prudence. Like her SOE colleagues, she signed up for the war knowing that arrest was a very real possibility – almost one in two. But what her grandfather had told her as a child was set in granite: she was to do her duty when the time came.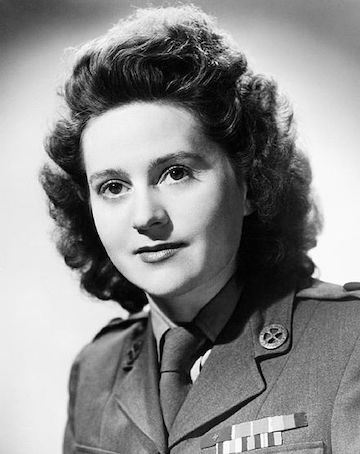 Sansom's career as a courier was brief (less than six months); most of the accolades awarded her are based on her endurance after her capture. The fact that she survived the ordeal – the only one of the seven captured female couriers she knew that did – is a testament to her fortitude. Anyone even remotely familiar with WWII literature will not be surprised to read about the brutal nature of the treatment she received at the hands of her captors. While Loftis isn't as explicit as he could have been, the tale is still horrific.

Loftis states that his intended narrative style is a "blending of nonfiction and thriller," and while this sounds challenging to accomplish, he completely succeeds. The book is a non-stop roller coaster ride from start to finish; it's entirely riveting, and the author doesn't let up on the tension for a minute. There's also a certain amount of romance; Sansom and her commanding officer, Peter Churchill, fell in love during their few months together and married in 1947. This relationship is likely what saved the lives of both individuals (Churchill was arrested at the same time Sansom was). Sansom convinced her captors that they were married, that Peter was the nephew of the British Prime Minister, and that he wasn't very bright – that she was the only one who controlled operations in the area. As a result, Churchill, who truly was the mastermind, wasn't badly treated for the most part, and both were kept alive as potential bargaining chips.

Near death by the time she was liberated from the Nazis, Sansom's bravery continued well after the war. In spite of continuing ill-health (after-effects of her years of mistreatment) she testified at subsequent war trials against the guards at her last prison, the Ravensbrück Concentration Camp.

While I did find Code Name Lise a fast-paced, absorbing read, my one complaint regards Loftis's use of quotes throughout the book. I never had a good understanding of where these supposedly verbatim accounts came from, and consequently it led me to question how much creative liberty he may have taken with the narrative. There were end notes, but I didn't find them particularly enlightening in this regard. But overall that's a pretty minor quibble to have about this otherwise first-rate account.

The book is so readable that I think even those who generally prefer novels will find it riveting, but history buffs – particularly those who enjoy WWII nonfiction – will want to put it on their lists to be sure. While it doesn't shed new light on the larger conflict, it does highlight the life of a true heroine, and that fact alone makes it a standout.
This review was originally published in The BookBrowse Review in February 2019, and has been updated for the November 2019 edition. Click here to go to this issue.
This review is available to non-members for a limited time. For full access become a member today.
Membership Advantages
Reviews
"Beyond the Book" articles
Free books to read and review (US only)
Find books by time period, setting & theme
Read-alike suggestions by book and author
Book club discussions
and much more!
Just $12 for 3 months or $39 for a year.