BookBrowse:
Epitaph tells Wyatt Earp's real story, unearthing the Homeric tragedy buried under 130 years of mythology, misrepresentation, and sheer indifference to fact.
Mary Doria Russell's novel, Epitaph, which tells of the famous event at the O.K. Corral in Tombstone, AZ does not disappoint in its recount of honor, justice, jealousy, pride and vengeance. All of the characters we remember from other tales of the event are present: Wyatt Earp, his brothers Virgil and Morgan and their wives, his loyal friend Doc Holliday, and Josephine Marcus. The villains are there as well: Curly Bill, Ike Clanton, Johnny Ringo, and Johnny Behan. While the story is a familiar one, the writing is unique in its character development and illustrative language. It offers a thorough depiction of the players, period and story.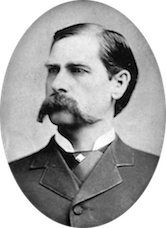 One thing that sets Epitaph apart is that it starts long before the events of the O.K. Corral and ends long after them. The story begins with a young Josephine Marcus, Wyatt's eventual wife, chronicling the events that lead her to her eventual place in Tombstone, where her beauty and spunk cause a love triangle between Wyatt Earp and Johnny Behan, a major political player in town. The triangle becomes one of the catalysts that set the shootout in motion. Tensions flare in the small town for other reasons too – flagrant disregard for laws that attempt to govern the growing industrial community, longtime personal disagreements, and, always, the struggle for money, whether begotten legally or illegally. Russell tells the story well, changing point of view at precisely the moment you would like to be in a different character's head. This switching of perspectives allows for the exploration of the characters' back-stories, as well as their personalities and motivations, at once making them more realistic and keeping the reader turning pages.

Wyatt's character is complicated, which feels accurate. We want that image of the Wyatt that we are used to: the rugged frontiersman who adheres to the law until the law does not deliver swift and appropriate justice; the man who then takes justice into his own hands; the serious and dark soul who also carries a sensitivity that endears the reader. And Russell draws us that Wyatt – "Bob was flanked by Morgan and Wyatt Earp, who had also served as strongbox guards. All they did was stare at Williams, but the combined effect of that massive wall of male silence was persuasive." – but she also layers in some of his less palatable characteristics. For instance, more than one person calls Wyatt stupid, which is a little difficult to stomach even if it is grounded in her research.

Another fresh aspect of Epitaph is Russell's choice to offer a larger voice to its female characters. Josie Marcus, Wyatt's love and later wife, figures prominently. Josie carries the spirit of her father, one of America's self-made men, throughout the story. Both she and Wyatt are survivors and these are likeable qualities in each of them. Josie's voice helps fully develop the themes of jealousy, honor and revenge.

Those themes are bolstered by borrowing imagery from The Iliad. Russell begins each chapter with a quote from the famed epic, which creates parallels between the two stories' focus on the plight of the hero, and she is also able to foreshadow some of her plot. For example, in the chapter focused on Josie she opens with "The gods have spun their threads" and references Helen of Troy. Like Helen, Josie lights off a jealousy between two men that would have far-reaching consequences. These parallels remind the reader that stories like these are timeless and, in some ways, even placeless.

Toward the end of the novel, post O.K. Corral, the story is interrupted with what feels like a warning to stop reading for fear of disrupting the romantic perspective of the O.K. Corral. The chapter title asks the reader, "Who In Future will speak well of you?" It is a question central to the whole novel. In fact, Russell includes so many rumors that surround Wyatt and Tombstone that it begins to feel the townspeople are one generic character. But her story is exactly about that: addressing those rumors and stories. A wise person once said to me that there are three versions of every story: yours, mine, and the truth. Epitaph undertakes to tell the truth. In an interview, Russell says that she wanted to "lay those ghosts to rest". She certainly does this. If you are a lover of literature of the West, of heroes, and of complicated truths, don't miss this one.
Portrait of Wyatt Earp, courtesy of wikipedia
This review was originally published in The BookBrowse Review in March 2015, and has been updated for the March 2016 edition. Click here to go to this issue.
This review is available to non-members for a limited time. For full access become a member today.
Membership Advantages
Reviews
"Beyond the Book" articles
Free books to read and review (US only)
Find books by time period, setting & theme
Read-alike suggestions by book and author
Book club discussions
and much more!
Just $45 for 12 months or $15 for 3 months.