The Myth of the American Cowboy
This article relates to Epitaph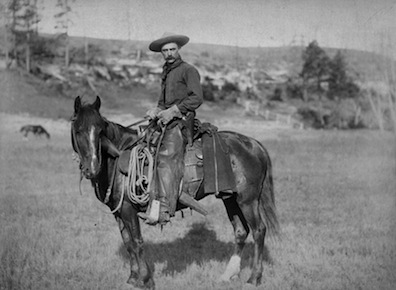 In a chapter toward the middle of her novel, Epitaph, Mary Doria Russell includes an excerpt of a letter penned by Oscar Wilde, in England, to Harry Wood, editor of one of Tombstone's newspapers, The Nugget. In it, he inquires whether the editor could "obtain for me a good specimen of the genus Homo known as the cow-boy." The note lends humor to a tense moment in the book, right after the cowboys who attacked Virgil Earp were exonerated, but it also indicates how far flung the fascination was with the American cowboy. The image of the lone cowboy – sitting tall in his saddle, astride his favorite trusty horse, hat pulled down against sun and sand, spurs catching the glint of the sun – is a vivid one in American culture. Resilient against weather and beast, always pushing forward and never backing down, proud but dark and brooding, quick-acting and straight-shooting, the cowboy has captured imagination throughout American history and lends itself to some of our most favorite stories.

But there is nothing romantic about the way the profession of the cowboy began – it was merely a business decision. Cattle ranchers in the south simply needed to transport their stock north to meet the rise in demand for beef post Civil War. What brought the Cowboy Era to an end also came down to economics; the rise of the railroad eliminated the need for someone to drive cattle to the slaughterhouses. The railroad replaced the need for these cattle driving laborers.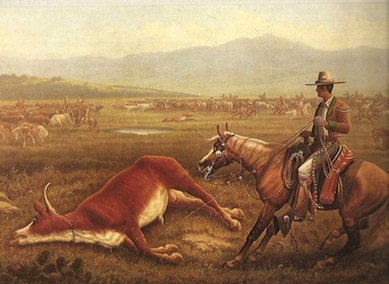 The word "cowboy", while gaining its popularity in Texas, finds its roots in the Mexican and Spanish word, vacquero meaning 'cow man'. The cowboy's day was not spent ambling easily along in the saddle, but working hard to contain herds, in intense weather and spending more hours awake than resting. Cowboys were not just white men - many African American and Mexicans were cowboys too. Women also worked the cattle. Although famous for being quick with a gun, most cowboys were more skilled with their ropes. And contrary to that "tall drink of water" image, many cowboys were smaller, which made it easier for their horses to carry them. And that is horses, plural. Many cowboys had several horses suited for different tasks, which is another contrast to the image of a cowboy – loyal to only one horse.

Teddy Blue Abbot, was a cowboy who became famous after writing about his experiences. We Pointed Them North: Recollections of a Cowpuncher was published in 1939, years after the close of the frontier and at the end of the cowboy era. It offers some insight into both the loneliness and camaraderie of being on the trail. He writes:
The singing was supposed to soothe the cattle and it did…The two men on guard would circle around with their horses on a walk, if it was a clear night and the cattle was bedded down and quiet, and one man would sing a verse of a song, and his partner on the other side of the herd would sing another verse; and you'd go through a whole song that way…I had a crackerjack of a partner in '79. I'd sing and he'd answer, and we'd keep it up like that for two hours. But he was killed by lightning.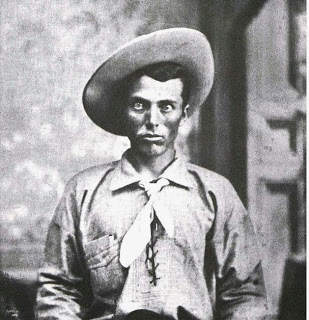 Although Abbot doesn't discuss it outright, this illustration of two cowboys relaxed and calmed by singing, juxtaposed with how quickly one of them can die, captures the danger of their jobs and maybe provides a realistic account of life on the range.

In 1870, The Cheyenne Daily Leader painted another picture of those willing to take on the harsh job of driving cattle: "Morally, as a class, cowboys are foulmouthed, blasphemous, drunken, lecherous, utterly corrupt. Usually harmless on the plains when sober, they are dreaded in towns, for then liquor has an ascendancy over them." In Epitaph, the "Cow Boys" in question, Curly Bill Brocius, Ike and Billy Clanton, Johnny Ringo, and Frank and Tom McLaurey were of this variety: good with guns, thieving cattle and bullying neighbors. This type of behavior spurred much contention across the frontier and border states where some cattle ranchers took advantage of the close proximity of the freely grazing Mexican cattle. Congress passed an act in 1878, called Posse Comitatus, forbidding the army from having anything to do with local law enforcement. This lack of support allowed for tension to grow in and around Tombstone, and when it became coupled with personal and business disputes, the stage was set perfectly for Wyatt Earp to take the law into his own hands.
American cowboy circa 1888, courtesy of John C. H. Grabill
Painting of a vacquero, courtesy of Time Life Books
Teddy Blue Abbott, courtesy of mhistoryrevealed
Filed under People, Eras & Events
This "beyond the book article" relates to Epitaph. It originally ran in March 2015 and has been updated for the February 2016 paperback edition. Go to magazine.
This review is available to non-members for a limited time. For full access become a member today.
Membership Advantages
Reviews
"Beyond the Book" articles
Free books to read and review (US only)
Find books by time period, setting & theme
Read-alike suggestions by book and author
Book club discussions
and much more!
Just $45 for 12 months or $15 for 3 months.