BookBrowse:
This non-fiction volume is packed with interesting information — presented in a lively manner — about the many creatures around us.
In Ten Million Aliens, Simon Barnes expounds on how interesting and varied life is on our planet. Covering well over 100 different species in short, entertaining chapters, the author takes readers on "a journey through the entire animal kingdom," as he states in the opening pages.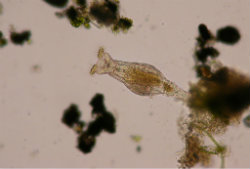 Barnes touches on several themes throughout this remarkably well-researched and engaging work. First and foremost is his desire to simply share his sense of wonder for the diversity of the creatures that share the planet with us, in particular the adaptations each has evolved to ensure that its species survives. He writes with a sense of awe about everything from tiny creatures such as the bdelloid rotifers (a large one is 2 mm long) - a species that "hasn't had sex for several million years" and yet survives – to the mammals we're familiar with such as lions, elephants and whales. Even in the chapters covering animals I knew well, he relays new and interesting information. He praises the common paper wasp:
...[W]e should bless wasps every time we see one. Without wasps, the spread of knowledge across the history of humankind would have been desperately hampered. Because wasps invented paper. A wasp's nest is as exquisite a thing as you will see anywhere in the natural world. It is a glorious piece of architecture created from wood pulp and spit, chewed up and manufactured into – paper… I ask you, then, to raise your glass rather than your newspaper to the wasps you see as you take tea or drinks in the garden in the summer.
It is the author's joy at such small discoveries that makes this book such an engaging adventure. Barnes also stresses that there are animals all around us that are stranger than we can possibly imagine. I found myself constantly turning to the Internet for pictures of the various creatures he describes, things I'd never heard of or envisioned. He does include sketches of some of them, although actual photographs would have added value.

The book is laid out in brief chapters (2 – 6 pages long), each of which covers a specific type of animal, alternately focusing on an invertebrate or vertebrate. Throughout, Barnes includes many personal exploits and observations, liberally quoting from diverse sources such as Charles Darwin, James Joyce, Richard Dawkins, Doug Adams and Doctor Who. His very dry British sense of humor is amply displayed, adding further to the entertainment value.

It's not a work that most will want to read in one sitting, and really the book's format doesn't encourage cover-to-cover perusal. The chapters are relatively self-contained - that is, they don't build on one another, so it's easy to pick it up and read any part at any time. Also, the book is very densely packed with information; I don't exaggerate when I say I learned something new and fascinating on nearly every page that I wanted to burn into my memory, and at least for me that was an impossible task for a single read-through. Generally "densely packed with facts" would equate to dull and dry, but the author's familiar tone and engaging style keeps things moving along at a good clip and it never gets tedious; there's simply a lot of information presented over a very small space.

Does the author achieve his goal of covering the entire animal kingdom? I'd say so; while "ten million" creatures are not covered, certainly a vast number of them are. But in the end it really doesn't matter; the book is informative and thought-provoking and sure to please those who are looking to expand their knowledge about the world around them.


Picture of bdelloid rotifer by Damian H. Zanelle

This review was originally published in The BookBrowse Review in March 2015, and has been updated for the January 2016 edition. Click here to go to this issue.
This review is available to non-members for a limited time. For full access become a member today.
Membership Advantages
Reviews
"Beyond the Book" articles
Free books to read and review (US only)
Find books by time period, setting & theme
Read-alike suggestions by book and author
Book club discussions
and much more!
Just $45 for 12 months or $15 for 3 months.