The Naked Mole Rat
This article relates to Ten Million Aliens
In Ten Million Aliens, Simon Barnes describes many unusual creatures, one of which is the naked mole rat (Heterocephalus glaber).

The naked mole rat, also known as the sand puppy or desert mole rat, is a rodent, although it's more closely related to porcupines, chinchillas and guinea pigs than to either moles or rats. These animals are small, averaging three to four inches long (without the tail) and weigh just over an ounce. They have just a few small hairs on their body and exceptionally poor eyesight, features that have provided the creature with its common name.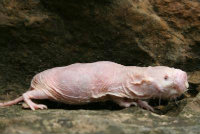 Residing beneath the deserts of East Africa (primarily the southern portion of Ethiopia, Kenya and Somalia) each colony's territory can cover an area as large as six football fields. Workers dig the burrows using their prominent teeth and snouts as they search for food – generally roots and bulbs. The vast tunnel systems they construct in the process contain multiple chambers for specific uses, such as rooms for nesting, feeding, food storage and waste.

These remarkable creatures have evolved many unique characteristics. First, they are the only thermo-conforming (cold blooded) mammals, which means they are unable to regulate their own body temperature and thus require an environment that provides a relatively constant temperature (such as subterranean tunnels). They need very little water, hydrating solely from the moisture in the food they harvest. They also have a very low respiratory and metabolic rate enabling them to survive in tunnels with limited oxygen. Also, their top layer of skin lacks pain sensors, so they don't feel injuries as they burrow through soil, and their lips seal behind their teeth to prevent dirt from getting in their mouths as they dig.

The naked mole rat is also one of only two mammal species that are "eusocial" – meaning they live in a colony like ants, termites or bees (the other species being the Damaraland mole rat). The colony is multi-generational and can contain several dozen individuals. Also, like the insects mentioned, the naked mole rats are ruled by a single queen, the only member of the colony permitted to bear young. Interestingly, she is not born a queen but has to earn it by fighting others for the position – sometimes to the death. She is the largest animal in the colony, averaging nearly two ounces. Once she begins to breed she becomes longer, stretching the space between her vertebrae to permit more space for babies. The average brood is 11, but it's not unheard of to have as many as 25; she can have four or five litters a year. Other females in the colony do not produce the hormones necessary to become fertile. If one does start producing these chemicals the queen will kill her to maintain supremacy. If the queen dies, several females will become fertile soon afterwards and will battle it out until one emerges as the victor.

Other than the two or three males permitted to breed with the queen, colony members have one of two roles: they either tend to the queen and her pups in the nursery or they dig for food. All adults are responsible for the protection of the group, and if they're threatened they pile on top of each other to fend off predators, blocking the tunnel and defending the queen and her pups; the assailant (generally a snake) is consequently faced with a wall of gnashing teeth. They are also quite cooperative with each other; if one member finds a good source of food, for example, they'll nibble off a small piece and rush to the rest of the group squealing to share the good news and lead others to the goodies. They rely on scent to recognize other members of their colony; in fact, they roll around in their toilet chamber so that they all smell alike, allowing them to easily identify rival mole rats.

The species is very long-lived for a rodent, with an average lifespan of 15 years (the oldest known individual lived to 31), and is currently not endangered. Naked mole rats recently been the subject of much medical research because they have an unusual immunity to cancer.

Click link below for a video to see the naked mole rat in action:


Picture of naked mole rat from Pittsburgh Zoo

Filed under Nature and the Environment
This "beyond the book article" relates to Ten Million Aliens. It originally ran in March 2015 and has been updated for the December 2015 paperback edition. Go to magazine.
This review is available to non-members for a limited time. For full access become a member today.
Membership Advantages
Reviews
"Beyond the Book" articles
Free books to read and review (US only)
Find books by time period, setting & theme
Read-alike suggestions by book and author
Book club discussions
and much more!
Just $45 for 12 months or $15 for 3 months.