BookBrowse:
The Wallcreeper is a brilliant and funny debut about love, fidelity, marriage, a bird-loving American couple and the complicated fight for doing good in the world.
It was in 2013 that writer Claire Messud responded to an interviewer who suggested that her female protagonists were not likeable. Messud claimed that the question was sexist, that one should not expect women in fiction to be likeable. It's more important, Messud claimed, to have characters who are alive. By every indication, Tiffany, the young, newly married narrator in The Wallcreeper is just that. She might not be likeable but she is very much alive. And interesting.

After a whirlwind romance that leads to marriage in just three short weeks, Tiffany decides she's had enough of her secretarial job in Philadelphia. The opening of the novel finds the protagonist in Europe with her husband, Stephen, who earns enough as an employee in a medical devices company to keep them both afloat. Frustratingly without ambition, our heroine is content to rely on Stephen's money, yet she casually sleeps around. Husband Stephen is no paragon of virtue in this department either.

Both Stephen and Tiffany are environmentalists, although he is more overtly proactive and dedicated to the cause. In his spare time, Stephen protests against hydroelectric projects that are catching on in northern Europe, spends countless hours finding and tracking rare birds, and signs on to help the marketing campaigns of many an environmental cause. Debut author Nell Zink really shines in showing just how complicated the fight for doing good can truly be. Her sendup of the green campaigns, their endless media strategies and soundbites, is searing and sobering: "The point of running a media campaign is A, to delude like-minded people into thinking there are other like-minded people and B, to make them think things are way better than they are. Like, people of Europe, decide your future!"

The Wallcreeper is arrestingly hypnotic, full of some brilliant and often funny writing: "Stephen has a fair level of control, and he figures at some point I'll get control and stop spending all my time compulsively coming up with ways to excuse my lack of it," Tiffany narrates. "He has those seven habits of highly effective people, and he's graciously letting me pick up one habit at a time." You just can't look away.

In her protagonist, Zink has created one heck of an interesting character, a person true to life and rife with contradictions. Tiffany comes across as frustratingly viscous (do something, one is tempted to yell at her). You can see her try to color within the lines drawn for her by society while slowly trying to push back against the boundaries. When a friend laments about her own marriage and husband, Tiffany is not impressed: "Lighten up," she chides, "Marriage isn't a sacrament. It's just a bunch of forms to fill out. It either works or it doesn't." One wonders, then: If indeed Tiffany is keen on throwing the traditional models of the "strong heroine" on her head, if she wants to liberate herself from bourgeois attitudes, then why give in to the most traditional contract of them all: marriage? In a push to have it all, instead of living outside of the institution's rigid social constructs, she instead decides to flex its very definition. It would not be surprising if some readers find this a tad disquieting.

Outside of their complicated marriage, The Wallcreeper works as a successful tale of two adults coming to terms with the complicated world around them. They realize that the cards they're dealt might not be their meal ticket to a perfect life but that they will find a way regardless. At one point Stephen is relieved he doesn't have to solve all the world's problems. The ambition, he is thankful, can be narrower. "It's not the weight of the world on my shoulder, it's just this one column of air," he says. The relief is palpable. The way out of the morass, both the intimate personal ones and the larger earth-shattering problems, as the narrator finds out, is to chip away at the offender one small blow at a time.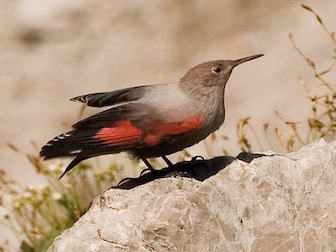 On a larger level, The Wallcreeper succeeds as a wakeup call about environmentalism, Novels, Zink has said, are a great place to explore problematic ideas and a bad place to state urgent truths. The story sticks to this basic premise. The wallcreeper of the title is a homely bird with a flash of color on its underside. Something very similar can be said of Zink's writing: the topics she explores might be earthy, often homely, but there are splashes of vibrant color in her eccentric and decidedly off-the-beaten-path exploration of familiar themes.
This review first ran in the October 15, 2014 issue of BookBrowse Recommends.
This review is available to non-members for a limited time. For full access become a member today.
Membership Advantages
Reviews
"Beyond the Book" articles
Free books to read and review (US only)
Find books by time period, setting & theme
Read-alike suggestions by book and author
Book club discussions
and much more!
Just $45 for 12 months or $15 for 3 months.