BookBrowse:
An atmospheric mystery set in a remote Scottish island, sure to hook fans of the genre.
The message in Peter May's darkly atmospheric novel is you can go home again; you just may not find much of a welcome. Fin Macleod, an Edinburgh detective native to the Isle of Lewis (see "Beyond the Book"), returns to this island off the coast of Scotland to investigate a particularly gruesome local murder. As the lead detective in an eerily similar case in Edinburgh, he's best equipped to determine if there could be a connection between the two - if one killer committed both crimes.

A city detective, Fin's presence isn't appreciated by the local investigators, who've pre-supposed he must be too full of himself to work with rural officials. Shortly after his arrival he's informed, "Frankly, DI Macleod ... I've got a perfectly good team here that's quite capable of running this inquiry without your help." Attempts to freeze him out notwithstanding, once Fin finds out the victim is Angus "Angel" Macritchie, a former classmate of his, he is all the more determined to conduct an investigation of his own.

The author, a native Scot, narrates this multi-layered story by alternating between Fin's past growing up on the island and his present-day return decades later. He immerses the reader in the culture of the island, showing how its hardscrabble life is little changed and how few modern intrusions have reached it. Fishing, still the major industry, is treacherous, the furious sea whipped up by the constantly blowing winds rendering it a risky operation. The islanders themselves are necessarily a hardy lot and proud of it, distrustful of anything outside their closed society. Many live their entire lives never venturing off the island.

All the island men are expected to undergo a rite of passage: the annual hunt of the guga (young gannets). Guga are considered a delicacy, and are found on a remote outcropping of stone out at sea. Treacherous to reach by boat, once there the men must hoist themselves to the top of the slippery rock with enough supplies for four weeks - the period of time it takes to catch, gut, salt and cure the birds before bringing them home. While there, the men live in a large "blackhouse," (see "Beyond the Book") a stone structure with a thatched roof, heated by a central hearth. As Peter May writes, "Inside was dark and damp, the smell of guano almost overwhelming...Thick, choking smoke quickly filled the place, a fumigation, driving out the smell of shit and forcing streams of earwigs out from every crack and crevice."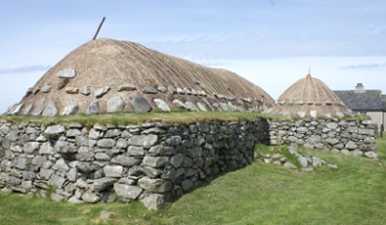 Fin's strained ties to his native land show up in his inability to relate to the island's inhabitants, many of whom were once his friends. While time brings about many changes too, Fin finds his reactions to the people around him have changed. He can now barely recognize Artair Macinnes, his best friend from childhood, and what's worse, shies away when Artair greets him in an embarrassingly rowdy way. Fin receives another unwelcome shock when he finds that the girl he once loved is now Artair's wife, and a dowdy housewife resigned to her fate: "Fin could see a figure at the sink...it was Marsaili, long fair hair, darker now... shadows beneath blue eyes that had lost their lustre...and in that moment he glimpsed again the little girl who had so bewitched him from the first moment he set eyes on her."

As he's embroiled in memories of the past, Fin doesn't forget the reason he returned to Lewis in the first place. Whether the murder in Edinburgh is related or not, there is still the question of who murdered Angel Macritchie. The author methodically presents several islanders as potential murderers, giving clear-cut, rational motives each had for wanting the man dead. Fin's challenge lies in using the few allies he has to work his way in, convincing enough key people he's trustworthy, enabling him to get to the truth.

Ultimately, this complex, intricately plotted book reaches a satisfying conclusion, leaving enough plot unresolved for future books. Peter May's tight prose and gorgeously rendered sense of place keeps the reader turning the pages. An accomplished writer of mysteries, at no time does he let up the sense of suspense; this is a masterful work by a masterful writer, likely to hook mystery fans, especially those with an interest in the British Isles.
The blackhouse in Arnol in the Isle of Lewis is a classic example of the construction which shows stone walls and a thatched roof. Image from Virtual Hebrides.
A Q&A With Peter May
Peter May sat down with Lisa Guidarini to answer questions about his books and his writing - including why he writes 3000 words a day, never more nor less, even if that means he stops for the day in the middle of a sentence! You can read the interview here.

Series Order
The Blackhouse (2011 in UK, 2012 in USA)
The Lewis Man (2012 in UK)
The Chessmen (2013 in UK)

This review was originally published in October 2012, and has been updated for the August 2014 paperback release. Click here to go to this issue.
This review is available to non-members for a limited time. For full access, become a member today.
Membership Advantages
Reviews
"Beyond the Book" backstories
Free books to read and review (US only)
Find books by time period, setting & theme
Read-alike suggestions by book and author
Book club discussions
and much more!
Just $10 for 3 months or $35 for a year