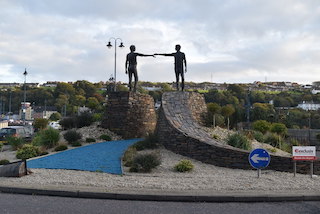 Francesca McDonnell Capossela's novel Trouble the Living is in part set in Northern Ireland during the waning days of the Troubles, a 30-year period of violence brought mostly to an end by the signing of the Good Friday Agreement on April 10, 1998.

In 1921, at the end of the Irish War of Independence, Ireland was partitioned into two self-governing territories: the predominantly Protestant Northern Ireland and the mostly Roman Catholic Irish Free State to the south. The Irish Free State was declared a Republic in 1949 and became an independent country (now called the Republic of Ireland), but Northern Ireland remained part of the United Kingdom.

Roman Catholics living in Northern Ireland experienced discrimination in employment, housing and other areas of life, and in the 1960s a civil rights movement sought an end to such inequitable practices. Tensions boiled over, and British troops were sent to quell the ensuing riots centered on the Northern Irish city of Belfast. The ...