Peanut Farming in the United States
This article relates to The Sweetness of Water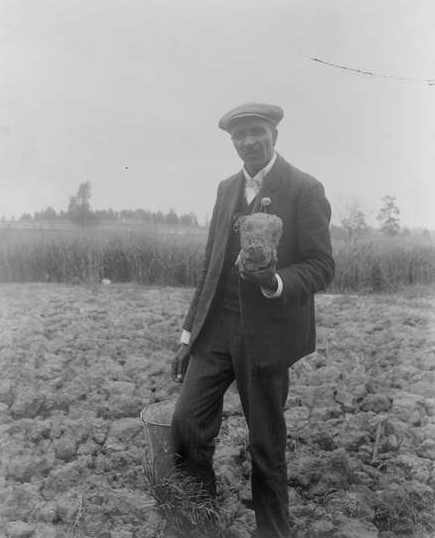 The central character in Nathan Harris's The Sweetness of Water decides to grow peanuts on his land in Reconstruction-era Georgia.

Although peanuts are often considered nuts, as the name would suggest, they're actually legumes like beans or peas. Legumes, according to the Peanut Institute, are defined by their edible seeds enclosed in pods and "provide the best source of concentrated protein in the plant kingdom." Along with other legumes, peanuts have become an important food worldwide as a result of their high nutritional value.

No one is sure exactly when humans began to cultivate peanuts, although they are believed to have originated in South America, where 3,500-year-old pottery shaped like peanuts and ceramics decorated with their image have been found. Peanuts have also been discovered in Incan burial sites. Spanish conquistadors brought the plants back to Europe, and from there they spread to Africa and Asia.

It's thought that the first peanuts came to North America in the 1700s on slave ships from Africa. Although they were being grown as a commercial crop in the United States by the early 1800s, they still weren't common. At the time, most farmers considered them too difficult to grow and harvest. In addition, they were thought to be fit only for consumption by animals and the desperately poor.

This started to change during the American Civil War, when peanuts were found by soldiers on both sides of the conflict to be an inexpensive, easily transported, high-calorie supplement to their rations. Their popularity continued to grow, thanks in part to P.T. Barnum's circus, which peddled them roasted at performances, and to the rise of professional baseball, where peanuts were sold to spectators. The quality of these early snacks wasn't always good, however — the plants were harvested and cleaned by hand, and leaves and stems often remained — which somewhat hampered wide acceptance.

In the early 20th century, two Black Americans played key roles in peanut farming. Farmer and blacksmith Benjamin Hicks began experimenting with improving how peanuts were harvested in the late 1890s, and went on to invent a gas-powered machine that stemmed and cleaned the crop. His "Peanut Picker" revolutionized the industry, but it was the scientist Dr. George Washington Carver whose work truly led to widespread peanut agriculture. His research showed the plants (like other legumes) return nitrogen to the soil and therefore are beneficial to plant in rotation with cotton (which depletes nitrogen). When Southern cotton farmers were struggling because a nationwide boll weevil infestation was decimating their crops, Carver's advice to plant peanuts instead was widely adopted. He also published a paper outlining over 300 uses for peanuts, including as an ingredient in shoe polish and shaving cream.

Inventors were experimenting with peanut pastes around the same time. Canadian Marcellus Gilmore Edson patented a product made from pulverized roasted peanuts in 1884, and in the US, Dr. John Harvey Kellogg (creator of Kellogg's cereals) patented a process for making peanut butter from raw peanuts in 1895. These products were marketed as supplements for people who couldn't chew solid food. Peanut butter received its first large-scale, public debut at the St. Louis World's Fair in 1904, and it went on to serve as an important food source for troops during the First and Second World Wars.

Today, the US is the fourth largest producer of peanuts in the world after China, India and Nigeria. It produces more than six billion pounds of peanuts each year, about half of which are turned into peanut butter — a staple in 94% of American households. The crop requires sandy soil, adequate water and warm temperatures (peanuts can't even be planted until soil temperatures reach 65⁰-70⁰ Fahrenheit), and so in America it's primarily grown in Southern states. Georgia leads the pack, producing upwards of two billion pounds annually. Four main varieties are grown in the US: Virginia (aka "cocktail nuts"); runners, which are used for peanut butter; Spanish, known for their higher oil content and consequently used for cooking oils; and Valencia, a sweeter type that is sometimes eaten boiled. Peanuts are the 12th most valuable crop in the US, contributing more than four billion dollars to the economy annually.

The average American consumes six pounds of peanuts, primarily as peanut butter, per year (compared to the average European consumption rate of one tablespoon over the same time period). It takes about 540 peanuts to create a 12-ounce jar of peanut butter. A majority of people in the US prefer smooth peanut butter over chunky. Americans spend more than $800 million a year on the product — enough to wrap around the earth 1.33 times with 18-ounce jars of the stuff. According to The Ultimate Peanut Butter Book by Bruce Weinstein and Mark Scarbrough, the average child in the US will consume 1,500 peanut butter and jelly sandwiches by the time they've graduated from high school.
George Washington Carver holding a piece of soil in a field (possibly in Tuskegee, Alabama), from Library of Congress via Picryl
Filed under Nature and the Environment
This "beyond the book article" relates to The Sweetness of Water. It originally ran in December 2021 and has been updated for the May 2022 paperback edition. Go to magazine.
This review is available to non-members for a limited time. For full access become a member today.
Membership Advantages
Reviews
"Beyond the Book" articles
Free books to read and review (US only)
Find books by time period, setting & theme
Read-alike suggestions by book and author
Book club discussions
and much more!
Just $45 for 12 months or $15 for 3 months.