Jack Sheppard
Jack Sheppard was born in London in 1702. As described in The Confessions of the Fox, Sheppard was apprenticed to a carpenter before succumbing to the attractions of the inns and whorehouses of Drury Lane.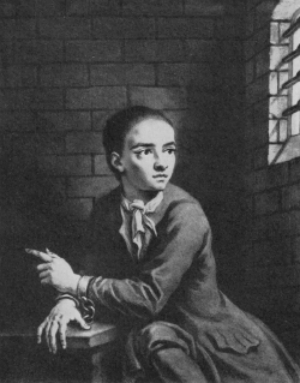 He began a relationship with a prostitute, Elizabeth Lyon, known as Edgeware Bess, and took to petty theft. By 1724, the 22-year-old Sheppard, his brother and Bess were operating as burglars. Sheppard was first arrested in April 1724 but broke out of prison within two hours by making a hole in the roof. One month later, he and Bess were arrested together but escaped by climbing out of a window and down a rope made from sheets and her dress and petticoat.

These escapades brought him celebrity and notoriety, displeasing another London criminal, Jonathan Wild. Through wily tactics, Wild had Sheppard arrested in July and the following month, Sheppard was found guilty of robbery and sentenced to death. On August 31, he broke out of prison for the third time, in ...