Historical Characters in Confessions of the Fox
This article relates to Confessions of the Fox
Jack Sheppard
Jack Sheppard was born in London in 1702. As described in The Confessions of the Fox, Sheppard was apprenticed to a carpenter before succumbing to the attractions of the inns and whorehouses of Drury Lane.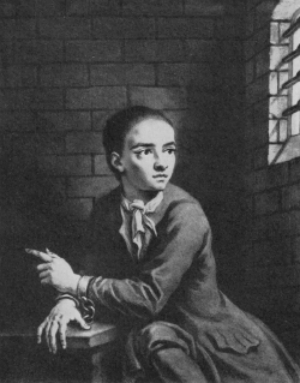 He began a relationship with a prostitute, Elizabeth Lyon, known as Edgeware Bess, and took to petty theft. By 1724, the 22-year-old Sheppard, his brother and Bess were operating as burglars. Sheppard was first arrested in April 1724 but broke out of prison within two hours by making a hole in the roof. One month later, he and Bess were arrested together but escaped by climbing out of a window and down a rope made from sheets and her dress and petticoat.

These escapades brought him celebrity and notoriety, displeasing another London criminal, Jonathan Wild. Through wily tactics, Wild had Sheppard arrested in July and the following month, Sheppard was found guilty of robbery and sentenced to death. On August 31, he broke out of prison for the third time, in this case, escaping his cell and then putting on a nightgown provided by Bess and walking out the main door. Only ten days later, however, he was captured again. Shepherd's fourth and final jailbreak took place on October 15. He climbed up a chimney and reached the roof of Newgate prison, escaping through a neighboring building. In November, he was caught for the last time. His jailers watched him day and night and, on 16 November 1724, he was executed at Tyburn in front of an enormous crowd, still only 22 years old.

Although only briefly in the public eye, Sheppard was immortalized in an autobiography published at his execution, possibly ghostwritten by Daniel Defoe. The book was an inspiration for John Gay's 1728 The Beggar's Opera.

Edgeware Bess
The prostitute Bess, as depicted in Rosenberg's novel, was Jack Sheppard's true love, although in reality she may only have been one of several women in his life. Bess was lucky to escape Jack's fate. Instead she was arrested and transported to the New World. She arrived in Annapolis, Maryland and there are no easily found records of her life after that point. Rosenberg choses to make her of Asian origin in his fiction, another speculative element.

Blueskin Blake
In the novel's acknowledgements, Rosenberg states that although fiction tends to imagine London in this period as a "uniformly white city" this is an inaccurate portrayal. Given his nickname, it seems quite reasonable to suggest that Blueskin Blake may well have been a person of color. The Newgate Calendar (1773), a highly popular publication that told true crime stories from 1700 onwards, describes Blueskin as a career criminal who once attempted to cut Jonathan Wild's throat with a pen-knife. In August 1724 he teamed up with Jack Sheppard in a series of highway robberies, but was executed just a few days before Sheppard, on 11 November 1724.

Jonathan Wild
Born in the 1680s, Wild grew up to be a thief, highwayman and extortionist who also set himself up as an informal policeman, informing on other thieves and calling himself the "Thief-taker General." Wild saw an opportunity to commit crime while pretending to stop it, and used bribery to further his career. His actions were instrumental in the capture of Jack Sheppard but Sheppard was already a folk hero and when Wild was arrested for theft, former accomplices quickly turned on him. He was also hanged at Tyburn, only six months after Sheppard. The novelist Henry Fielding watched Wild's execution and gave a fictional accounting of Wild's life in his novel, The Life of Jonathan Wild the Great, published in 1743.

Minor characters
Some of the minor characters in The Confessions of the Fox are also based on historical figures. William Kneebone for example, Jack's cruel carpentry master, was in fact the name of a man for whom Sheppard worked. Kneebone was kind to Sheppard and educated him, but that did not stop Sheppard from robbing his employer in July 1724.
Filed under People, Eras & Events
This article relates to Confessions of the Fox. It first ran in the August 1, 2018 issue of BookBrowse Recommends.
This review is available to non-members for a limited time. For full access become a member today.
Membership Advantages
Reviews
"Beyond the Book" articles
Free books to read and review (US only)
Find books by time period, setting & theme
Read-alike suggestions by book and author
Book club discussions
and much more!
Just $45 for 12 months or $15 for 3 months.