Elizabeth I was a cautious but crucial supporter of the initial English voyages to the Americas, where merchants and explorers hoped to develop lucrative trade routes, as described in New World, Inc.

Queen Elizabeth was one of the most competent monarchs of the early modern period, and she led England through the transition from minor kingdom to world power. She is rightly regarded as one of England's finest rulers, but it didn't start out that way. In fact, her coronation seemed extremely unlikely when she was young.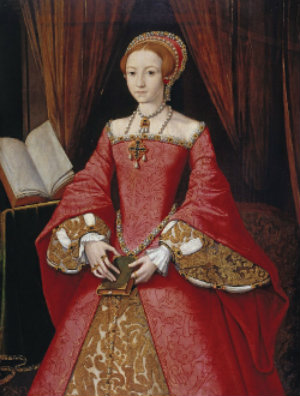 The daughter of Henry VIII and Anne Boleyn, she was removed from the succession shortly after her mother's execution. Henry's obsession with fathering a male heir eventually resulted in a son, and so Elizabeth's younger half-brother, Edward VI, ruled from 1547-1553. After his death at a young age, Elizabeth's half-sister, Mary, became queen. Known as "Mary Tudor" (to distinguish her from Mary I of Scotland) or "Bloody Mary," she ruled until her death in 1558.

...