Elizabeth I and Royal Intrigues
This article relates to New World, Inc.
Elizabeth I was a cautious but crucial supporter of the initial English voyages to the Americas, where merchants and explorers hoped to develop lucrative trade routes, as described in New World, Inc.

Queen Elizabeth was one of the most competent monarchs of the early modern period, and she led England through the transition from minor kingdom to world power. She is rightly regarded as one of England's finest rulers, but it didn't start out that way. In fact, her coronation seemed extremely unlikely when she was young.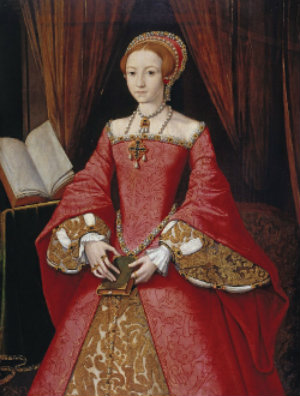 The daughter of Henry VIII and Anne Boleyn, she was removed from the succession shortly after her mother's execution. Henry's obsession with fathering a male heir eventually resulted in a son, and so Elizabeth's younger half-brother, Edward VI, ruled from 1547-1553. After his death at a young age, Elizabeth's half-sister, Mary, became queen. Known as "Mary Tudor" (to distinguish her from Mary I of Scotland) or "Bloody Mary," she ruled until her death in 1558.

The only surviving heir, Elizabeth ascended the throne in 1558. At a time when the Reformation was raging across Europe, Elizabeth inherited a kingdom riven by stark religious divisions between Protestants and Catholics. Between the 1530s to the 1550s, the English crown changed religion multiple times, going from Catholic to Anglican under Henry VIII, then back to Catholic during Mary's reign, and then again to Anglican under Elizabeth.

Three years after Elizabeth became Queen of England, Mary Stuart became Queen Mary I of Scotland. The Scottish queen was, as historian and author Richard S. Dunn explains in his book, The Age of Religious Wars, 1559-1715, "everything that Elizabeth was not: beautiful, alluring, passionate, and rash," but her seven-year reign was filled with politically expedient marriages, assassinations, and religious strife. About half the Scottish population was Protestant and had no desire to return to Catholicism, the religion of the queen.

After the Scottish nobility turned against her, Mary fled to England in 1568 seeking Elizabeth's protection. Elizabeth did indeed give her shelter but, in 1569, Catholic lords in northern England led a rebellion to remove Elizabeth and replace her with Mary. As a result, Elizabeth remained extremely suspicious of plots and attempts to overthrow her and kept her cousin under house arrest for nearly 20 years.

In 1586, Mary was caught corresponding with a suspect in a plot to assassinate Elizabeth; she was tried and found guilty. "With a great show of reluctance, partly real and partly feigned, Elizabeth signed the death warrant," Dunn recounts. Mary, Queen of Scots, was executed in 1587, and Elizabeth ruled uncontested until her own death in 1603.

Elizabeth achieved much in the latter half of her reign, including investing in voyages to the New World and defeating an attempted invasion of England by the Spanish in 1588, known as the Spanish Armada. She managed the religious divisions that tore apart so much of Europe with a deft compromise—along with Parliament, she reorganized the Anglican Church to remain Protestant yet with a few remaining Catholic features, and individual beliefs were left to individual believers. "Under the Elizabethan system, there was no heresy-hunting, no Inquisition, no burnings, only a system of fines for those who stayed away from church."

Her refusal to marry also avoided the factionalism among nobles that had been a feature of the English monarchy. Known as the "Virgin Queen," she favored certain advisors, including Sir Walter Raleigh and Sir William Cecil, but she maintained her independence and her control without a husband—or any potential interference from in-laws.

By the time she died, Spain was in decline and England was on its way to colonial dominance in the New World. Despite the unlikeliness of her succeeding to the throne and remaining there, Elizabeth managed one of England's most successful reigns.
Filed under People, Eras & Events
This article relates to New World, Inc.. It first ran in the May 16, 2018 issue of BookBrowse Recommends.
This review is available to non-members for a limited time. For full access become a member today.
Membership Advantages
Reviews
"Beyond the Book" articles
Free books to read and review (US only)
Find books by time period, setting & theme
Read-alike suggestions by book and author
Book club discussions
and much more!
Just $45 for 12 months or $15 for 3 months.