The Bard of the Yukon
This article relates to The Great Alone
The Great Alone takes its title from a line in "The Shooting of Dan McGrew," a poem composed by Robert W. Service, whose work inspires the main character throughout the book.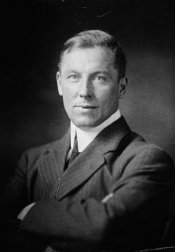 Robert W. Service (1874-1958), known as "The Bard of the Yukon," was born in Lancashire, England, the son of a banker and an heiress. He was sent to Kilwinning, Scotland at the age of five to live with his paternal grandfather and three unmarried aunts, who spoiled him shamelessly. He's said to have written his first poem there — an improvised grace — at the age of six, much to the delight and astonishment of his relatives.
God bless the cakes and bless the jam;
Bless the cheese and the cold boiled ham:
Bless the scones Aunt Jeannie makes,
And save us all from bellyaches. Amen.
Bright but rebellious, Service went to – and was expelled from – several good schools in the area. One tale has him challenging a University of Glasgow professor to a fistfight. Service had penned an essay questioning Ophelia's chastity in Hamlet; the instructor found it obscene and graded the work accordingly.

After working as a bank clerk for a few years, Service struck out on his own at the age of 21, sailing to western Canada in 1894 seeking adventure. Inspired by the swashbuckling exploits of Rudyard Kipling and Robert Lewis Stevenson, he planned to become a cowboy and worked on a cattle ranch for a while, but most of the ensuing years were spent living a vagabond lifestyle, traveling as far south as Mexico and performing odd jobs along the way (he worked, for example, as a handyman at a bordello for a time).

In 1900, Service was employed as a store clerk in Victoria, B.C. when he mentioned to a customer that he wrote poetry. The man, Charles H. Gibbons, was the editor of the local newspaper and encouraged Service to submit some of his work. Six of his poems on the Boer War appeared in the paper in July 1900, one of which, "The March of the Dead," later appeared in his first published collection.

Returning to the banking business, Service started working for the Canadian Bank of Commerce in Victoria in 1903; the company transferred him to its Whitehorse branch in 1904. A rough-and-tumble frontier town less than ten years old, Whitehorse, on the Yukon River near White Horse Falls, had its origin as a base for prospectors heading into the interior during the Klondike Gold Rush. It's here that Service first started hearing the yarns of those passing through the area, and he began weaving the stories into verse.

Throughout his travels Service had continued to pen poetry; he'd actually written more than a third of the poems that appeared in his first collection before he moved to the Yukon. Deciding in 1904 that he had compiled enough for a small booklet, he sent his first efforts to his father, asking him to have them printed and bound so that he could give them to his friends as Christmas presents. The printer to whom the task was entrusted was so taken by Service's work that he returned his payment and offered him a 10% royalty on sales for the book. The poems were published as Songs of a Sourdough in 1907 (and later, in the United States, as The Spell of the Yukon and Other Verses) and went into 10 printings its first year. He ultimately earned more than $100,000 for the poems, and it's estimated that some three million copies were in print by the time of his death. Service went on to write two autobiographies, six novels (several of which were made into films), and over 1000 poems published in 45 verse collections.

The Shooting of Dan McGrew, written early in his stint in the Yukon, remains Service's most popular work. The tragic tale was made into at least two movies during Service's lifetime (in 1915 and again in 1924) and was referenced several times in film and literature in the 20th century (US president Ronald Reagan and Canadian Prime Minister Brian Mulroney sometimes did an alternating recital of the poem during public and private meetings). It reads in part:
Were you ever out in the Great Alone, when the moon was awful clear,
And the icy mountains hemmed you in with a silence you most could hear;
With only the howl of a timber wolf, and you camped there in the cold,
A half-dead thing in a stark, dead world, clean mad for the muck called gold;
While high overhead, green, yellow and red, the North Lights swept in bars? —
Then you've a hunch what the music meant...hunger and night and the stars.
Service left the Yukon to become a correspondent for the Toronto Star during the Balkan Wars of 1912-1913, and served in World War I as an ambulance driver in France. He married Germaine Bourgoin immediately after the war and remained with her in France until his death. The Yukon cabin in which some of Service's most famous poems were written has been listed as a National Historic Site and is open to tourists.


Picture of Robert W. Service from Library and Archives Canada

Filed under Books and Authors
This "beyond the book article" relates to The Great Alone. It originally ran in February 2018 and has been updated for the September 2019 paperback edition. Go to magazine.
This review is available to non-members for a limited time. For full access become a member today.
Membership Advantages
Reviews
"Beyond the Book" articles
Free books to read and review (US only)
Find books by time period, setting & theme
Read-alike suggestions by book and author
Book club discussions
and much more!
Just $45 for 12 months or $15 for 3 months.