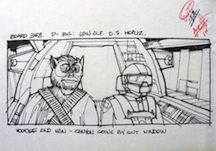 In The Animators, best friends Sharon and Mel spend hours hunched over their artwork that will form the basis of an animated movie. "I know a day of work has been really good when I have to look up from the board and recall who I am and what I'm doing," Sharon says. That "board" that she refers to is one of a series of images that together make up whatever project the duo happen to be working on.

Storyboarding is the first element in the production of a whole range of projects – from animated movies to television commercials and even software programs. It is a series of rough sketches that are presented in sequence to indicate storyline and forward movement. In animated movies such as Sharon and Mel's Nashville Combat, these storyboard images form the first building blocks from which the final movie is made.



Storyboard drawings are usually very roughly sketched and are not used as the basis for the final animation. Instead these drawings are more instructional, ...