Dorothea Dix: Passionate Advocate for the Mentally Ill
This article relates to A Question of Mercy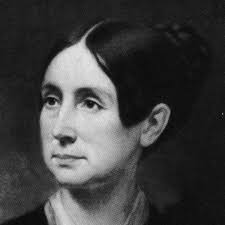 One of the main themes in A Question of Mercy is mental illness. And if you search for information on its history in the United States, the name Dorothea Dix keeps appearing.

In 1802, Dorothea Dix was born into a reportedly unhappy home in Hampden, Maine. Her parents were neglectful alcoholics: her mother was incapacitated by severe bouts of depression, and her father, a Methodist preacher, was frequently away, though he did teach his daughter how to read and write. Dorothea, who was the oldest of three children, essentially ran the household and took care of her family.

When she was 12, Dorothea moved in with a wealthy grandmother in Boston, who saw her interest in education and encouraged her to pursue it. When she was nineteen, she opened an elementary school in her grandmother's home, and ten years later she opened a secondary school in her own home. During that time, she also began writing books, including Common Things; or, Guide to Knowledge: With Questions, which took the form of a conversation between a mother and daughter, and declared that women should be educated equally alongside men.

Dorothea's poor health began to keep her away from her teaching, and by 1836, when she was 34, she closed her schools and moved to Europe to recover her health. She recuperated in England, at the home of William Rathbone, a reformer and politician. While there, she met Samuel Tuke, who founded the York Retreat for the mentally ill, and prison reformer Elizabeth Fry, both of whom informed her rapidly burgeoning views. In 1837, soon after her grandmother died, she returned to Boston, and with the sizable inheritance left to her, she devoted her time to reform and charitable efforts.

In 1841, Dorothea began volunteering to teach female inmates in the East Cambridge Jail. She noticed women with mental illnesses who had been treated cruelly and inhumanely, and vowed to change this. She visited every public and private prison she could find in Massachusetts, noting horrible conditions such as sexual abuse by guards, starved prisoners, and unhygienic conditions, and then presented her report to the Massachusetts legislature, demanding changes. She employed the same charged efforts in Rhode Island and New York, and by the late 1840s, 11 of the 13 original states had opened hospitals for the mentally ill, or created provisions to take care of them. North Carolina and Delaware were the only holdouts.

In 1848, armed with her usual steely determination, Dorothea set about investigating the conditions for the mentally ill in North Carolina. She presented her findings to the legislature and proposed a state hospital. She was informed that the Assembly, divided between Democrats and Whigs, would almost certainly not support legislation that would require spending a lot of money. And as predicted, a bill, led by Democratic Representative John W. Ellis, failed – but fate intervened when the wife of James Dobbins, a prominent Democrat in the House of Commons, fell ill in the Mansion House Hotel in Raleigh. Dorothea nursed her to the end, and her dying request to her husband was that he support the bill. Dobbins made a passionate speech imploring the House to reconsider it and, on January 29, 1849, the bill passed the reconsideration vote and eventually became law.

In 1856, after seven years of construction, a mental health hospital finally opened in Raleigh and admitted its first patients. Dorothea did not want the hospital to be named after her, but allowed the hill the hospital was on to be called Dix Hill, honoring her father and her grandfather. A century later, the General Assembly voted to change Dix Hill Asylum to Dorothea Dix Hospital, which it remained until its closure in 2012.

Dorothea also served in the Civil War, volunteering one week after it began, and was tasked with outfitting Union Army hospitals and overseeing the large nursing staff required. Despite her welcome administrative skills, she was not well liked by volunteer nurses, who, instead, feared her, and she was eventually fired in the fall of 1863 and sent home. For the remainder of her life, until 1887 when she died at age 85, Dorothea Dix continued to advocate for the mentally ill. New hospitals sprang up in response to her efforts and old hospitals were redesigned to fit what she believed was necessary for proper care.
Dorothea Dix, courtesy of www.biography.com
Filed under People, Eras & Events
This article relates to A Question of Mercy. It first ran in the January 4, 2017 issue of BookBrowse Recommends.
This review is available to non-members for a limited time. For full access become a member today.
Membership Advantages
Reviews
"Beyond the Book" articles
Free books to read and review (US only)
Find books by time period, setting & theme
Read-alike suggestions by book and author
Book club discussions
and much more!
Just $12 for 3 months or $39 for a year.