Magical Objects from the Past
This article relates to Saving Montgomery Sole
It doesn't take long for magic to sneak into Mariko Tamaki's YA novel, Saving Montgomery Sole. In fact, much of the story relies on suspending one's belief, as we follow the life and peculiar happenings of Montgomery "Monty" Sole. Monty is an outcast looking for a way to connect with those around her. After participating in a Mystery Club that caters to her and her friends' interests in sorcery, ESP (extrasensory perception), and other fantastical things, Monty purchases the Eye of Know, a crystal amulet, from a website. When Monty wears the seemingly sacred rock around her neck, she feels as if she has the power to see more - well, to see beyond. As the novel comes to a close, readers work to decipher if the rock is actually giving Monty power or if Monty is gaining strength on her own.


Monty's interest in the Eye of Know made me curious about other alleged magical objects. For this Beyond the Book, I'm diving into history and exploring some of the most well-known magical items from the mythological and legendary past.

The Argo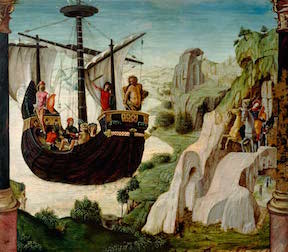 Most fans of Greek mythology likely know the story of Jason and his crew of heroes known as the Argonauts. Together, they sailed in search of the Golden Fleece from a winged-ram with golden hair, which was said to bestow power and authority on the wearer. Another magical component of Jason and the Argonauts' story, and one not as well documented, is the vessel in which they traveled. Yes, the Argo, Jason's very ship, possessed mysterious power. Myth Encyclopedia notes how the ship "was made from the wood of a sacred oak and had the ability to think, to speak, and even to prophesy." The ship wouldn't set sail until the musician Orpheus sang it to. When the Argo's days were over, the gods turned the ship into a constellation in the sky.


Dragon Teeth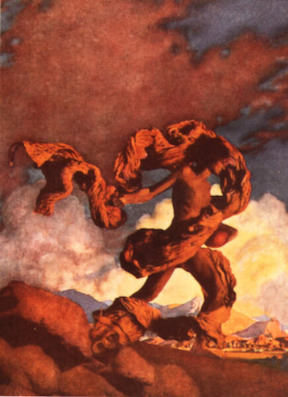 The power of dragon teeth can be traced all the way back to the mythological Greek legend of Cadmus. His story is one that many language lovers can likely recall with ease as he is credited with introducing the Phoenician alphabet to the Greeks (who adapted it to form their own alphabet). Like most legendary figures, Cadmus' story has some otherworldly twists, most memorably the battling of a dragon. According to Encyclopaedia Britannica, Cadmus killed the creature in a brutal fight; then he scooped up the dragon teeth and planted them into the ground. Soon, they sprouted into an army of men, who rose up and fought one another. After the dust settled, only five were left. These were the men who helped build Thebes. Who would have thought that the teeth of a slaughtered dragon could have so much power?


The Holy Grail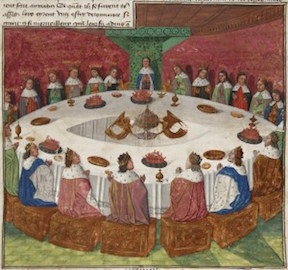 The magic found in the Holy Grail, one of history's most famous objects, is not initially apparent. From Christian history, the Holy Grail is known as the cup from which Jesus drank at the Last Supper, and it's also the sacred chalice that caught his blood at the Crucifixion after a spear pierced his side. Arthurian Legend is almost entirely based around King Arthur's (and his knight's) quests for the sacred relic. According to The British Library, finding the Holy Grail offered comfort and "self-realisation of the questing knight." Additionally, the source claims, "The magical properties attributed to the Holy Grail have been plausibly traced to the magic vessels of Celtic myth that satisfied the tastes and needs of all who ate and drank from them." The Holy Grail's long history of being a prized possession speaks to its appealing, albeit mysterious, sacredness.


The Philosopher's Stone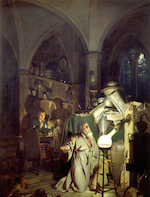 Legend has it that one of the most popular stones of all time was not actually a stone. That's right. Did you know that the Philosopher's Stone was likely a special – arguably magical – powder? According to History.com, "The philosopher's stone was a substance that could turn ordinary metals such as iron, tin, lead, zinc, nickel or copper into precious metals like gold and silver. It also acted as an elixir of life, with the power to cure illness, renew the properties of youth and even grant immortality to those who possessed it." Scientists from across the world have searched for the Philosopher's Stone for centuries, hoping to revolutionize the ways in which we think of science and properties. So far, the Philosopher's Stone remains an elusive object, but perhaps its discovery is just around the corner.

These objects – the Argo, Dragon Teeth, the Holy Grail, and the Philosopher's Stone – are just a few of the many items from the past that hold magical possibilities. Their stories have shaped history and changed lives.
The Argo (ca. 1500–1530), painting by Lorenzo Costa, located in the Museo Civico, Padua, Italy.
Cadmus Sowing the Dragon's Teeth, by Maxfield Parrish. Illustration for A Wonder Book and Tanglewood Tales by Nathaniel Hawthorne, pub. 1910.
King Arthur's knights at the Round Table see a vision of the Holy Grail, which appears as a veiled ciborium held by two angels. From a manuscript of Lancelot of the Lake, attributed to Walter Map (Gaultier Moap), 1470.
The Alchymist, in Search of the Philosopher's Stone by Joseph Wright of Derby, 1771. Located in Derby Museum and Art Gallery, UK.
Filed under Cultural Curiosities
This "beyond the book article" relates to Saving Montgomery Sole. It originally ran in April 2016 and has been updated for the April 2017 paperback edition. Go to magazine.
This review is available to non-members for a limited time. For full access become a member today.
Membership Advantages
Reviews
"Beyond the Book" articles
Free books to read and review (US only)
Find books by time period, setting & theme
Read-alike suggestions by book and author
Book club discussions
and much more!
Just $45 for 12 months or $15 for 3 months.