Pandemics
This article relates to The Blondes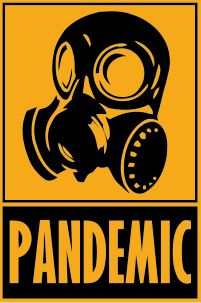 Pandemics – global outbreaks of disease across countries and continents – have been a feature of human history for centuries: as inexplicable and frightening as the contagion in Emily Shultz's novel The Blondes, where women with blonde hair are turned into crazed maniacs. While The Blondes is clearly satirical and we shouldn't expect an exclusively blonde virus to attack us anytime soon, the way her world reacts to the virus rings true to the reactions we have seen to recent viruses such as Ebola and Swine Flu. Here, for your edification, is a whistle-stop tour through some of the world's worst pandemics:

The Bubonic Plague
In the 14th century, it is estimated that the Bubonic Plague killed approximately 75 million people. Known as "the black death," the plague moved quickly through animal and human populations alike. Death from the plague was painful and bloody. In some forms, people's lungs collapsed and liquefied, in others their bodies broke out in boils and black spots. Without treatment, the plague killed people within days, but today a simple course of antibiotics is all that is required to cure the few thousand who contract the virus each year.

Now it is believed that the disease originated in rodents, and was spread to humans by fleas, and then from human to human through airborne particles. At the time, it was believed to be a punishment from God and that protection could be gained by prayer and religious symbols, as well as by placing fragrant flowers in or around the nose to "ward off the stench and perhaps the evil that afflicted them."

Although the Black Death in Europe is one of the best known outbreaks of the bubonic plague, its history dates back much further to the first recorded outbreak in the 6th century. Known as the Plague of Justinian, named after Justin, the Roman emperor at the time, it is estimated to have killed more than 30 million people in Asia, North Africa and Europe.

Cholera
Another significant disease that has reached pandemic proportions multiple times is cholera. Cholera, which only affects humans, is a bacterial disease spread through water contaminated with feces, and also through undercooked seafood. People suffering from cholera experience acute diarrhea and severe dehydration, which may lead to death. Scholars have identified seven different waves of cholera pandemics beginning in 1817. The second cholera pandemic occurred in the mid-nineteenth century and was the first to reach the United States. The outbreak began in India and spread globally along trade routes. It is estimated that 150,000 Americans died as a result. The current, seventh cholera pandemic (marked by a new strain of the bacteria) began in Asia in 1961 and has since spread to Africa and the Americas. It is still a highly dangerous disease killing an estimated 120,000 people per year.

In the 19th century, strategies to cure the disease focused on balancing the body's humours - the long-standing theory that human illness was related to an imbalance in the four basic human temprements (indeed, cholera takes its name from one of these four: choleric - bad-tempered or irritable). Today the disease is managed with prevention and treated with oral rehydration salts.

Influenza
Seasonal flu is an acute viral infection that spreads easily. Most at risk from seasonal flu are children under two years old and adults who are over 65, pregnant or who have other weakening conditions or illnesses. It is often debilitating but, for most, not life-threatening. To explore how the medieval community treated flu, read our history of the expression "feed a cold, starve a fever."

Influenza does, however, have other forms that have had devastating effects on a pandemic scale. In 1918, "Spanish flu" is believed to have killed 40 million people. It is considered the most deadly pandemic in modern history, infecting one third of the world's population. Unlike seasonal flu, this form of influenza was highly dangerous to young, otherwise healthy adults. No effective treatment or vaccine existed at the time. It was later established that the flu virus invaded people's lungs causing pneumonia.

More recently there have been outbreaks of "Asian flu" in 1957 and "Hong Kong flu" in 1968. There have also been outbreaks of "Bird flu" and H1N1 ("swine flu"). In 2009-10, H1N1 spread to 214 countries and killed more than 18,000 people. It is also known as "swine flu" because it is thought to have originated in the swine population. Although most pig and bird forms of influenza are not dangerous to humans, occasionally a virus mutates into a zoonotic form (able to be transmitted from animals to people.)

Ebola
CNN reported in February 2015 that the latest breakout of the Ebola virus had infected 23,000 people in nine countries and claimed 9,000 lives until then. Ebola is an infectious and generally fatal disease, whose characteristics are a fever and severe internal bleeding. It is spread through contact with infected body fluids. Although the last Ebola outbreak was far from pandemic proportions (a global disease outbreak), the panic-level reactions in the western media to this currently West-African based epidemic gave many the impression that we were facing a crisis on the level of Spanish flu.

In response to outbreaks like H1N1 and Ebola, the importance of the The Global Outbreak Alert and Response Network has grown. This global network seeks to improve health security across the world by combating the international spread of outbreaks, assisting affected areas rapidly and appropriately and contributing to planning and preparedness in case of future epidemics.
Logo for Pandemic Studios, a video game developer, courtesy of Lx45803
Filed under Medicine, Science and Tech
This "beyond the book article" relates to The Blondes. It originally ran in May 2015 and has been updated for the April 2016 paperback edition. Go to magazine.
This review is available to non-members for a limited time. For full access become a member today.
Membership Advantages
Reviews
"Beyond the Book" articles
Free books to read and review (US only)
Find books by time period, setting & theme
Read-alike suggestions by book and author
Book club discussions
and much more!
Just $45 for 12 months or $15 for 3 months.